History of Netheravon Dovecote
The earliest dovecotes were probably built in the Middle East over 4,000 years ago. Although the Romans are known to have reared pigeons, there is no evidence that they introduced them to Britain.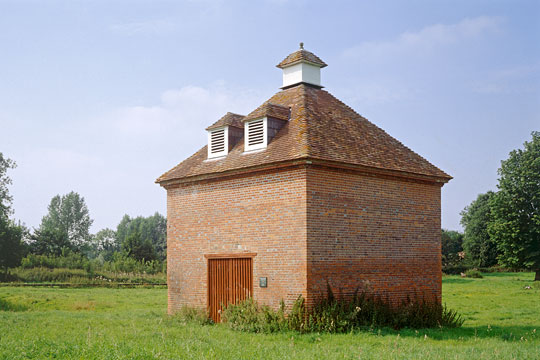 It is more likely that they were another introduction of the Norman nobility and, indeed, pigeons and dovecotes are mentioned in the Domesday Book of 1086. Other documentary and archaeological evidence suggests that they were used extensively by the Normans.
Because construction of a dovecote was one of the privileges associated with lordship, they are often found near castles and manor houses. By the middle of the 17th century there were more than 25,000 of them in England alone.
Always the preserve of the nobility, it was not until 1761 that tenant farmers were allowed to build their own dovecotes and then only with their landlord's permission. Poaching was no doubt rife especially as, with their voracious appetite for corn, pigeons must have been a curse to many farmers.
Dovecotes were a 'living larder' like large fish-ponds (stews) that were also a feature of medieval life. Doves were a source of fresh meat in winter and also provided eggs and fertiliser.
Description
Netheravon dovecote is an excellent example of an early 18th century dovecote. It is typical of its period with a tiled pyramid-shaped roof with two dormers on the south side and is topped by a wooden lantern with a ball finial.
It is often said that the best-looking buildings are those whose design exactly reflects their function. Certainly the Netheravon dovecote, despite its very practical purpose, manages to be simple, elegant and an ornament to its surroundings.
Note
The text on this page is derived from the Heritage Unlocked series of guidebooks, published in 2002–6. We intend to update and enhance the content as soon as possible to provide more information on the property and its history.