Description of Netley Abbey
Netley Abbey was built to the typical Cistercian monastic plan, with a church connected to a cloister, around which the monks' living quarters were arranged.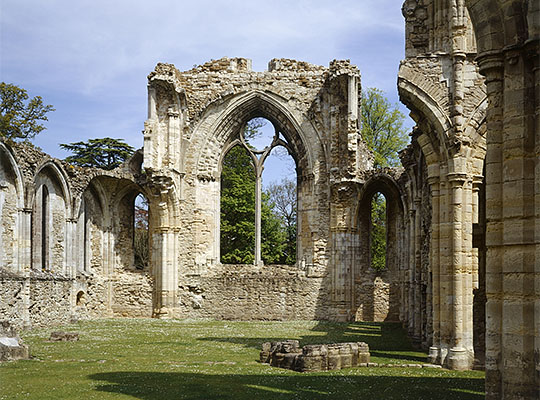 The Church
The ruins of the roofless church give a good impression of its original size and appearance. Its uninterrupted openness is deceptive, as it was originally subdivided by screen walls. The monks occupied the east end: they attended eight services each day, rising from their beds for the first at 2am.
The western end, the nave, was reserved for the lay brothers – members of the community who worked on the abbey's estates. Their accommodation was in the ruined range to the west of the cloister.
The bases of three of the four great piers of the transept crossing, in the centre of the church, have symbols and an inscription carved on them. They commemorate the construction of the church by Henry III, the abbey's royal patron. The south transept survives to roof level, and a fine doorway from it leads to the still-roofed sacristy, where vestments and sacred vessels were stored.
When the abbey became a house, the church was converted by Sir William Paulet into a great hall, used for entertaining guests. The western end became the kitchen, where ovens and hearths were installed. The east end was a private chapel, and the south transept housed Sir William's private apartments.
Monastic Buildings
The chapter house, on the east side of the cloister, was an elaborate chamber used daily by the monks for meetings, during which the rule governing the strict life of the abbey was read. Beyond it were the parlour and monks' day room, and above was the monks' dormitory. At the far end of the east range was the latrine block, which lies at a different angle to the rest of the monastic buildings so that it discharged into the stream below.
The monks' refectory, which lay to the south of the cloister, was demolished by Sir William Paulet to make way for a new gatehouse, to form a grand entrance to his house. The brickwork, doorway and windows of this ruined building are typical of the Tudor period.
Little remains of the west range of the cloister, which in the Cistercian plan usually housed the lay brothers. The cloister because Sir William's inner courtyard, with a fountain in the centre. A separate building east of the abbey is thought to have been the abbot's lodging.
Note
The text on this page is derived from interpretation panels at the site. We intend to update and enhance the content as soon as possible to provide more information on the property and its history.