History of Nine Ladies Stone Circle
Stanton Moor is situated on elevated ground to the west of the River Derwent, near Bakewell in the Peak District. Few of the thousands of visitors who enjoy the tranquillity of the moor and the fine views can fail to notice the widespread archaeological remains that are dotted across this landscape. Most of these are thought to date from the Bronze Age, about 3,000 to 4,000 years ago.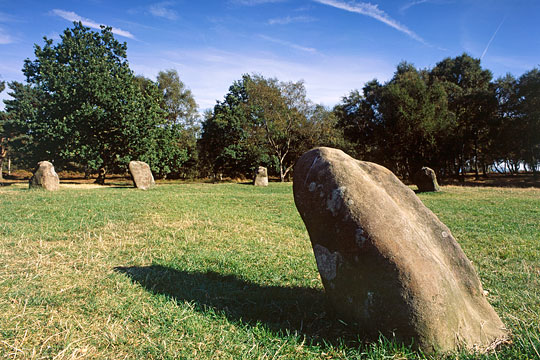 More than 70 stone cairns and barrows are known, and excavations over the past 100 years have demonstrated that many served as places of burial. The most evocative and well-known of these monuments is the Nine Ladies Stone Circle and the King Stone, set 40 metres (131 feet) to the west-south-west of the circle.
Despite the name, there are 10 stones within the circle, the tenth (which has fallen and now lies flat) having been located in 1977. The stones are set on the inner edge of a slight bank, and form a ring which measures 11.5 x 10.5 metres (38 x 34 feet). The monument was first recorded by Major Hayman Rooke in 1782. He noted that there appeared to be stones in the centre of the ring, which may have formed a small cairn or 'cist'.
The names of the monuments derive from their associations with folk traditions, in which it is said that nine women were dancing on the Sabbath to a fiddler – the King Stone – and were turned to stone. The graffiti carved on the King Stone, which includes the name 'Bill Stumps', is also mentioned in The Pickwick Papers by Charles Dickens.
In common with many other stone circles, little evidence has been uncovered to suggest why or when this stone circle was built and how it was used.
Suggestions include a place for ceremony or burial, a territorial marker, a perceived link between the earth and the sky and the living and the dead, or a meeting place for seasonal events. Such monuments may have had many functions, their uses and perceived significance shifting over time.