History of North Elmham Chapel
North Elmham is an enigmatic site with an interesting history. The ruins are those of a small Norman chapel of unique design, which was converted into a small castle whose defensive banks and moats still surround the site.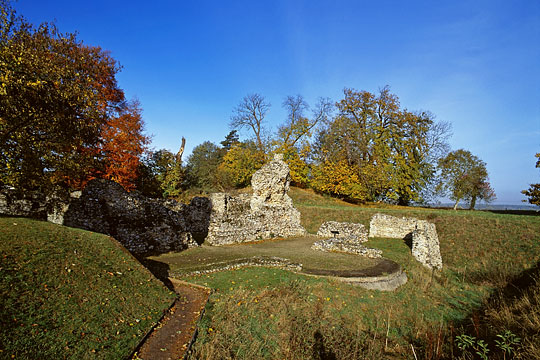 Origins
In the late Saxon period North Elmham was the principal seat of the Bishops of East Anglia and the centre of a great episcopal estate.
Excavations have revealed evidence for an earlier timber structure, probably the Anglo-Saxon cathedral, which went out of use when the seat of the Bishop was transferred to Thetford in 1071.
Some time between 1091 and 1119 Bishop Herbert de Losinga founded a new parish church for the village and built a small private chapel for his own use on the site of the old timber church.
In the 14th century, Bishop Henry le Despencer held the manor of North Elmham. He turned the chapel into a house and in 1388 obtained a royal licence to fortify. He was not a popular man, especially in Norfolk where he was despised for his merciless quashing of the Peasants' Revolt, and this fortification suggests he felt ill at ease among his tenants.
There is no record of any bishop occupying the site after Henry's death in 1406 though manorial courts continued to be held there. When Elmham passed into the hands of the notorious Thomas Cromwell the 'castle' site was assigned to the vicarage and gradually fell into ruin.
Description
The conversion of the chapel into a fortified house makes the ruins rather difficult to interpret at first sight. The rather eccentric design of the chapel reflects that of much grander European churches of the period. Unusually, the west tower was the same width externally as the nave and had an external stair turret to its upper storeys. The transept had flanking towers, reminiscent of contemporary German churches, and there was a semicircular apse at the east end.
The church was built mainly of blocks of local, dark brown conglomerate with courses of large flints and limestone dressings; most of these have been robbed but remaining ashlar fragments have distinctively Norman diagonal tooling. The towers are distinguished by having slightly thicker walls than the nave and transepts. The north support for the tower arch and the surviving jamb of the north doorway are also clearly Norman in design.
Bishop Despencer's 14th century alterations are mostly of small flints with brick and ashlar dressings. The ground level foundations are the remains of his cellars and the circular bases of the piers that supported a new upper floor.
The existing flight of stairs led up to the living rooms and hall. Despencer created a fortified first-floor entrance by building a second semicircular turret alongside the Norman stair turret. He surrounded his house with a moat; the bailey to the north and east, and outer ditch around the western, northern and eastern sides, are probably also his work.
Further Reading
Heywood, S, The Site of the Anglo-Saxon Cathedral and the Bishop's Chapel at North Elmham (North Elmham, 1998)
Rigold, SE, North Elmham Saxon Cathedral, Norfolk (English Heritage, London, 1985)