Description of The Grange at Northington
The Grange is one of the finest examples in Europe of a neoclassical mansion in the Greek Revival style. The exterior was radically transformed between 1809 and 1816 – only the west front retains its original 17th-century appearance.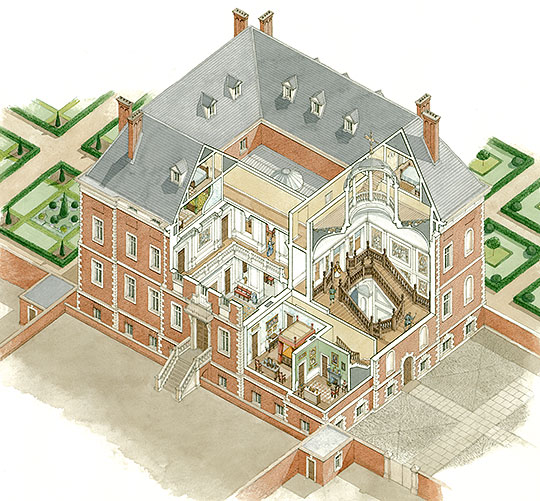 The 17th-century House
Two distinct phases of building are visible at The Grange. The west façade gives a good impression of the appearance of the original brick house built between 1665 and 1673. It was covered over when the house was remodelled, but revealed in the 1970s when the 19th-century additions on this side of the house were demolished.
The remainder of the brick mansion is encased within the present building.
The Neoclassical House
The exterior of the rest of the building is as remodelled between 1809 and 1816 by the architect William Wilkins. He clad the house in Roman cement, a very hard render made from ground flint.
The remodelled house takes the form of a Greek temple. Wilkins modelled the east front on a temple in Athens known as the Theseion, and adapted another monument, the Choragic Monument of Thrasyllus, for the side elevation. The overall design is based on the severe and undecorated Doric architectural order.
Conservatory
The conservatory was designed in 1823 by Charles Robert Cockerell. It demonstrated an advanced use of iron and glass. The rainwater was channelled down the columns into the raised beds to water the large range of plants inside. The classical design of the exterior provided a framework for a series of immense windows.
In 1890, the conversion of the conservatory into a ballroom obliterated many of these innovative features. In 2003 Grange Park Opera built a theatre inside the building.
Gardens
The Grange was originally set in a much larger park than it is today. The park landscape was laid out in the 1760s under Robert Henley, 1st Lord Northington. Henley created lakes in the park by damming the nearby river, with a bridge designed by Robert Adam. In 1788 the park was described as enclosed by 'well planted' boundaries, with several avenues. It was largely used for hunting.
Archaeological surveys have revealed traces of an earlier garden with a fountain to the side of the house, probably of 16th-century date, and associated with a much earlier house.
Alexander Baring extended the park in the 19th century, extending the kitchen and flower gardens and planting many ornamental trees, such as the cedars which survive today.
Note
The text on this page is derived from interpretation panels at the site. We intend to update and enhance the content as soon as possible to provide more information on the property and its history.