History of Nympsfield Long Barrow
Nympsfield long barrow stands high on the Cotswold scarp near Frocester with spectacular views over the Severn Valley. Constructed in the Neolithic period, it has long been surrounded by legends and bizarre stories, including one that it was a refuge for lepers.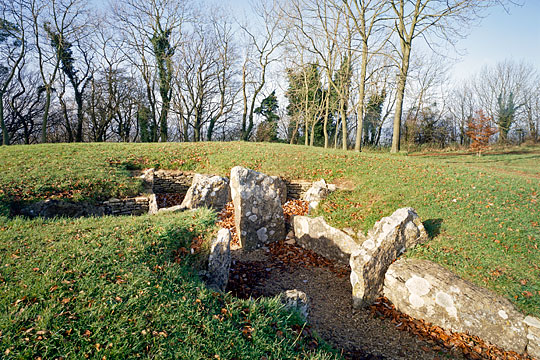 Excavations
Excavations were carried out by Professor Buckman in 1862, Mrs Clifford in 1937 and in 1974, when the barrow was redisplayed following further work by Alan Saville.
The remains of at least thirteen human skeletons, as well as Neolithic pottery, have been recovered during excavations. These included a skeleton of a child that was enclosed in a stone cist or coffin in the northern burial chamber.
The excavations also found later Neolithic pottery within the blocking of the entrance to the burial chamber, suggesting that the gallery was closed before the end of the Neolithic period.
Description
The barrow is almost oval in plan, measuring 98 feet (30 metres) from east to west, 82 feet (25 metres) from north to south at the western end.
The mound was ploughed over and the roof removed at some point in its history, and the chambers remain uncovered today allowing the layout to be seen clearly. The mound is composed of small stones and has a maximum height of around 4 feet (1.2 metres).
At the eastern end is a forecourt in the form of a recess flanked by projections of the mound. This leads into an east-facing entrance defined by two standing stones. Beyond the entrance is a stone gallery that leads into a pair of side chambers and an end chamber.
The internal chambers were constructed of oolite (limestone), probably quarried nearby. Upright stones line the central passage, with the spaces filled by drystone walling; the barrow was originally surrounded by a drystone kerb, which is now covered over.
Further Reading
Saville, A, 'Further excavations at Nympsfield chambered tomb, Gloucestershire', Proceedings of the Prehistoric Society, 45 (1979), 53–91
Note
The text on this page is derived from the Heritage Unlocked series of guidebooks, published in 2002–6. We intend to update and enhance the content as soon as possible to provide more information on the property and its history.