History of Offa's Dyke
Offa was the King of the Mercians, a warrior tribe from central England, from AD 747 to 796. He had seized power during a time of great unrest caused by friction between Wales and England in the border region. Offa was determined to quell the unruly Welsh and impose his authority, and this he did by building one of the most remarkable structures in Britain.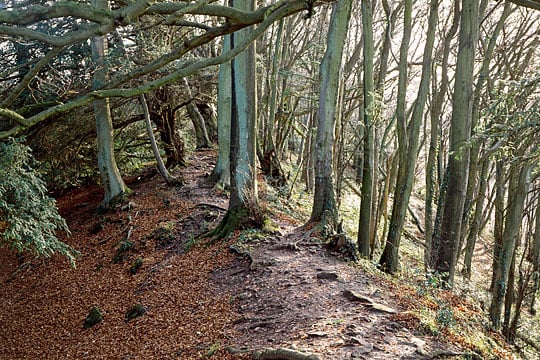 Sometime during the 780s, Offa decided on the construction of a great earth wall and ditch, or dyke, running from 'sea to sea'.
The work required thousands of men, and each section seems to have been built by people from a different district. The fact that this mammoth undertaking was achieved illustrates the cohesion of the kingdom at this time. The dyke was never garrisoned but would have been manned by relatively small local forces.
Offa died in 796 in a battle against the Welsh. It is believed that he was trying to establish a final link in the dyke to the Irish Sea in the north.
After his death his kingdom gradually declined until it was completely crushed by the Viking invasion. The border area, however, remained crucial in British history.
Description
Offa's Dyke covers 82 miles (132 km) of the total distance of 149 miles (240 km) between Prestatyn in the north to Sedbury in the south, the intervening gaps being filled by natural features such as slopes and rivers.
It consists of an earth bank, which in places still stands to a height of 12 feet (3.5 metres), fronted by a deep quarry-ditch with a total width of up to 60 feet (18 metres).
Excavation has confirmed that a wooden breastwork ran along the top of the bank, and in places this was later rebuilt in stone. The west side of the bank was also revetted with turf to create a near vertical face. Possibly some sort of palisade or wall also existed.
It is thought that towers may have been erected at intervals, though none has yet been found. In places it runs absolutely straight for miles – proof of the technical skills of its engineers.
Further Reading
Hill, DH, 'The construction of Offa's Dyke', Antiquaries Journal, 65 (1985), 140–142
Wright, CJ, A Guide to Offa's Dyke Path (London, 2nd edition, 1986)