Significance of Old Sarum
Old Sarum's significance derives primarily from its arrangement as a fortified site. Without the ancient earthworks it is doubtful that it would have been chosen as the site for a royal castle following the Norman Conquest, and without the castle it is most unlikely that a cathedral would have been built there. Its importance thus divides into three periods: its use during the Iron Age between about 400 BC and AD 43; the period of Roman occupation, between AD 43 and about AD 410; and the period between the establishment of the royal castle after 1066 and the translation of the cathedral to a new site about 1220.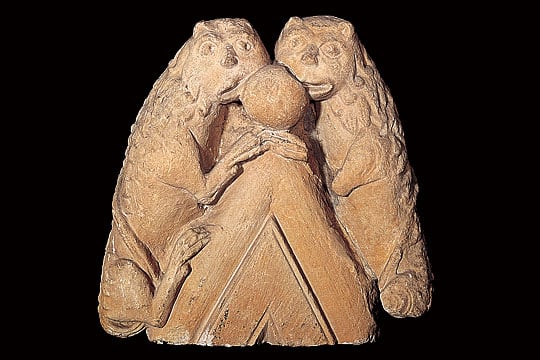 Iron Age and Roman Occupation
Old Sarum is one of the largest Iron Age forts in England, and is crucial in the development of a series of major Iron Age sites in Wiltshire. The eastern entrance and protective hornwork largely survive, along with the outer ramparts.
Old Sarum lay at an important intersection on Roman road network. Secondary gates were created in this period and two sizeable Romano-British settlements have been identified outside the ramparts.
Medieval Occupation
The royal castle created here shortly after 1066 was a major administrative centre, the seat of the sheriffs of Wiltshire, and historically important as the site of the Oath of Sarum of 1 August 1086. Eleanor of Aquitaine was held here under house arrest between 1173 and 1189.
The castle is important architecturally for the construction of an internationally significant 'courtyard house' within the castle inner bailey under Bishop Roger of Sarum in about 1130. This is the earliest known example of a medieval house incorporating covered courtyard walks in the manner of a cloister in northern Europe.
The establishment of a cathedral at Old Sarum in 1075 is a unique example in England of a cathedral built within a prehistoric protective enclosure. The cathedral is architecturally notable for its expansion under Bishop Roger (1102–39) and for the cathedral precinct, containing an early episcopal hall and the earliest unambiguous archaeological evidence for a cloister attached to a collegiate cathedral in England.
The cathedral is also exceptional for its removal and systematic demolition during the later Middle Ages. The most significant finds from the site are the 12th-century carved stones (see Material Sources). The quality and variety of this architectural sculpture are exceptional, and the collection includes carved stones from one of the earliest architecturally elaborate chimneys to survive in Europe. The finest pieces are displayed in the Shortt Gallery of the Salisbury Museum.