History of Over Bridge
The first recorded bridge at Over is mentioned in the Domesday Book in 1089. It was situated at a convenient crossing point over the River Severn for routes running west out of Gloucester, spanning what is locally known as the Maisemore Channel.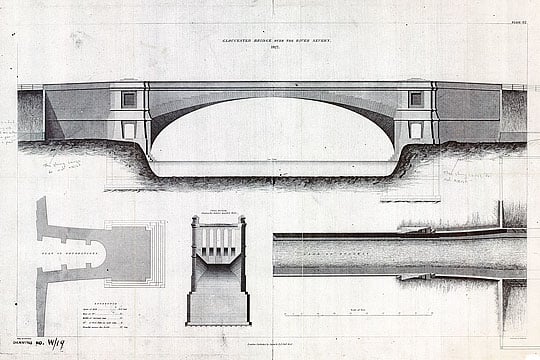 The bridge was a county responsibility, meaning that it was maintained by rates levied for the purpose – a system that had its origins in Saxon times.
In 1825 Thomas Telford (1757–1834), one of Britain's greatest engineers, designed a new bridge to replace a Tudor one that had been damaged by ice in 1818, and whose narrow arches had restricted river traffic.
He supplied two designs for the bridge – one of cast iron, similar to one he designed to cross the River Severn at Mythe, near Tewkesbury, and the other of stone based on the 18th century bridge across the River Seine at Neuilly, built by the French architect Perronet.
The new bridge, built to the second design, was opened in 1830. It was the lowest practicable crossing point of the river – before the first Severn Suspension Bridge was built at Aust in the 1960s.
In spite of the early subsidence, the bridge withstood the increasing volume of heavy traffic passing over it until the early 1960s, when the present dual carriage and new steel bridge were built to the north.
Description
Over Bridge is a single-span arch bridge approximately 328 feet (100 metres) long and 30 feet (9 metres) wide. It was constructed about 295 feet (90 metres) upstream from the previous bridge, requiring major changes to the approach roads.
Telford employed the 'cornes de vache' technique whereby horn shapes are cut out of the sides of the bridge with the aim of reducing the turbulence and increasing the flow of water in times of flood. The technique also gives the illusion of a longer, flatter arch.
Construction of the bridge involved the use of a curved wooden support system, called 'centring', to hold up the wedge-shaped stones that formed the arch. Unfortunately, when the centring was removed on the bridge's completion, the settlement of soft ground around the bridge caused the crown of the arch to drop by 10 inches (25 cm). This movement did not affect its strength.
Further Reading
Rolt, LTC, Thomas Telford (London, 1958)