History of Roman Wall, St Albans
Once the defensive wall of Roman Verulamium, the city wall of St Albans can still be traced for most of its two-mile circuit. Its towers and gateway foundations give some indication of the importance of Roman Britain's third largest town.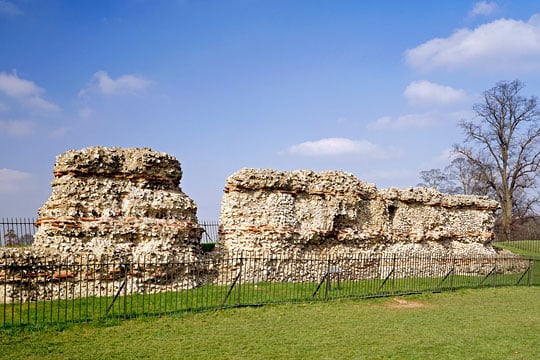 Origins
The Romans rebuilt the city after Boudicca attacked the first settlement around AD 60, and by the second century Verulamium had a number of stone public buildings including a theatre and a basilica (town hall), as well as a forum – the open space at the heart of the civic and business quarter. St Albans Museum contains a wealth of information about the Roman city.
Description
The wall was built between 265 and 270 AD of mortared flint rubble with layers of brick bonding. It was faced with dressed flints, though very little of this facing survives. Rising from 3 metre-wide footings, the wall once stood to a height of 5 metres and was topped by a walkway protected by a 1.8 metres parapet. Parts of this massive structure still survive up to 4 metres high, though in places its line is visible only as a change in ground level.
At its back was a broad earthen bank up to the level of the walkway and just beyond it a massive defensive ditch, originally up to 29 metres wide and 6 metres deep. Sections of this can still be seen.
The foundations of two towers or bastions survive, and east of these are the remains of the impressive London Gate, where Watling Street entered the city. This substantial structure had two passageways for vehicles and two for pedestrians, and was defended by flanking towers.
Further Reading
Niblett, R, Verulamium: the Roman City of St Albans (Stroud, 2001)
Note
The text on this page is derived from the Heritage Unlocked series of guidebooks, published in 2002–6. We intend to update and enhance the content as soon as possible to provide more information on the property and its history.