History of Sandbach Crosses
The two massive crosses standing in the market square at Sandbach are thought, from their iconography, to date back to the early 9th century.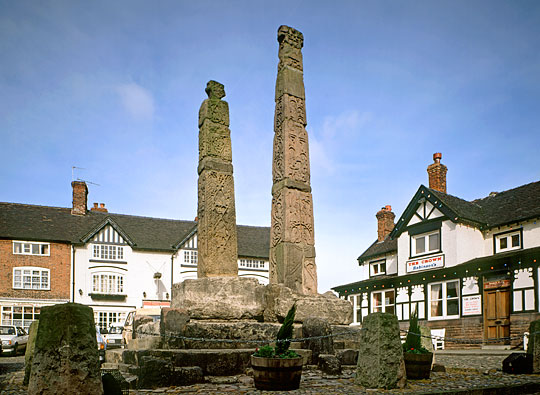 So fine is their carved decoration that they have prompted speculation that a minster or a monastery – with an associated workshop of skilled sculptors – was located at Sandbach during the Saxon period.
Whether these sandstone crosses were an expression of the power of such an establishment, set up as boundary markers, or used in religious services is unclear. It is unlikely that they commemorate the introduction of Christianity into Mercia by King Peada in ad 643 as the bronze plaque asserts. They are often described as being among the most important surviving examples of Anglo-Saxon high crosses.
Probably moved from their unknown original site to the market-place in the 16th century, the crosses have had an eventful history. They were violently broken up, probably by Puritans, in the 17th century and the pieces distributed around the vicinity (and even incorporated into an artificial grotto at Oulton). In 1816 they were reassembled and re-erected; some other Anglo-Saxon stone fragments remain by the porch of St Mary's Church.
The decoration on the larger cross focuses on biblical subjects. Among the carved narrative scenes is a Nativity with a Crucifixion above it, an Adoration of the Magi and an Annunciation. A luxuriant vine scroll appears on the south side. The figures, animals and ornament on the smaller cross are more difficult to interpret, although they most likely represent different aspects of the Christian community.
Further Reading
Hawkes, J, The Sandbach Crosses: Sign and Significance in Anglo-Saxon Culture (Dublin, 2002)
Rimmer, A, Ancient Stone Crosses of England (London, 1973)
Timmis Smith P, The Glory of the Saxon Crosses at Sandbach, Cheshire: The Sepulchral Monument of King Egbert with its Picture Language Explained (Sherratt, 1968)