History of St Breock Downs Monolith
This massive stone stands near the summit of the St Breock Downs, offering beautiful views of the surrounding countryside and across to the sea. It is the largest and heaviest monolith in Cornwall, weighing about 16.75 tonnes, and probably dates to the late Neolithic to mid-Bronze Age (around 2500–1500 BC).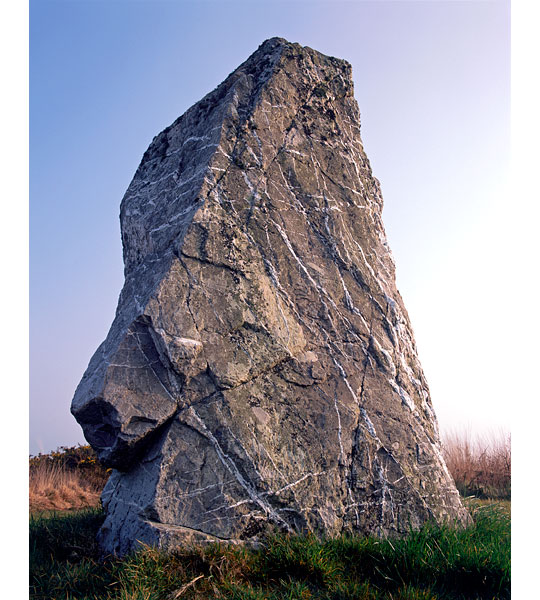 Standing stones or monoliths are rare in England but are scattered across the country, with concentrations in Cornwall, the North Yorkshire Moors, Cumbria, Derbyshire and the Cotswolds. Their purpose remains a subject for speculation today.
Their accompanying features show that they had a ritual function: they are among several types of monument of late Neolithic or Bronze Age date that are often found, when excavated, to be associated with evidence of cremation. They may also have functioned as markers for routeways, territories, graves or meeting-points.
Description
The monolith on St Breock Downs stands within a low stone mound or cairn, which measures about 33 feet (10 metres) across, and is formed from the local Devonian shale which has extensive feldspar veining.
The stone itself is 16 feet (4.9 metres) long but it now only stands just over 10 feet (3 metres) high as it has a marked lean to the north.
It fell over in 1945, and was re-erected in 1956 after a small excavation had been carried out. This showed that the stone stood in a setting of quartz pebbles below which were two small, shallow hollows; features which have been found to contain human bone or ashes at other similar, sites.
The open landscape of heath and pasture surrounding the St Breock Downs Monolith contains many other Bronze Age ritual monuments, with which the stone was probably associated. These include at least one other standing stone, and a series of barrows that extend up to 4 miles to the west.
The fascination of the monolith, also known as the St Breock Longstone or Men Gurta, is reflected by its prominence in local folklore as a medieval and later meeting-place. It occurs in antiquarian records as early as 1613, and was later adopted as a St Breock parish boundary marker.
Further Reading
Cooke, I, Standing Stones of the Land's End: An Enquiry into their Function (Men-an-Tol, 1998)
Note
The text on this page is derived from the Heritage Unlocked series of guidebooks, published in 2002–6. We intend to update and enhance the content as soon as possible to provide more information on the property and its history.