Research on St Mary's Church, Studley Royal
Despite the fame of the church and its architect, several aspects of St Mary's conception and creation remain obscure.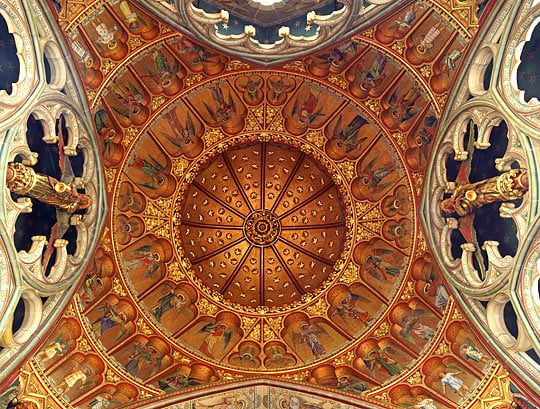 Research to Date
St Mary's place in the career of its architect, William Burges, and the Gothic revival of the Victorian era has been much discussed and is well understood (see Sources for St Mary's Church, Studley Royal). In particular J Mordaunt Crook's biography of Burges (first published in 1981; 2nd edition 2013) provides a detailed record of the building of the church and an analysis of Burges's sources for it.[1]
Questions for Further Research
Among the aspects of the building that deserve fuller research are:
The role of builders and craftsmen in its creation. Most of the people who worked closely with Burges are only names, even to experts in the period. The growing accessibility of such materials as census returns on searchable databases designed for genealogical research may make it possible to achieve a better understanding of the careers of these men (and, occasionally, women) who played such a fundamental role in architecture and design in the 19th century.
The place of the church in the lives of its patrons. How far does St Mary's reflect the values and aspirations of the Marquess and Marchioness of Ripon? Little research has been carried out into their religious beliefs, despite the fact that the conversion of the marquess to Roman Catholicism in 1874 was a matter of public controversy. Is there more to discover about the role played by Lady Ripon in the conception of the church? Research has been published on the architectural patronage of independent women, which in the 19th century was customarily focused on churches and buildings for charitable purposes. Little is known, however, about the role played by women in such matters as the choice of architect or the development of a design where their husbands were the official patrons.
The history of the building as a parish church. It seems likely that Lord and Lady Ripon intended St Mary's to have a fairly elaborate liturgical and musical life. They commissioned Burges to design the adjacent house as a home for the organist and music master. This substantial building, completed in 1873, was referred to at the time as 'The Choristers' House', suggesting that it may have been intended as a choir school.
READ MORE ABOUT ST MARY'S CHURCH, STUDLEY ROYAL
Footnotes
1. J Mordaunt Crook, William Burges and the High Victorian Dream, 2nd edn (London, 2013), 201–16.