History of Stanwick Iron Age Fortifications
The features now visible at Stanwick are the excavated remains of only a small part of an Iron Age rampart and ditch that encloses an area of 310 hectares (766 acres) and is nearly 6.5 kilometres (4 miles) long.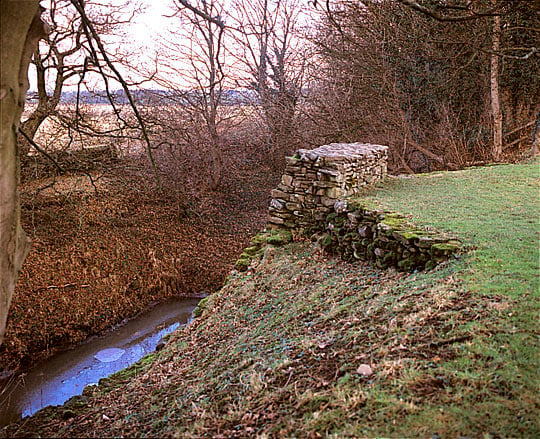 Excavations were conducted by the celebrated archaeologist Sir Mortimer Wheeler in the 1950s and the remains were left uncovered and partly reconstructed to show their original appearance. From these excavations Wheeler was able to date the rampart to the 1st century AD.
The ditch was cut into the bedrock and the ramparts were reinforced with a retaining stone wall. It is thought that this wall ran around the full circuit of the outer rampart. It would have been a most impressive sight, and its construction would have required an enormous workforce.
The Brigantes
The ability to command such a force lay with the powerful local ruling class of the Brigantes who controlled much of northern Britain when the Romans arrived in AD 43. In exchange for their independence their queen, Cartimandua, agreed to co-operate with the Romans. The treaties were not accepted by the whole tribe, however, and a power struggle between the different factions followed.
The Brigantes' occupation of Stanwick was concentrated on the area known as the Tofts, to the south of the church of St John the Baptist. Ramparts were built around the original settlement. Excavation here has revealed timber roundhouses and other structures dating from the middle of the 1st century AD.
Pottery and other finds show that during the reign of Cartimandua, the Brigantes at Stanwick enjoyed access to luxury goods imported from other areas of the Roman Empire. Excavated items include amphora jars for storing wine, ceramics from southern France and the Rhineland and German and Italian glass.
As the site developed rapidly into an important trading post and a major centre of Brigantian power, the ramparts were extended. Although Stanwick flourished for several decades during the 1st century, it declined in importance after AD 70 when Roman power and influence expanded northwards.
The present form of the earthworks owes much to landscaping carried out in the 18th century by the owners of Stanwick Hall and Forcett Hall.
Further Reading
Wheeler, REM, The Stanwick Fortifications: North Riding of Yorkshire (Society of Antiquaries, London, 1954)
Three papers on the excavations at Stanwick can be found in Volume 147 of the Archaeological Journal.
Note
The text on this page is derived from the Heritage Unlocked series of guidebooks, published in 2002–6. We intend to update and enhance the content as soon as possible to provide more information on the property and its history.