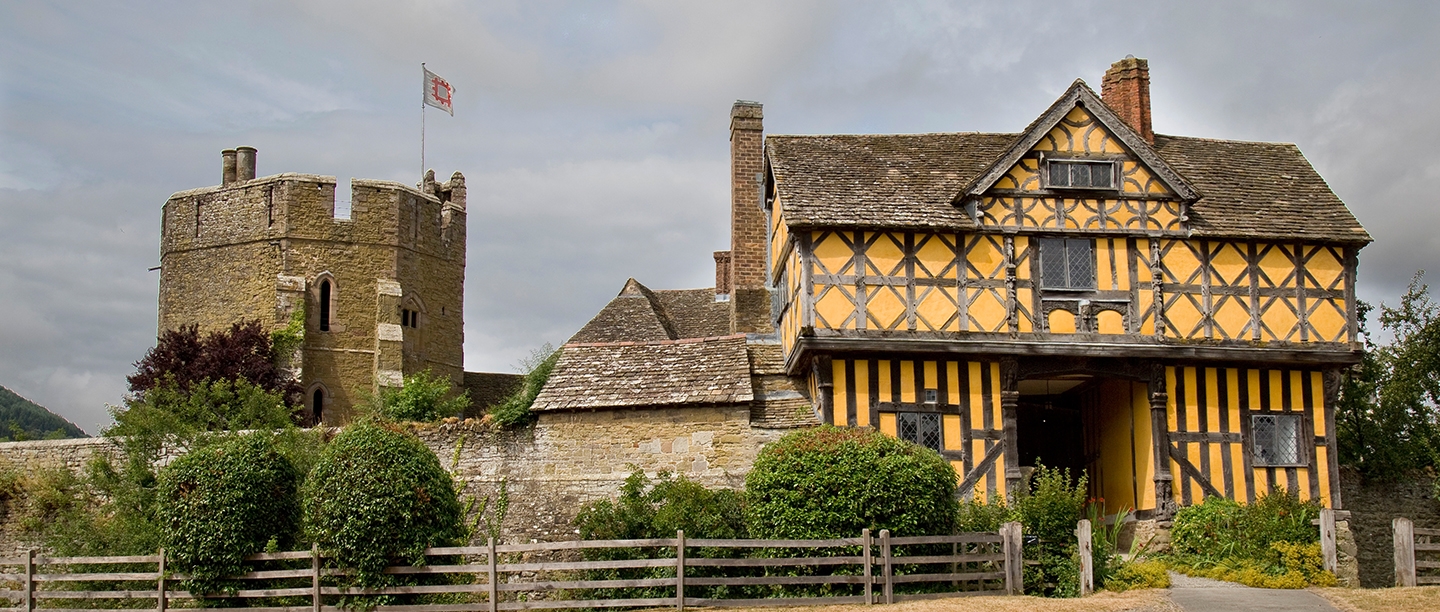 Group visits to Stokesay Castle
Tucked away in the peaceful countryside of the Welsh Border, Stokesay Castle was founded by a wealthy medieval wool merchant in the 13th century. It retains many of its earliest features, although later generations added a delightful timber-framed 17th-century gatehouse and a fine pannelled chamber. We have added tactile interpretation inside the manor house for your groups to really get a feel for the history of this Shropshire gem.
Group Discount
We offer a 15% discount (10% for Stonehenge) for travel trade and organised groups of 11 or more paying visitors when payment is made in a single transaction.
Per group you also receive:
free entry for one tour leader
free entry for one coach driver
The tour leader, coach driver and any English Heritage members do not count towards the group totals.
Booking information
Trade admission prices and opening times:
Please refer to our Trade Admission Prices & Site Opening Times brochure for pricing and opening times information at our top sites for groups.
Making a booking:
Contact information for making your group booking can be found in the Visit & Contact Information section below.
Please include the property name and date of visit in the subject line of your email along with the following information:
Group name
Name of property
Tour reference/booking reference (if applicable)
Date and time of arrival
Number of visitors
Payment method:
Payment can be made on arrival by: cash, credit/debit card, cheque (made payable to The English Heritage Trust), Agency Voucher Scheme (AVS).
Visit & Contact information
Coach parking: Coach spaces in car park, 250 metres from entrance.
Catering: Tearoom seats 35. Pre-booked groups can choose from a menu of regional dishes alongside the usual favourites.
Audio tour: A free audio tour is available and accessed on your own device.
Gardens: Inside the courtyard is a beautifully maintained cottage garden, with a planting scheme that changes with the seasons. There is also a moat walk.
Access: Limited access for wheelchair users, due to many staircases. No ramps or lifts. Not accessible for motorised scooters. Manual wheelchair users are advised to bring an assistant, and you may need to be able to leave the wheelchair briefly.
Average length of visit: 2 hours.
Address: Nr Craven Arms, Ludlow, Shropshire, SY7 9AH
Email: bookings@english-heritage.org.uk (Group bookings team)
Telephone: Stokesay Castle: 01588 672544 (General enquiries only)
Local TIC: If you would like to find out more information about visiting the surrounding area please call: Ludlow TIC: 01584 875053
Guided tours
Make your group visit extra special by adding a guided tour.
Guided tours must be booked in advance and are always subject to availability.
Stokesay Castle Tour
Let our knowledgeable volunteers guide your group around the finest and best-preserved fortified medieval manor house in England. They'll reveal to you its stories as you explore the site, starting in the North Tower, and the key people and dates in the development of magnificent building.
Duration: 50 minutes.
Availability: April - October.
Minimum-maximum pax: 10 - 30 pax.
Advance booking required: Yes, a minimum of 14 days notice is required
Price: Price available on enquiry.
Group Travel Support
Further support and useful resources available to group travel organisers can be found on our dedicated Group Visits webpages.
For educational groups, please visit our School Visits webpages.