History of Temple Church
Bristol's Temple Church is so called because the original church was built by the Knights Templar, perhaps the most famous of the medieval military orders. Founded in the early 12th century to protect pilgrims in the Holy Land, the Templars were 'warrior monks', obeying religious vows of chastity and poverty whilst trained for war.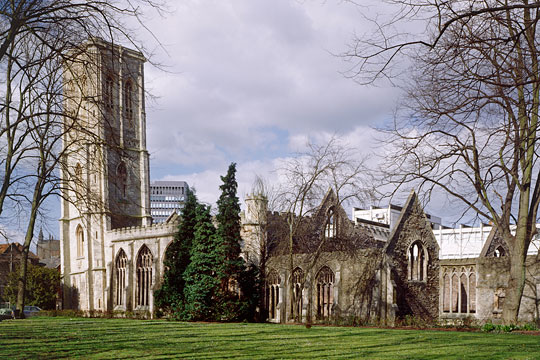 Robert, Earl of Gloucester, donated the site of the church to the Templars in the mid-12th century.
The original building was round, deliberately recalling the Church of the Holy Sepulchre that stands in Jerusalem. It was one of the largest of only a dozen such churches in England and it appears that the Bristol Temple became the administrative centre for the order in the south-west. By 1307, however, the order had fallen into disrepute and their lands were later confiscated and handed to the Knights Hospitaller.
When the Knights Hospitaller were themselves suppressed by Henry VIII in 1540, the church was taken over by the parish.
In the 18th century the interior was refitted. The church was bombed during the Second World War and gutted by the resulting fire. This enabled the site to be excavated and the plan of the former Templar church was revealed. Among the treasures rescued from the debris was a unique medieval chandelier, now in Bristol Cathedral.
Description
Only the shell of the building, dating mainly from the 14th century, remained after the bombing in 1940. The Hospitallers replaced the older nave with a more spacious rectangular one with side aisles.
The shape of the original Templar church is marked out on the ground. The chancel is exceptionally long and flanked by the chapel of St Nicholas to the north and the chapel of St Catherine to the south. The sombre concrete reinforcements were built following the fire damage to prevent the east end of the nave collapsing.
To the west of the nave the Georgian doorway still survives, although the arcades had to be removed as they were unsafe.
Leaning Tower
The famous tower, which leans 5 feet (1.6 metres) out of the vertical, was begun in the 1390s, when the lower three stages were constructed.
Work was halted when the tower began to lean but was optimistically resumed in about 1460 when the tall top stage was added with a deliberate correction of the leaning angle (ie the masons tried to build a true vertical stage on top of the leaning base).
The top stage is not now vertical, probably due to the fact that the base has continued to increase its lean.
Further Reading
Temple Church, Bristol (Wessex Archaeology, Salisbury, 2000)