History of the Nine Stones, Winterbourne Abbas
Lying in a wooded glade just yards from the busy A35, this little stone circle resembles a huddle of ancient conspirators, lurking in the trees. The Nine Stones, which are very irregular in shape and size, are arranged in a near circle, which has a maximum diameter of 8 metres (26 feet).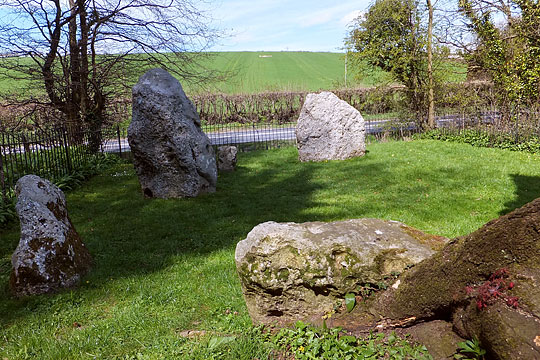 Seven of the stones are under 1 metre (3 feet) high, although as they are all partially buried they may be larger than the exposed parts suggest.
Two larger stones on the north-west side of the circle are about 1.5 metres (5 feet) high and 1.5 metres wide. The stones are roughly spaced at 1m intervals around the circle, though there is a gap of 3 metres (10 feet) between the two larger stones suggesting a possible entrance.
Stone circles are found throughout England. They are concentrated in upland areas such as Bodmin Moor, Dartmoor and the Lake District, although this may not reflect their original distribution. Where excavated, they have been found to date from the late Neolithic to middle Bronze Age (about 2500–1000 BC). All are carefully laid out, with the stones regularly spaced.
Although we do not fully understand why they were built or how they were used, it is clear that they had ritual importance for the people who used them: in many cases, excavation has revealed evidence of burials and associated rituals. Some seem to have been carefully aligned so as to help mark the passage of time and the seasons.
The Nine Stones is one of only four stone circles to survive in south Dorset, and its location in a valley bottom is very unusual.
Further Reading
Gale, J, Prehistoric Dorset (Stroud, 2003)