History of Titchfield Abbey
The ruins of 13th-century Titchfield Abbey, the last monastery of Premonstratensian canons to be founded in England, lie in the valley of the River Meon in south Hampshire. In 1537, after the Suppression of the Monasteries, the abbey was transformed into a grand mansion called Place House, reusing many of the monastic buildings. A large gatehouse was built across the nave of the monastic church.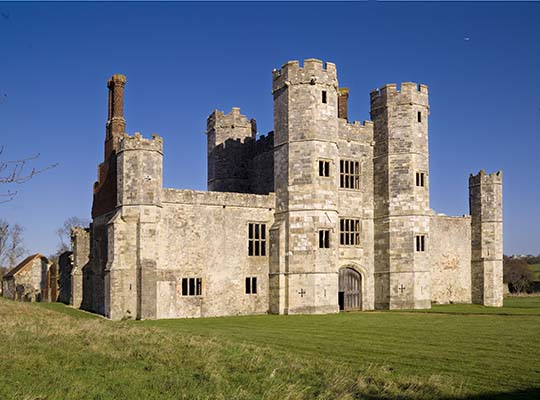 The Abbey
The abbey of St Mary and St John the Evangelist was founded in 1231/2 by Peter des Roches, Bishop of Winchester, for Premonstratensian canons, an order founded at Prémontré in France and known also as the 'white canons'. The canons lived a communal life under monastic vows, but were also involved in the wider community, preaching and teaching the Gospel. Of the 14 or 15 canons here, two served as vicars to nearby parish churches.
The abbey owned many thousands of acres of land and had its own farm buildings and a series of fishponds. Titchfield was a good stopping-off place for journeys to the Continent, and Henry V (r.1413–22) stayed there before departing on campaign in France.
Place House
At the Suppression of the Monasteries the abbey was granted in 1537 to Thomas Wriothesley, later 1st Earl of Southampton, who was a loyal civil servant to King Henry VIII. He played a key part in the suppression and was given monastic lands as a reward.
Central to Wriothesley's new domain were the 11 manors and 5,000 acres (2,024 hectares) surrounding Titchfield Abbey. He proceeded to transform the main abbey buildings into Place House, a residence fit for a rising courtier.
Royal guests at the house included Edward VI, Elizabeth I and Charles I with his queen, Henrietta Maria. Wriothesley's grandson Henry, 3rd Earl of Southampton, was a patron of William Shakespeare and it is believed that some of Shakespeare's plays were performed here for the first time.
On the death of the 4th Earl of Southampton Titchfield passed through several families, until 1781, when most of the building was demolished for building stone. In the early 20th century archaeological excavations helped to clarify the layout of the monastic buildings.
Further Reading
Graham, R and Rigold, SE, Titchfield Abbey, Hampshire (HMSO guidebook, London, 1954)
Minns, GW, 1898. 'Titchfield Abbey and Place House', Hampshire Field Club, 3:3 (1898): 317–38
St John Hope, WH, 'The making of Place House at Titchfield near Southampton, in 1538', Archaeological Journal, 63 (1906): 231–43
Watts, G (ed), Titchfield: A History (Titchfield, 1982)
Watts, G and Wade, R, Titchfield: A Place in History (Southampton, 1989)