Description of Titchfield Abbey
The abbey was built to the usual monastic plan around a quadrangular cloister. Unusually, at Titchfield the cloister lay to the north of the church. It was surrounded by the chapter house, dormitory, kitchen and, opposite the church, the refectory.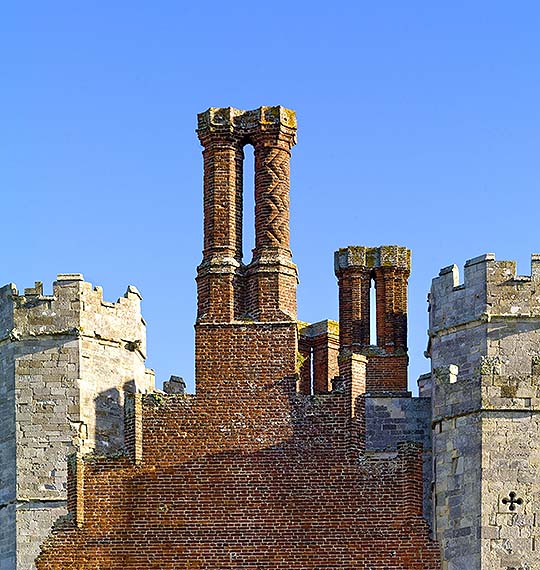 Tudor Gatehouse and Medieval Church
The site is now dominated by the gatehouse of the Tudor mansion, built into the nave of the church between 1537 and 1542.
Slender columns in the gatehouse range, with traces of vaulting above for the roof, show that the nave was originally divided into seven bays. Each bay originally had lancet windows, but these were later replaced by square Tudor windows. A few internal details of the original church interior can be seen, including a shaft in the south-west corner of the building which supported the vaulting, and part of a spiral staircase in the west corner turret.
Several of the large church windows were rebuilt as brick fireplaces, and the corner staircase towers were heightened with battlements. There are elaborate Tudor chimneys.
Adjacent to the gatehouse was the porter's lodge, with a principal apartment above. An 18th-century plan suggests that this room was subsequently used as a small theatre.
Monastic Buildings
Little remains of the rest of the monastic buildings around the cloister, although the abbey plan is marked out on the ground. The former triple-entrance entrance to the chapter house, where the monks met daily, can still be seen in the much altered west wall of the east range. The doorway is framed internally by elegant columns of Purbeck marble.
Medieval Tiles
The tiles were covered up by the courtyard of the later mansion house, where they lay preserved for over 400 years. They were rediscovered during excavations in 1923.
A Latin inscription on one of the pavements was orientated to greet the canons as they approached the refectory for their meals. It translates as 'Before you sit down to meat at your table first remember the poor'. The tiles were protected by the construction of a porch that led to the Tudor great hall.
Note
The text on this page is derived from interpretation panels at the site. We intend to update and enhance the content as soon as possible to provide more information on the property and its history.