History of Waverley Abbey
The ruins of Waverley Abbey are situated in a peaceful loop of the River Wey, and still give an impression of the solitude experienced by the monks who founded a monastery here almost 900 years ago.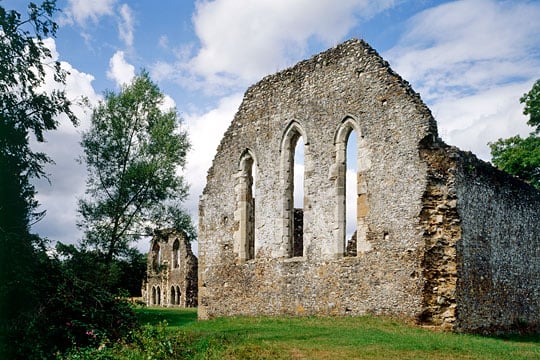 The monastery at Waverley, the first Cistercian house to be established in Britain, was founded by William Gifford, Bishop of Winchester, in 1128. It was colonised with 12 monks and an abbot from Aumone in France. By 1187 there were 70 monks and 120 lay brothers in residence.
In 1201 the abbey buildings were badly flooded. This became a common occurrence and as a result the abbey was substantially rebuilt during the 13th century.
It continued to grow in the 14th century. The monks and lay brothers farmed the surrounding land, were active in the Cistercian wool trade and provided shelter for pilgrims and travellers and an infirmary for the sick.
In 1536, with the Dissolution of the Monasteries, the site passed to Sir William Fitzherbert, treasurer of the king's household. Much of the abbey was dismantled and some of the stone was reused to build Sir William More's house at Loseley, a few miles to the east.
Description
Waverley followed the traditional plan of a Cistercian abbey. It featured a large church, almost 91 metres (300 feet) in length.
To the south was the chapter house, where the monks would gather daily to have a chapter of the rule of the order read to them and to discuss business. Further south was the monks' dormitory. The refectory and latrine block lay south of the cloister and the lay brothers' accommodation was situated to the west.
Today only parts, some substantial, of the buildings remain standing, although archaeological excavation has recovered the complete ground plan.
The most impressive ruin is that of the lay brothers' quarters, at the far end of the site. The long cellar has graceful columns supporting the vaulting above. Parts of the upper floor and the south wall remain standing.
Close by, an end wall and parts of the side walls of the monks' dormitory are visible up to the full height of the gable. To the north are substantial remains of the chapter house and the south transept of the church, as well as traces of the north transept. An isolated stretch of wall to the east of the church is part of the abbey's infirmary chapel.
The monastic precinct covered an area of about 24 hectares (50 acres), bordered to the south and east by the River Wey. The brewhouse and other buildings associated with the economy of the abbey lay in the western part of the precinct – these are visible today only as earthworks.
In the eastern part of the precinct are earthwork remains of a water supply system and the fishponds which provided one of the staples of the monks' diet.
Further Reading
Ware, G, The White Monks of Waverley (Farnham, 1976)