Description of Wheeldale Roman Road
The surviving section of the Wheeldale monument (at National Grid Reference SE 805975) extends for about 1¼ miles of irregular surface.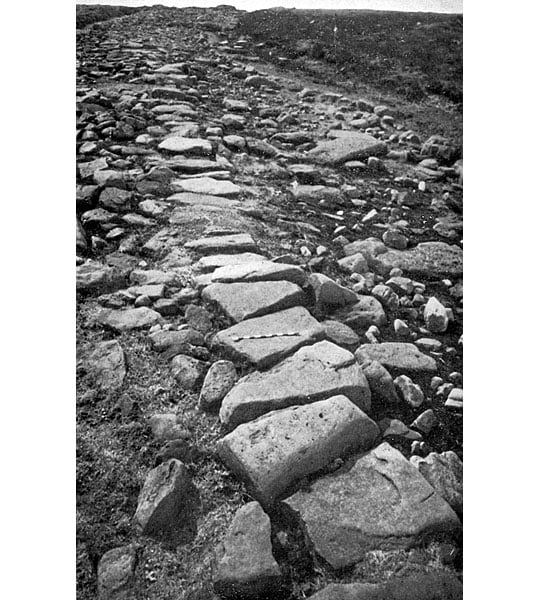 Setting
The monument lies on the eastern slopes of Wheeldale above Wheeldale Beck, 185–200 metres above sea level.
Structure
The structure is now to a considerable extent covered by moorland regeneration. When clearly visible in the 1960s it was described as a slightly cambered ridge of sand and gravel, varying between 5.4 and 6.7 metres wide, on which was set a 'metalled layer of sandstone slabs' with kerbstones of upright slabs along some parts of its length. In addition it was suggested that at that time 'traces of a surface layer of gravel and small stones' survived.
It was also claimed that the monument incorporates a series of 12 'small culverts and probable sites of former culverts'; the descriptions of most of these, however, raise questions over whether they are indeed what they are claimed to be. The doubt is compounded by the description of 'the most impressive of the series [as] a well-restored culvert'.[1]
In the late 19th century the surface was claimed to have had a 'pavement … taken up 25 years ago … of flat stones gathered from the moor, laid close together, the outside row in each side being set upright as a kerb'.[2] However, even such a surface is unlikely to have buried the four upright stones which protrude through the surface by up to 0.4 metres in the northern part of the visible monument.[3] The location of these stones would have impeded its use as a road.