Description of Wigmore Castle
Hidden above the small village of Wigmore, the castle remains are among the most remarkable ruins in England. The conservation programme of the 1990s consolidated rather than restored the structure, to ensure that the castle's natural environment was preserved. The walls are buried to a depth of several metres in many places, but it is possible to recreate much of the castle's original arrangement.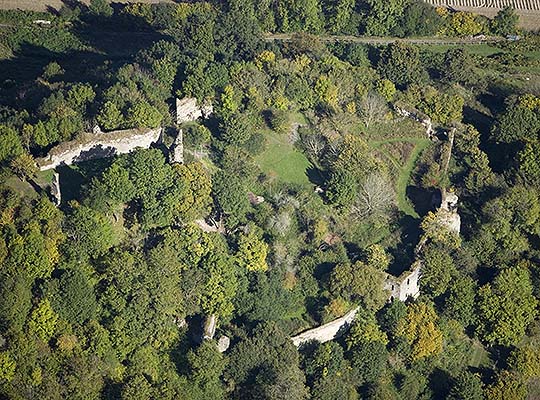 The castle was sited on a long, narrow ridge, ideal for defence. Its position dominates the surrounded area, overlooking the low-lying Wigmore Moor and the Roman Watling Street that crosses it. It was further strengthened with deep ditches and a series of strong walls.
It was divided into three main parts. The outer bailey, of which only earthworks remain, housed stables, granaries and other storage buildings.
The inner bailey was defended by an H-shaped gatehouse, a deep, double ditch and a curtain wall, which includes four surviving towers, three of them spacious. The inner bailey was the main residential area of the castle. One corner of the great hall still survives.
Above this loomed the heavily defended shell keep, with massive, 2-metre thick walls, and a tall round tower set on a motte.
To the north and west the castle was surrounded by deer parks, and nearby were fishponds, a dovecot and a rabbit warren to provide sources of fresh fish and meat. The flatter land in the valley was farmed and about a mile to the north lay Wigmore Abbey, where the Mortimers were buried.
Note
The text on this page is derived from interpretation panels at the site. We intend to update and enhance the content as soon as possible to provide more information on the property and its history.