History of Windmill Tump Long Barrow
This barrow, also known as Rodmarton Long Barrow, is of early Neolithic date (4000–3500 BC). It seems that the site was used for burials well after the Neolithic period, as Roman pottery and coins of Claudius Gothicus (AD 168–70) have been found there.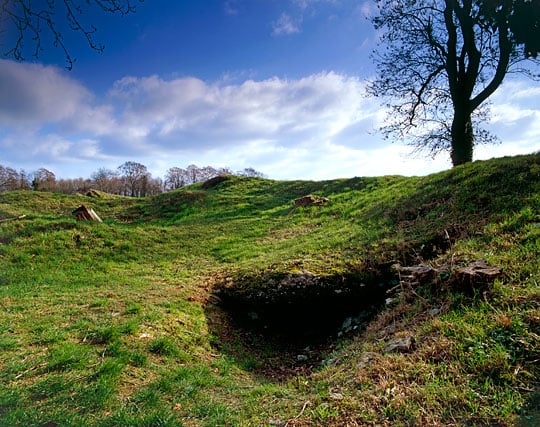 The barrow was excavated in the late 19th century, and also in 1939 when 13 skeletons were found as well as leaf-shaped arrowheads.
When two trees fell down in the great storms of 1987 they revealed a previously unknown chamber situated to the south-west of the north chamber. A large capstone and the bones of a child were also discovered.
In the video below, expert Timothy Darvill tells us how the long barrow would have been accessed and where ceremonies and burial rites might have taken place.
Description
Set on a gentle slope immediately below the crest of a ridge, the chambered long barrow is trapezoidal in plan and measures 187 feet (57 metres) by 89 feet (27 metres). The mound is made up of small stones to a height of 9 feet (2.75 metres) and was originally flanked by ditches where the material to construct the barrow had been quarried.
At the eastern end of the mound there is a forecourt flanked by two projections and a so-called false entrance consisting of two standing stones and a stone lintel, blocked by a slab. This entrance seems to have been constructed at the same time as the forecourt with which it is associated but it does not provide any access into the monument.
There are at least three stone-lined chambers and the northern one was where the skeletons were discovered.
The southern chamber is approached by an entrance from the side of the mound via a short passage. Animal bones and human remains have been recovered from this chamber. The barrow is a fine example of the Cotswold Severn type.
Note
The text on this page is derived from the Heritage Unlocked series of guidebooks, published in 2002–6. We intend to update and enhance the content as soon as possible to provide more information on the property and its history.