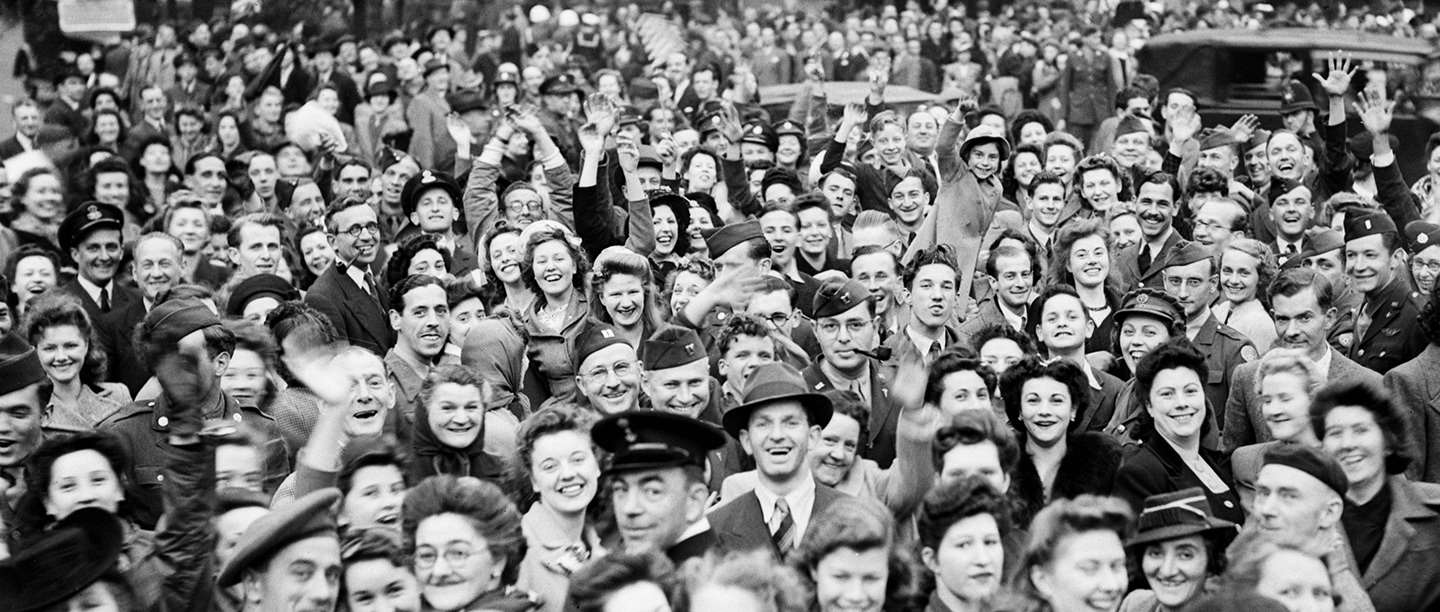 VE Day 75
Friday 8 May 2020 marks 75 years since Nazi Germany's formal surrender at the end of the Second World War.
On VE (Victory in Europe) Day in 1945, millions took to the streets to celebrate peace after years of devastating war.
Join us in exploring some of the remarkable stories from this chapter in England's story, and find out how you can get involved in the commemorations with English Heritage.
Dance like it's 1945 with Dance for VE Day
This May, we're getting England swing dancing to celebrate the 75th anniversary of VE Day. Over the bank holiday weekend we'll be sending out our dance experts to help individuals and local groups learn how to Lindy Hop in true 1940s fashion.
You can apply to be part of Dance for VE Day from 12 February up until 5pm on 8 March. Anyone can apply, and we're especially interested to hear from you if you're planning to get the whole community involved in your celebrations, regardless of age, ability, background or belief.
Enter to Win
Download our VE Day Party Pack
In our VE Day Celebration Pack, you'll find everything you need to celebrate the 75th anniversary of VE Day.
Plan a party in the park, a dance in the streets or a feast in the village hall. Our pack includes a selection of tasty recipes, tips for dancing the Lindy Hop Swing and popular 1940s songs to sing with friends and family.
Download the Pack
9 Things You Should Know About VE Day
30 April 1945. Allied troops are closing in and Berlin is all but surrounded. The leader of Nazi Germany, Adolf Hitler, is left contemplating inevitable defeat.
He commits suicide in his underground bunker. In the days that follow, Hitler's successor—Grand Admiral Karl Dönitz—negotiates an end to war, and in the early hours of 7 May 1945 Germany's unconditional surrender to the Allies is signed. After nearly six long years of carnage and destruction, the war in Europe is coming to an end.
Here are the 9 things you should know about that fateful day and its impact on the world.
Read More
VE Day in Pictures
See some of the most iconic photographs from VE Day.
From parties in the streets to thousands of revellers gathered outside Buckingham Palace, we've selected our favourite images that capture VE Day celebrations in England.
Explore the images
A Century of The Cenotaph
Originally erected as a temporary memorial for Peace Day at the end of the First World War, the Cenotaph on London's Whitehall was so popular that it was replaced by a permanent structure.
100 years after the stone column was built, join historians Dr Steven Brindle and Dr Lucy Noakes to discover the story of this now-iconic war memorial.
Listen on Soundcloud
Operation Dynamo: Rescue from Dunkirk, 1940
Interview with Benjamin Richard Sheen, Dunkirk War Veteran

We met former Army Signalman and Operation Dynamo veteran Richard Sheen at his home in West Wales to discover the true story of the Dunkirk Rescue that was masterminded from the secret war tunnels deep below Dover Castle.

Dover Castle: Rescue from Dunkirk

The evacuation of Dunkirk was a race against time, won in just ten short days in 1940. With limited technology and resources, Vice Admiral Bertram Ramsey masterminded the rescue of 338,000 troops from his Naval HQ in the tunnels below Dover Castle.
Join the Nation's Toast
On 8 May, as the nation marks 75 years since the end of the Second World War in Europe, English Heritage is joining with hundreds of organisations in a toast to all those men and women who played their part in the conflict.
At 3pm on bank holiday Friday, English Heritage will be inviting visitors at their sites to join in the Nation's Toast. Sites with a café or tearoom will also be running a 'tea at 3' offer, when for £1 visitors can buy an enamel Second World War-style mug filled with tea for the toast. Dover and Pendennis Castles will also be marking the occasion by firing their period anti-aircraft guns.
You can find out more how the whole nation is marking VE Day visit, from street parties to the national Ringing out for Peace, at www.veday75.org
Try out this WWII inspired makeup look
Join us in Dover Castle's wartime tunnels as we show you the important role the humble makeup kit played during the Second World War.
Watch on YouTube
English Heritage Histories

Delve into our history pages to discover more about our sites, how they have changed over time, and who made them what they are today.

Women in history

Read about the remarkable lives of some of the women who have left their mark on society and shaped our way of life – from Anglo-Saxon times to the 20th century.

Eight Myths About Witchcraft

Professor Diane Purkiss tackles the common misconceptions about witchcraft and the witch trials of the 16th and 17th centuries.