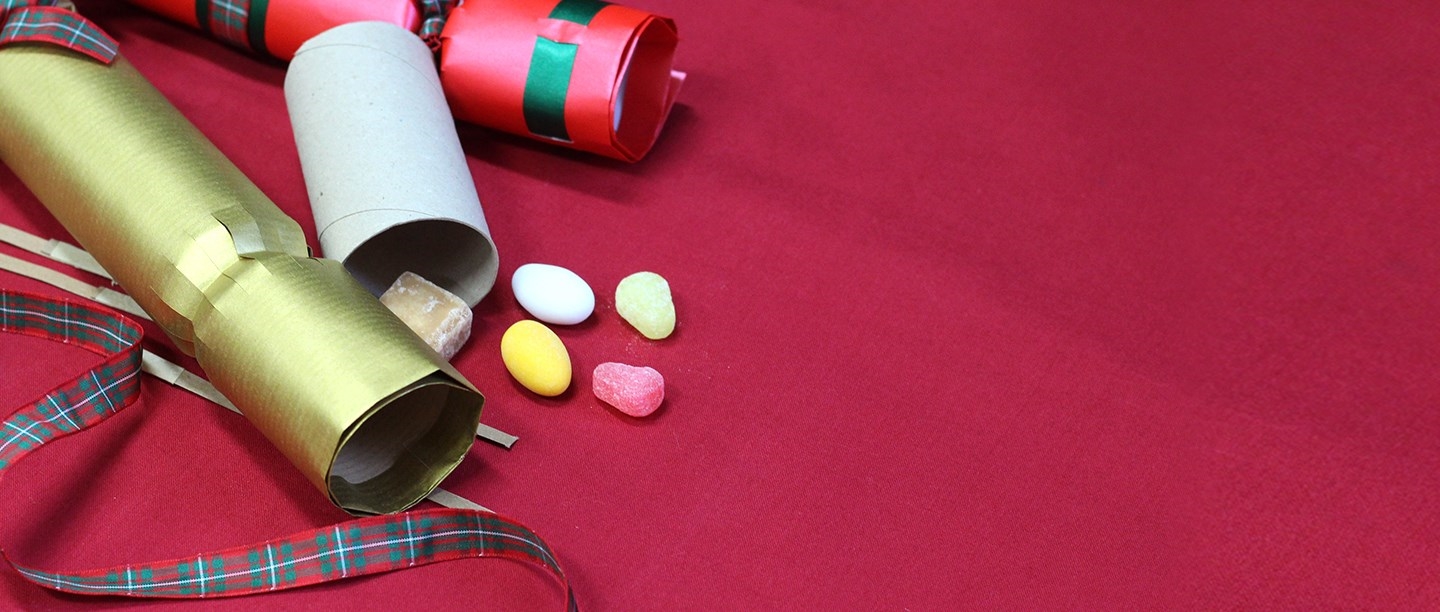 HOW TO MAKE A VICTORIAN CHRISTMAS CRACKER
Can you remember a Christmas lunch without popping a cracker, wearing a silly hat and sharing an even sillier joke? We have the Victorians to thank for this tradition, which was inspired by a flaming fireplace in London almost 170 years ago.
Set your festive season off with a bang by making your own Christmas cracker with our step-by-step guide.
HISTORY OF THE CHRISTMAS CRACKER
English sweet maker Tom Smith was looking for a fun way to market his sweets back in the late 1840s. Inspired by the French 'bon bon', he created a twisted tissue wrapper but sales were still flagging and Tom was desperate to revive his idea. He added a short message inside like a fortune cookie, but he still felt something was missing.
Tom soon found his answer in the flames of a crackling fireplace and he decided that a snapping effect was needed to bring his product to life. He increased the size and swapped the sweets for small gifts and the Victorians were delighted. Later the idea of coloured hats was introduced by Tom's son, Walter, when he and his brothers took over the business in 1869.
By the 1870s crackers were being featured on Christmas cards and their place in our festive traditions was secured. Today the Christmas cracker is as essential to the festive season as the Christmas tree, turkey and mince pie.
What you will need
An empty cardboard toilet roll
One sheet of decorative paper per cracker. This needs to measure around 36cm x 30cm. Wrapping paper is perfect but you could also use colourful crepe paper
Scissors (if you're under 12 ask a grown up to help)
Ruler
Pencil or pen
Glue or double-sided sticky tape
Ribbon or string
Cracker snaps - these can be purchased in some craft shops or online
Festive decorations. Victorian crackers were often personalised and inspired by major events and celebrations. You could use printed images, feathers, flowers or stickers.
A small gift or token - perhaps something sweet, a puzzle, a little message, short poem or a joke
1. MEASURE YOUR PAPER
Cut out a piece of paper that's around 36cm x 30cm - about three-and-a-half times longer than your toilet roll.
With the bottom (or uncoloured) side facing up, mark the halfway point along both of the long sides and rule a line down the middle - this is where you will position your toilet roll in step three.
Fold in the edges of the end of the paper (the two shorter sides) about 2cm inwards and stick them down with glue or sellotape. This is important because it will make the ends strong enough for you to pull on.
2. FOLD THE EDGES
Keep the bottom side of the paper facing up and mark a line halfway between the folded end and the middle line on the paper. Do this for both ends.
Turn the paper over and carefully fold the outside edges inwards towards the middle of the paper - it should look a bit like two doors opening outwards.
3. SNIP THE EDGES LIKE A FRINGE
Rule a 2cm line from each of the folded edges and using your scissors, carefully snip the folded ends up to the line leaving about a 1cm space between cuts. It will look like a fringe or a comb when you're done. Unfold the paper.
4. GLUE TOILET ROLL TO PAPER AND ADD THE SNAP
With the bottom side facing up again, place the middle of your toilet roll on the line you drew down the centre in step one.
Put two small blobs of glue near the top edge of the toilet roll - one at each end - and stick the snap down. Don't draw a line with glue, or stick the whole snap down, otherwise your cracker won't crack when it's pulled!
5. ROLL UP YOUR CRACKER
Put a line of glue or sticky tape along the other long side of the paper. Slowly roll everything together making sure that you keep the ends neat. Close one end of your cracker using a piece of ribbon tied around the slits.
Drop your gift inside the toilet roll. You might also like to add a personalised note like the Victorians did. Tie the ribbon at the other end to secure the entire cracker.
6. DECORATE
Be creative! Victorian Christmases were colourful, festive occasions - so the more decorations, the merrier. Originally there were lots of themed crackers, including different ones for bachelors, Suffragettes and even people like Charlie Chaplin! You could pick one theme and make lots of versions, or create individual designs for everyone who will be coming for Christmas dinner. You might like to curl your ribbon, or add feathers, flowers or stickers.
Now you're ready to pull your Christmas cracker! But first, don't forget to share your designs with us on Facebook, Twitter and Instagram @EnglishHeritage.
FUN FACTS ABOUT CHRISTMAS CRACKERS
According to the Guinness World Records, the world's longest Christmas cracker was 63.1m long and 4m in diameter. It was made by the parents of students at Buckinghamshire's Ley Hill School in 2001.
Tom's crackers were first nicknamed 'bon bon' after the French invention, then 'cosaques' after the Cossack soldiers who were renowned for firing their guns in the air.
In 1910 Tom's company T.Smith & Co. became the official suppliers of Christmas crackers to the Royal Household, which they remain as to this day.
IF YOU LIKE THIS, YOU MIGHT ALSO ENJOY
GIVE A GIFT OF MEMBERSHIP

SEARCH OUR CHRISTMAS EVENTS

SEARCH FOR CHRISTMAS GIFTS