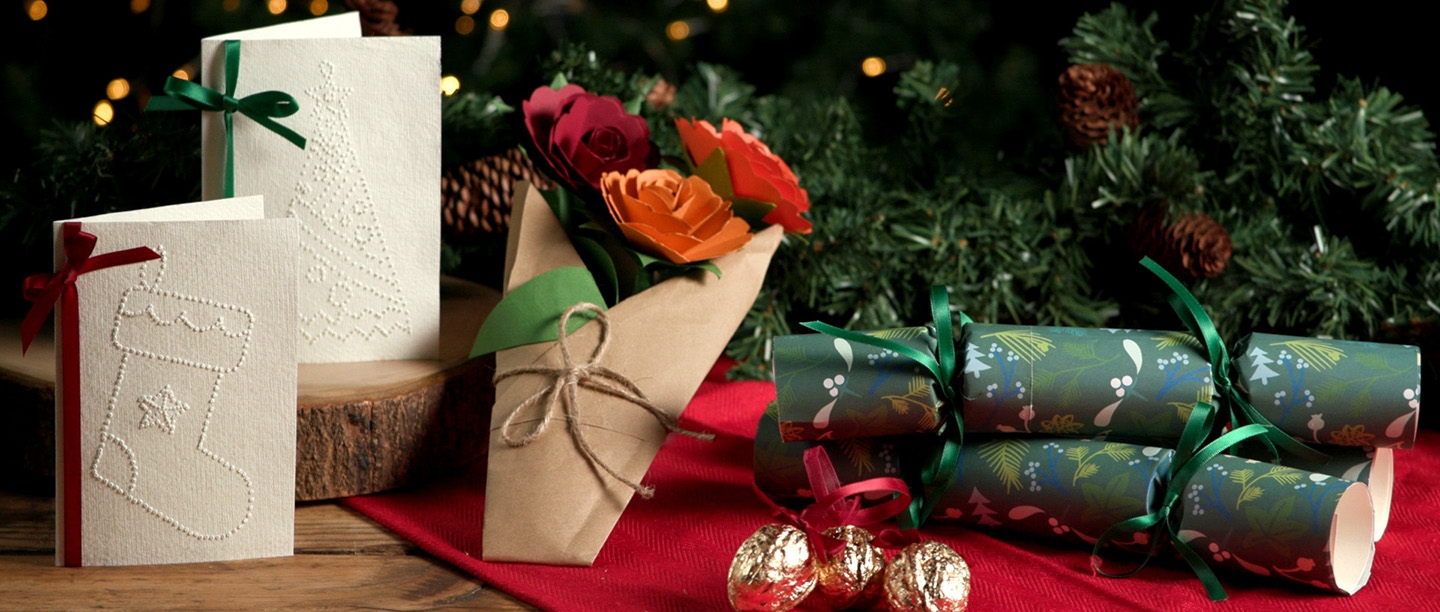 How To Make Victorian Inspired Christmas Crafts
The Victorians popularised many of the Christmas traditions we still enjoy today and they loved decorating their homes during the festive season. Many of their decorations were homemade – watch our video below to learn how to make your own Victorian-style Christmas crackers, gilded walnuts, pin-prick cards and paper flowers.
VIDEO: FIVE-MINUTE FESTIVE CRAFTS
Creating crafts was a popular pastime for well-off Victorian women. Our video shows you how you can recreate some seasonal makes for yourself – from homemade crackers for your Christmas table to gilded walnuts to give your tree a truly traditional feel.
CHRISTMAS CRACKERS
The Christmas cracker can be traced back to the middle of the 19th century and London confectioner Tom Smith. Visit our blog (see bottom of page) for more history of the cracker, and see below to download your step-by-step guide to make your own.
DOWNLOAD OUR GUIDE
GILDED WALNUTS
Christmas trees were introduced from Germany to England during the Georgian period but were popularised by Queen Victoria and Prince Albert. Victorian Christmas trees were adorned with colourful fruit, paper baskets of sweets and gilded walnuts. These were often tied with a narrow red ribbon and hung to upper boughs of a tree, at times concealing a hidden fortune. Tradition has it that this style of ornamental gift should hang on the tree until New Year's Day.
A Victorian magazine, The Delineator, published an article that showed readers how to create the ornaments, and even declared that 'one of the handsomest effects' on a Christmas tree was 'having the tips of the green boughs reflecting the lights in many brilliant colours'.
PIN-PRICK CARDS
Christmas cards date back to 1843, when civil servant (and the V&A's founding director) Henry Cole commissioned a card showing a family around a dinner table, above the message 'A merry Christmas and a happy new year to you'. A batch of 1,000 hand-coloured cards were printed but, at one shilling each, the cards were expensive for ordinary Victorians.
The idea caught people's imaginations though and Christmas cards started to become more affordable thanks to advances in colour printing technology. By the 1880s the sending of cards had become hugely popular: a total of 11.5 million cards were produced in the UK in 1880 alone. Many people also made their own Christmas cards at home, and a popular craft activity at the time was to create cards with pin-prick paper lace borders.
DOWNLOAD OUR TEMPLATES
PAPER FLOWERS
Making paper flowers was a popular craft activity among wealthy Victorian women. Hundreds of articles from magazines at the time showed how to make elaborate imitation flowers, which were displayed throughout the house and were considered an indispensable personal accessory.
The flowers were made by carefully taking apart a real flower, tracing each part on to a piece of paper and then using these as templates (click here to download templates that we've already created for you). The flowers were often completed by dipping each petal in wax to make them last longer. Fortunately, you don't have to go to quite the same lengths that the Victorians did to create beautiful paper flowers – the examples you can see in our video are surprisingly straightforward to recreate.
DOWNLOAD OUR GUIDE
From our blog: Christmas traditions