Published: 02 December 2016
Category: History In-depth
One of the main reasons the Victorians fell in love with Christmas was because of the way the Royal family celebrated it. Sam Bilton investigates the festive feasts and other Christmas traditions.
'O Christmas Tree'
Queen Victoria had grown up with the tradition of decorating a tree at Christmas time. The custom had been introduced to the English court by her Hanoverian ancestors and was continued by her German mother. However, it was the queen's husband, Prince Albert, who truly relished this ritual.
After their marriage, Albert took on personal responsibility for decorating the trees at Windsor Castle with wax candles and sweets such as barley sugar and sugar plums. These were actually caraway or aniseed comfits, covered with boiled sugar and crafted into the shape of a plum. A little wire 'stalk' at the top made them convenient for hanging on trees.
The queen appears to have been as enamoured with Christmas as her husband:
"Christmas, I always look upon as a most dear happy time, also for Albert, who enjoyed it naturally still more in his happy home, which mine, certainly, as a child, was not. It is a pleasure to have this blessed festival associated with one's happiest days. The very smell of the Christmas Trees of pleasant memories. To think, we have already 2 Children now, & one who already enjoys the sight, — it seems like a dream."
Entry from Queen Victoria's journal on 24 December 1841
By the 1860s hundreds of Christmas trees were being sold in Covent Garden. Originally, trees would be decorated with oranges stuck with cloves, cinnamon sticks and pine cones. Sometimes the nut would be removed from a walnut shell and replaced by a small gift or candy before being hung on a tree.
Wrest Park is home to what is thought to be the oldest Christmas tree in Britain. The 30m Wellingtonia was planted in 1856 by Thomas de Grey. It used to be brought indoors every December to be decorated for the festive season until it grew too large.
Victorian Christmas stockings: filled with sweet treats
Just like today, Victorian children looked forward to opening their Christmas stockings. During the 19th century, handmade presents were the order of the day. Sweets were a particular favourite.
These would mostly take the form of sugar candies like barley sugar, which could be twisted into different shapes – including canes. If you were really lucky you might be given some Everton Toffee (like the recipe below) although many less well off children had to content themselves with an orange and a few nuts.
TO MAKE EVERTON TOFFEE:
Get one pound of treacle, the same quantity of moist sugar and half a pound of butter. Put them in a saucepan large enough to allow of fast boiling over a clear fire. Put in the butter first and rub it well over the bottom of the saucepan, and add the treacle and the sugar, stirring together gently with a knife.
After it has boiled for about 10 minutes, ascertain if it is done, in the following way:- Have ready a basin of cold water, and drop a little of the mixture into it from the point of a knife. If it is sufficiently done, when you take it from the water it will be quite crisp.
Now prepare a large shallow tin pan, or dish, rubbed all over with butter, to prevent its adhering, and into this pour the toffee from the saucepan to get cold, when it can be easily removed. To keep it good, it should be excluded from the air
From Cassell's Household Guide (1869)
A Taste from Home: Recipe for Lebkuchen (German Gingerbread)
Gingerbread was no stranger to our shores, being sold at fairs (like the Nottingham Goose Fair) or eaten on feast days. However, it is thought that Prince Albert helped spread the popularity of gingerbread as a Christmas treat.
"Albert arranged a surprise for the Children. In Germany the old saying that St. Nicholas appears with a rod for naughty children, & gingerbread for good ones, is constantly represented, & Arthur hearing of this begged for one. Accordingly Albert got up a St. Nicholas, most formidable he looking, in black, covered with snow, a long white beard, & red nose, — of a gigantic stature! He came in asking the Children, who were somewhat awed & alarmed, — "are you a good child, & giving them gingerbread & apples."
Entry from Queen Victoria's journal on 24 December 1856
Below is a recipe for a type of honey gingerbread which is a traditional festive treat in Germany.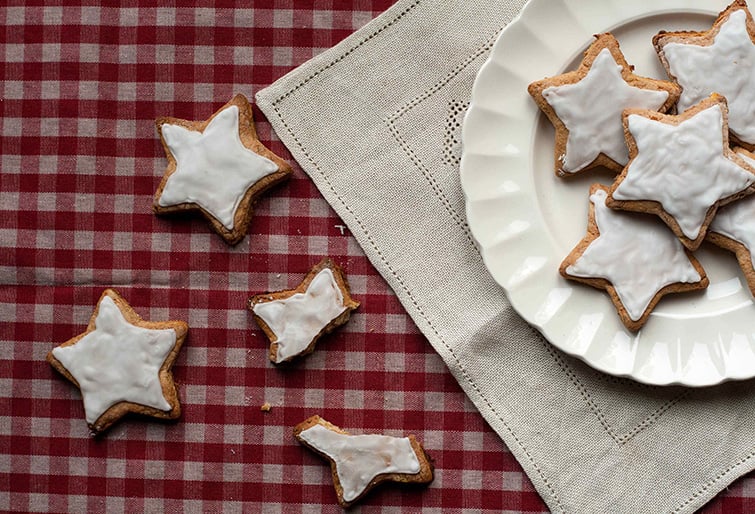 Sam's Lebkuchen, shaped like star and iced (appropriately!) with Royal icing.
Lebkuchen – makes 12 – 14
75g soft brown sugar
50g honey
250g self raising flour, sieved
½ tsp ground cinnamon
50g ground almonds
50g chopped crystallised mixed peel
1 large egg
2-4 tbsp kirsch or lemon juice
250g icing sugar, plus more for dusting
Method
Melt the sugar and honey together over a gentle heat. Off the heat, stir in the cinnamon, flour and ground almonds, and then the crystallised peel.
Lightly whisk the egg and beat it into the cooling honey and flour mixture. Beat until you have a smooth paste (add a little water if the mixture seems dry). Cover and leave to rest in the refrigerator overnight.
The following day, preheat the oven to 170°C. Dust a board and rolling pin with icing sugar and roll out the dough to 5mm thick. Cut out shapes using a festive cookie cutters. Place the shapes on a greased baking sheet and bake for 7-8 minutes until well browned. Allow to cool.
Sieve the icing sugar then stir in the kirsch or lemon juice to make a thickish icing. Ice the biscuits when cool then leave to dry.
Adapted from European Festival Food by Elisabeth Luard
Goose or turkey: What was served for Christmas dinner?
It was a regular Christmas dinner, with turkeys, Baron of Beef, Plum Pudding & Mince Pies.
Entry from Queen Victoria's journal 25th December 1843.
Perhaps this was a regular Christmas dinner for Queen Victoria, but for her subjects the Christmas feast was a less elaborate affair. No matter what your economic circumstances a festive bird was central to Christmas dinner. During the early part of Victoria's reign this would have meant a goose (like the one consumed by the Cratchits in Dickens' A Christmas Carol).
Local 'Goose Clubs' were established early on in the year so that poorer people could save a few pennies a week from their wages to buy their bird. If you didn't have your own oven (which many households did not) then you could take your goose to the local baker to be cooked ready for Christmas morning.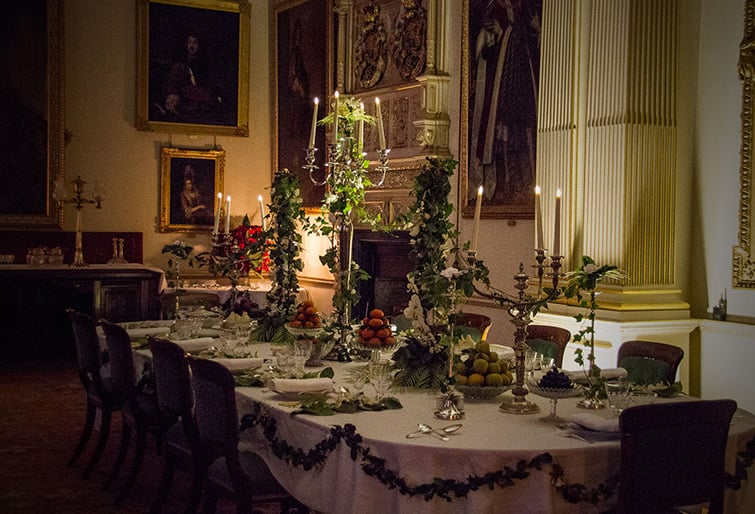 A table decked out for a Victorian Christmas dinner.
The turkey truly began to usurp the goose (or swan if you were royalty) from pride of place towards the end of the 19th century, particularly in middle class households.
Royal Christmas feasts would include a dazzling array of dishes. These sumptuous spreads would feature a choice of soups like Mock Turtle (made from calves head – a very popular alternative to real turtle soup during the Victorian era); several fish dishes; a number of roasts including a baron of beef and boars head (a particular favourite of Prince Albert); game pies as well as plum pudding and mince pies.
No wonder the queen was said to suffer from indigestion!
The queen lost her appetite for Christmas celebrations following the death of her beloved Albert in 1861, writing in December 1862 'Christmas, formerly such a dear happy time, came so sadly before me.' However, her grandchildren would eventually restore her love for the festive season and Christmas trees would once again light up the royal households, just as they had done in Albert's day.