Isabella de Fortibus
Countess Isabella de Fortibus (or Forz) was one of the greatest heiresses in 13th-century England. Her remarkable life illustrates the power and riches that could lie in the hands of women of noble birth in medieval England.
Lived: 1237–1293
Field: Medieval noblewoman
Key achievement: Remained mistress of her own destiny – and of the Isle of Wight – until her dying moments.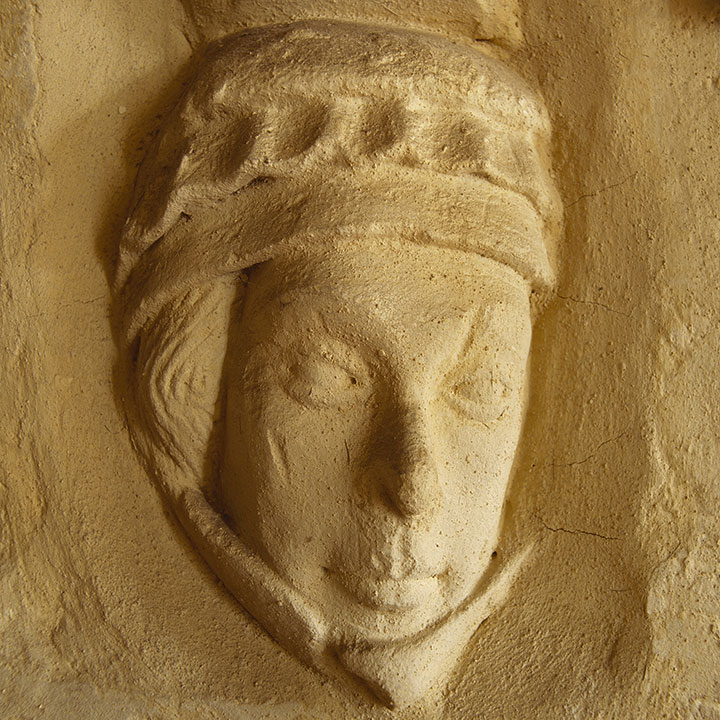 Child Bride
Born in 1237, Isabella de Fortibus was the elder daughter of Baldwin de Redvers, Earl of Devon. This made her a coveted prize for an ambitious nobleman, but meant she would have had little or no say in whom she married.
William de Fortibus (or Forz), Earl of Aumale and owner of great tracts of land in northern England, was chosen for her. She was married to him at the age of 11 or 12. Though this seems shockingly young to us, it was not uncommon for aristocratic women in the Middle Ages to marry very early – certainly by the age of 16.
Teenage pregnancy was, in fact, positively encouraged: the important thing was to produce an heir. This Isabella did. By the time her husband died in 1260, leaving her a widow at the age of 23, she had borne him four boys and two girls.
Lady of Carisbrooke
By the age of 26, Isabella had inherited not only her husband's lands and title, but much of the estate of her brother, Baldwin de Redvers, Earl of Devon, who died childless in 1262. This included the lordship of the Isle of Wight, as well as lands in Devon and Hampshire. She had become one of the great landowners in England of her day, which made her an unusually powerful woman.
She chose to make Carisbrooke Castle on the Isle of Wight her main home, transforming it into a setting that befitted her wealth and prestige. Many of her records survive, giving an exceptionally clear picture of the work she did there. During her tenure the castle must often have felt like a perpetual construction site, as buildings were altered, extended or built from scratch.
Isabella began by reordering the main apartments of the castle, adding a chapel at one end of the great hall and a great chamber at the other. Its main window, looking out over the island, was glazed – a real luxury at the time. Later she built new apartments for the constable – an official who had an important role running her estates – and a new kitchen.
Find out more about Carisbrooke Castle's history
Fending off suitors
As a rich widow, Isabella was now an even better catch. But widowhood also brought a degree of legal authority and financial security otherwise denied to young women.
Unsurprisingly Isabella soon found herself pursued by suitors – but she strenuously resisted them. In 1264, the younger Simon de Montfort acquired from the king the right to marry her. He tried to abduct her, and to escape him she was forced to hide for a time in Breamore Priory, Hampshire, and then to seek refuge in Wales when he continued to pursue her.
By 1268 Henry III had granted his son Edmund, Earl of Lancaster, the right to marry her – but she evaded him too. Instead, in 1269 Edmund married her ten-year-old daughter, Aveline.
Outwitting the king
Isabella was to spend 33 years as a widow, controlling her lands and property. She outlived all six of her children, who died before they were out of their teens. When the last survivor, Aveline, heir to all of her mother's lands, died in 1274, Isabella faced another challenge – this time from the king himself.
Acquiring Isabella's lands was Edward I's unsurprising motive. Much of his reign was dedicated to increasing his landholdings, and her ownership of the Isle of Wight – coveted both for its strategic position and the wealth it generated – was a prime target. But just as she had resisted remarriage, so she stood firm against the king.
By supporting a bogus claimant to the Aumale earldom and then buying him out, Edward managed to acquire Isabella's northern lands. But despite all his efforts to get hold of her vast southern estates, she twice refused to sell them to him. In 1281 she even triumphed when he challenged her control of the Isle of Wight in court.
Deathbed Sale
In November 1293, however, Isabella was taken gravely ill while travelling from Canterbury, and lay dying at her manor in Stockwell, London. The king's emissaries rushed to her bedside.
There, Edward's leading councillor, Bishop Walter Langton, read her a charter that confirmed the sale of the Isle of Wight and other lands in Devon and Hampshire to the king. The dying countess apparently ordered her lady of the bedchamber to seal it. She made her will and received the last sacrament, dying before dawn the next day.
Perhaps the king took advantage of the dying countess; or perhaps she cared little for the distant cousin who was her legal heir. Either way, with the demise of one of the richest and most powerful women of her day, Isabella's lands passed to the Crown, and the Isle of Wight's independence from royal control came to an end.

Top image: A carved stone head at Christchurch Priory, Dorset, believed to be a portrait of Countess Isabella
History of Carisbrooke Castle

Learn more about the history of Carisbrooke Castle, a central place of power and defence on the Isle of Wight for over 1,000 years and most famously Charles I's prison during the Civil War.

A royal prisoner at Carisbrooke Castle

During the Civil War Carisbrooke housed its most prestigious, if unwilling, resident: King Charles I. Read about his escape attempts and how his political manoeuvrings ultimately sealed his fate.

Women in history

Read about the remarkable lives of some of the women who have left their mark on society and shaped our way of life – from Anglo-Saxon times to the 20th century.