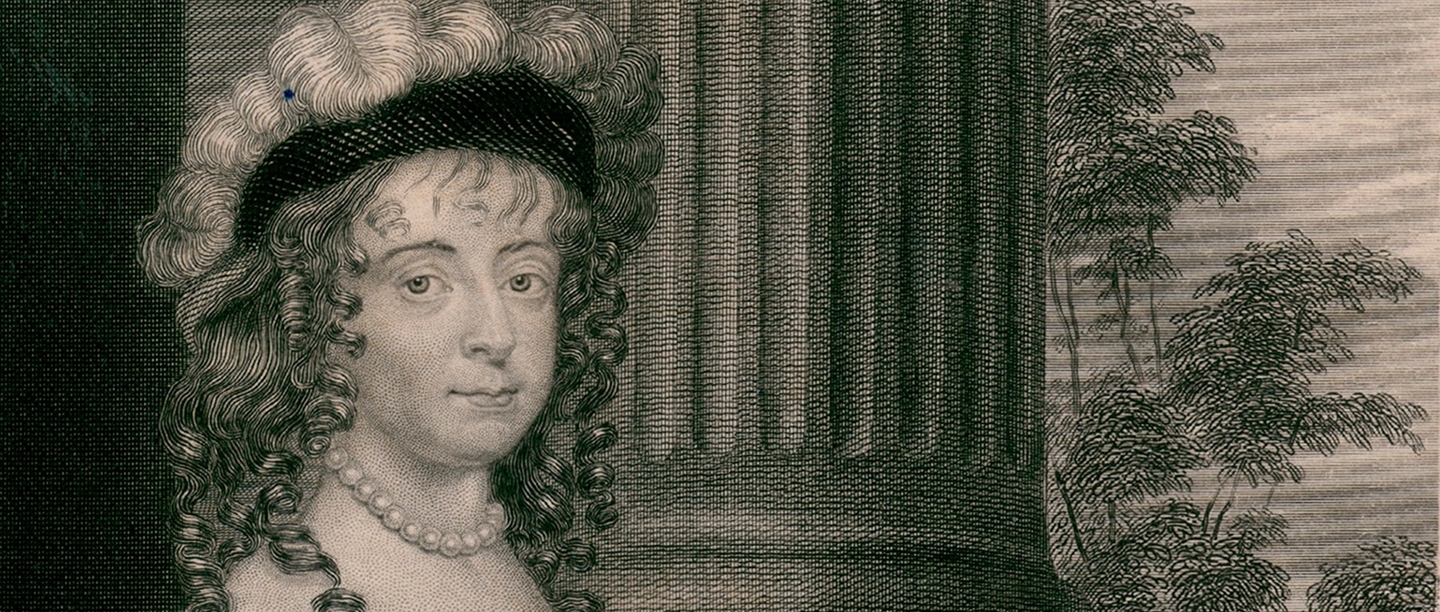 Margaret Cavendish
Margaret Cavendish, Duchess of Newcastle, was one of the most prolific female authors and philosophers of the 17th century, writing at a time of immense political upheaval.
Lived: about 1623–1673
Field: Writer
Key moment: Publishing books which anticipated some of the central arguments concerning natural and political philosophy, gender studies and religion.
Civil War and Marriage
Margaret Cavendish was born near Colchester in 1623, the daughter of wealthy parents. Her education as a child was basic – like many women of her day, she was taught to read and write, and studied music, needlework and dancing.
In 1642, at the age of 19, she moved to court, probably as a result of the Civil War, which had broken out that year. By 1643 Margaret was acting as a maid of honour to Queen Henrietta Maria, wife of Charles I.
In 1644 she travelled with the queen to Paris to escape the increasingly violent war. There Margaret met her husband, the defeated Royalist commander William Cavendish, Marquess of Newcastle. Despite protests from the queen and their friends, they were married in 1645.
'Mad Madge'
Margaret Cavendish's eccentricities are well documented. She was known for her outlandish dress sense, flirtatious and exuberant manner, and speech packed with 'oaths and obscenity'.
Samuel Pepys described her as 'mad, conceited and ridiculous', while the exiled court of Henrietta Maria saw her as little more than a simpleton. Later writers would refer to her as 'Mad Madge', although this nickname was probably not used in Margaret's lifetime. Despite this reputation, it is clear that Margaret Cavendish was an intelligent and ambitious woman.
A prolific writer
In 1651 Margaret returned to England temporarily, where she attempted to gain control over her husband's estates. Her appeal to the republican Cromwellian regime was unsuccessful – her husband was viewed as 'the greatest traitor to the state', and her brother had been executed in 1648.
While awaiting the outcome of her appeal, Margaret published her first book of poetry, Poems and Fancies, in 1653. This included descriptions of her theory of atomics, told through verse. The work certainly made an impact – one commentator claimed that the book was 'ten times more Extravagant than her dresse'.
Margaret continued to write prolifically throughout the 1650s. She began to discuss issues of sex and gender, exploring the topics of marriage, courtship and infidelity. She also examined whether gender inequality was caused by an imbalance between the sexes or a lack of opportunity for women.
Intellectual Legacy
After the Restoration of the monarchy in 1660 the Cavendishes returned from exile. William began to restore his estates, including Bolsover Castle in Derbyshire. Margaret was actively involved in running his lands.
During the 1660s Margaret Cavendish began to write philosophical books. Several of her noted works published in this decade anticipated some of the central arguments later writers would make concerning natural and political philosophy, gender studies and religion.
Margaret was probably the most published woman of the 17th century, publishing plays, essays, criticisms and poetry, as well some of the earliest proto-science fiction. In 1667 she became the first woman to attend a meeting of the Royal Society – a bold step which was not repeated for centuries.
Criticism and writing surrounding her life has often tended to focus on Margaret's eccentric personality more than her work. Yet Margaret's writing has stood the test of time, with many of her books still in print and available today.