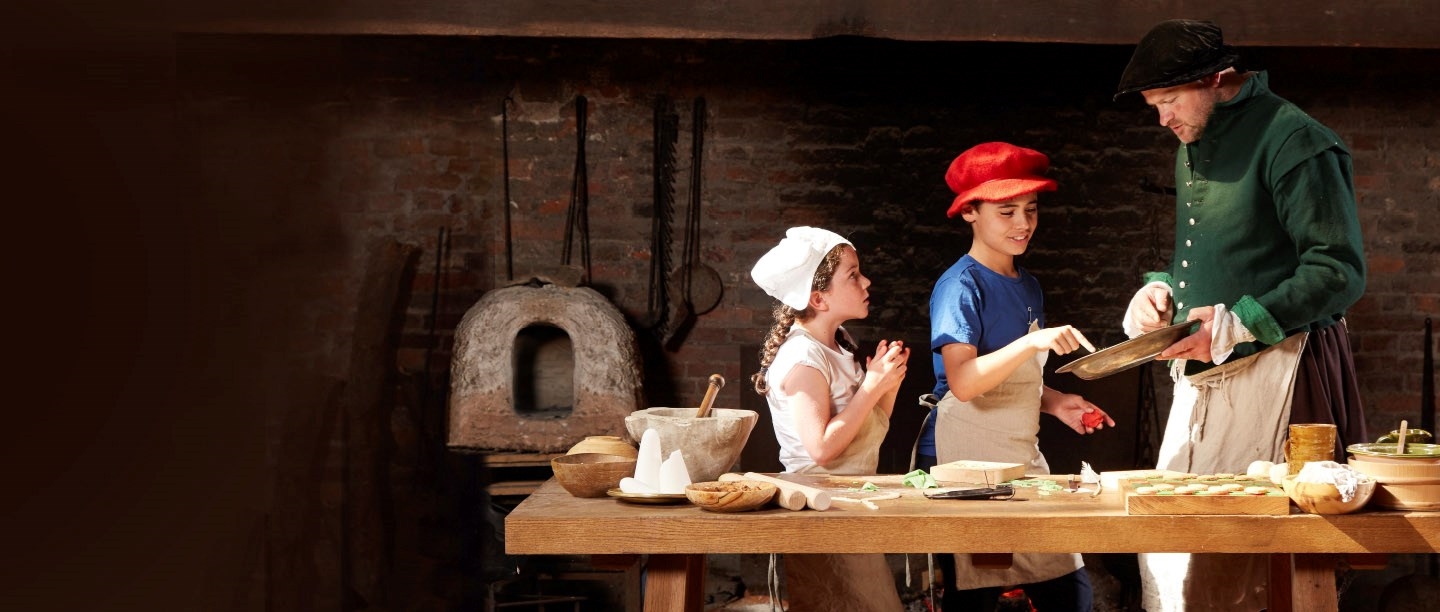 Interview With A Tudor Cook
We sent young Members Olivia and Adham to Gainsborough Old Hall in Lincolnshire to interview Tudor cook Thomas Griffin as he prepares a feast for Lord William Burgh.
MEET TUDOR COOK THOMAS GRIFFIN
Olivia: What's it like in the kitchen?
Always very busy! We're up very early in the morning and can't go to bed until Lord William has gone to bed, just in case he wants something to eat. There are always things to prepare for the next day too. I roast, I boil, I bake, I fry, I do absolutely everything and make sure the staff are doing it as well!
Adham: Would do you have for the dessert?
Sir William likes lots of sugary, spicy things so there will be dishes with fruit in, there will be sweet wine from Spain and Portugal. I've also made some marchpane roses using a mould and a chess board with biscuits as the counters.
Olivia: What is marchpane?
It's almonds, egg yolks and sugar and you grind it all up and make it into a doughy, pasty stuff.
Olivia: Oh, marzipan!
Adham: What do you use for the food colouring?
We use plants mainly. Parsley gives us green, special bark from brazilwood makes us red and we even have a special kind of beetle called cochineal that makes a lovely pink colour.
About Gainsborough Old Hall
Gainsborough Old Hall is one of the best-preserved medieval manor houses in England. It was built by Sir Thomas Burgh - a courtier, and then later a knight, to King Edward IV - around 1460 as both his home and a demonstration of his wealth and importance.
The walls of the original building were built using a timber framework, but these were later encased in brick, which was a statement of wealth during this time.
At the centre of the house is a magnificent Great Hall, linking the east and west sides of the house. The Old Hall also has one of the best examples of a late medieval kitchen in England, where grand feasts were prepared for its owners.
A Royal Welcome
During its occupation by the Burgh family, the Hall received two royal visits. King Richard III visited in 1483 and Henry VIII, together with his fifth wife, Catherine Howard, in 1541. However, by1596, the Burghs had fallen on hard times and the house was sold to the Hickman family.
The Hickman family lived at the Old Hall until 1720. Since then it has been put to many different uses including a theatre, a pub and even a Masonic temple! It was given to the nation in 1969 by the Bacon family, who are descendants of the Hickman family.
Visit Gainsborough Old Hall
Visit Gainsborough Old Hall in Lincolnshire to step inside a medieval knight's former residence, explore the rooms of one of England's finest timber-framed medieval manor houses and discover over 500 years of history.
Things to look out for during a visit include its grand Great Hall, its magnificent medieval kitchen, its East and West range, including its spooky 'ghost corridor', and its original brick-built tower.
Gainsborough Old Hall is managed by Lincolnshire County Council.
Plan your visit