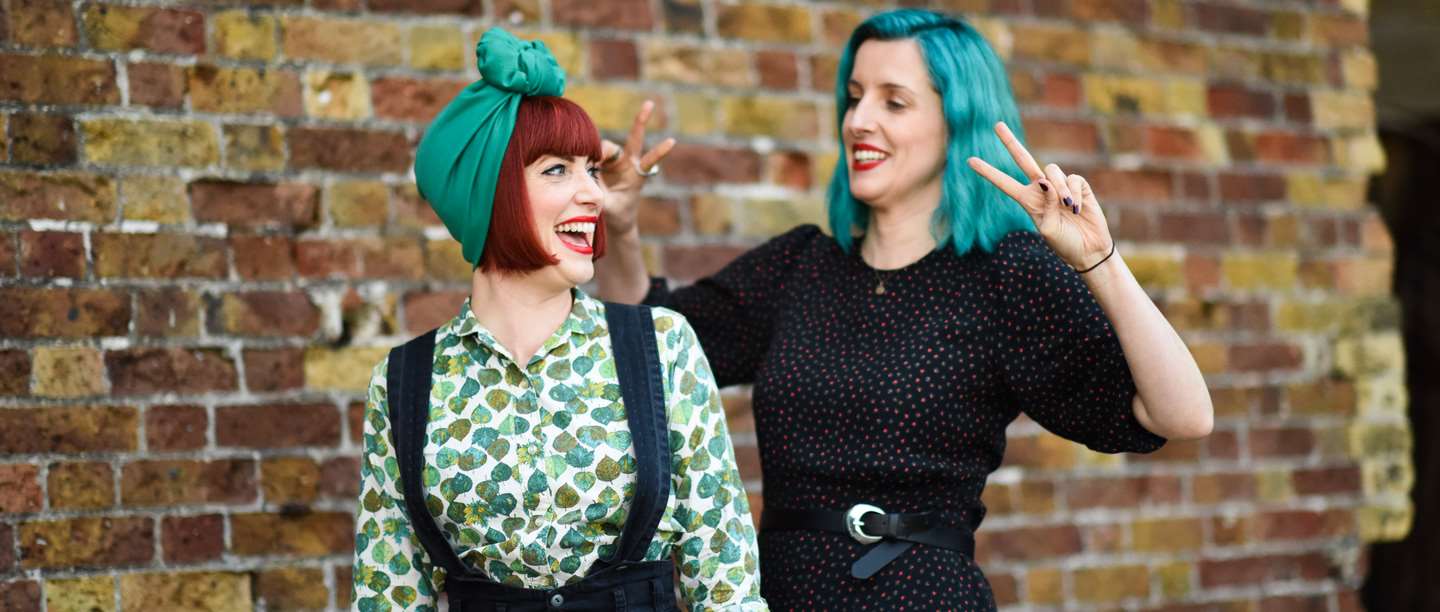 Meet the Experts: Amber Butchart and Rebecca Butterworth
Meet Amber Butchart, fashion historian, and Rebecca Butterworth, historical make-up artist, who help us produce our historical make-up tutorials.
INTERVIEW CHARLES ROWE
PHOTOGRAPHS ABI BANSAL
Amber Butchart: When I was first invited to present a series of historic make-up tutorials for English Heritage, it sounded like a great project. I loved the idea of helping people to create different looks from the past at home. A big part of the work that I do is about using clothing and how we adorn the body to try to understand the past, so I just thought this sounded like a fantastic route into history, and a lot of fun as well.
Rebecca Butterworth: In the series we go all the way back to Roman times, where we're focusing on Julia Donma, who was the wife of Emperor Septimius Severus in the 3rd century AD. We also recreate the iconic looks of Queen Elizabeth I and Queen Victoria, along with typical looks from the Georgian era and the 1930s. Our most recent video concentrated on the Second World War and we styled the model as a Wren serving at Dover Castle.
AB: Of the six episodes we recorded, my favourite to work on was the Georgian episode, when we created looks for male and female models. They're such theatrical looks but ones we all recognise from costume dramas on film and TV, so trying to peel back the layers and understand the reality versus the fictionalised depictions was really interesting. There's also such close links between dress, make-up, politics, society, power at this time – it's got everything.
RB: It's tricky to pinpoint an exact moment when make-up started. As far back as you look, people were discovering pigments they could mix with oil to use as paints. The ancient Egyptians were some of the first to use make-up to enhance facial features, using crushed-up malachite, coal or carbon to create eyeliners. I think one of the main ways make-up has evolved is that it's no longer the preserve of the very wealthy, royals or religious leaders. Anyone can get their hands on it now, which is more democratic.
RB: The hardest tutorial to produce was the Roman episode. I really wanted to recreate some Roman make-up recipes but it's hard to get hold of the ingredients these days. It was also very difficult to apply the make-up because I was using a replica of a Roman make-up applicating tool, which was this little grinder with a small mixing bowl to make an eyeliner. The shape of the grinder is meant to fit your eye so you can draw your eyeliner straight on, but it was definitely not that straightforward!
AB: You can definitely see how make-up and fashion have evolved together through the ages as they didn't operate in a vacuum. For example, madder root was used to create blush during the Elizabethan era but was also used to dye clothes. Their evolution can also be related to changes in politics and culture and so it's a great magnifying glass for these wider issues in society. Because many of us still wear make-up and all of us still wear clothes, it forms a tangible link with the past.
Watch the makeup tutorials
Queen Elizabeth I Makeup Tutorial

Queen Victoria Makeup Tutorial

1940s World War II Makeup Tutorial
Listen to the podcast
Episode 68 - Keeping up appearances: Exploring the history of makeup
Listen to our podcast with fashion historian Amber Butchart and makeup artist Rebecca Butterworth discussing the history of makeup and their experiences as the presenters of our popular series of makeup tutorials on YouTube, which explain how to get iconic looks through the ages, from Roman times to the 1940s. Discover how cosmetics have evolved over time, what they found out making the series and their favourite historic look to recreate at home.
Listen Here