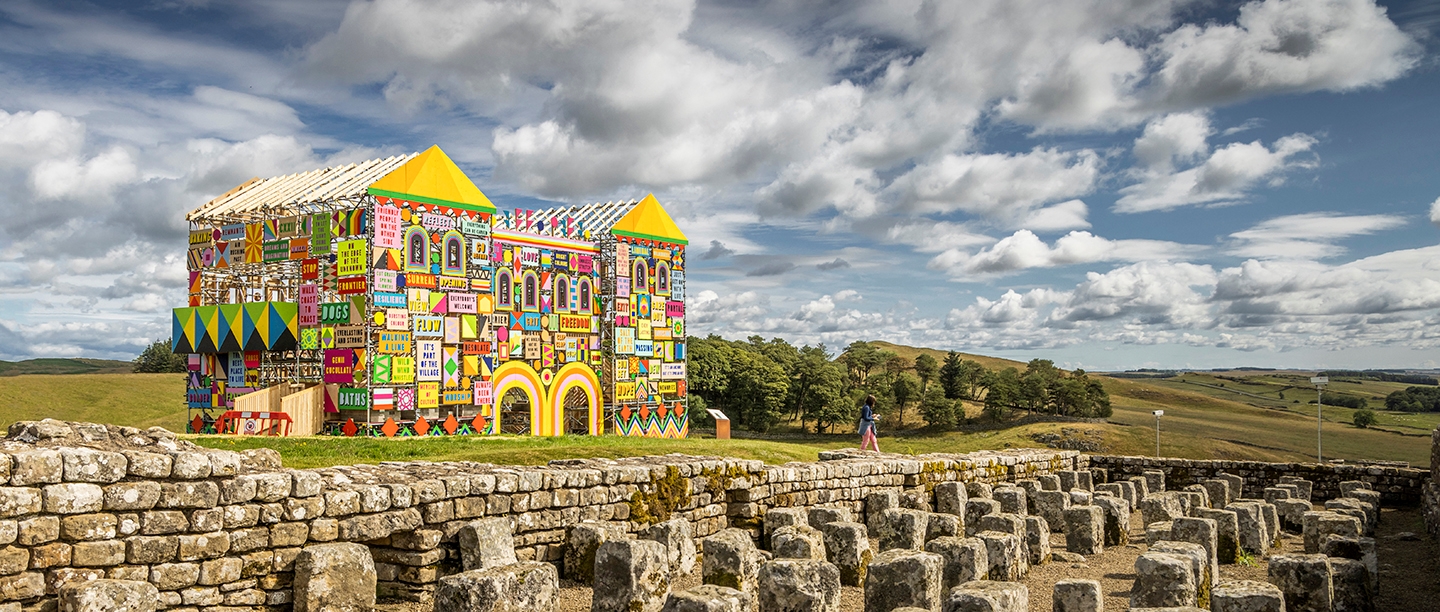 Creative Programme
Our Creative Programme brings unique artistic interventions to our sites in the form of contemporary visual art, theatre, literature, dance and other creative art forms that bring England's stories to life.

The programme commissions artists, often in partnership with organisations, to produce creative works that draw inspiration from our iconic sites and collections and encourage engagement with heritage and history in new and thought-provoking ways.
Members and visitors can enjoy our creative and artistic projects as part of a regular visit to a site, with a series of exciting new projects, partnerships and collaborations planned for the year ahead.
What's been happening
Our Creative Programme was launched in 2022 with a series of stimulating projects that included a major art installation on Hadrian's Wall – celebrating the Wall's 1,900th anniversary – our first poetry fellowship, and the commissioning of a new artwork at Scarborough Castle.
Our current programme includes exciting partnerships with the British Textile Biennial, Forward Arts, Invisible Dust, Newcastle University, Northampton University, Poetry Takeaway and Vigo Gallery.
Explore some of our most recent and ongoing Creative Programme projects below or look back further to some of our past creative collaborations here.
More on the art installation at Housesteads
Off-Centre Dance Performance

We worked with performing arts company We Are Ramped to host a new dance performance by choreographer Phil Sanger. The performance presented a contextually rich, engaging and inclusive dance piece, Off-Centre at Wrest Park, Bedfordshire, on Saturday 20 and Sunday 21 May.

Untold Stories – Poetry at English Heritage

In 2022 Jacob Sam-La Rose was selected as our first English Heritage Poetry Fellow as part of our ongoing poetry programme – Untold Stories. During his fellowship Jacob has explored English Heritage's sites and stories to produce a number of new poems inspired by our history. The new poems will be published here soon. Follow the link to read more about the Untold Stories programme.

Ryan Gander at Scarborough

View Ryan Gander's sculpture on your next visit to Scarborough Castle. We are only human is designed to be only partially formed as it is intended to be completed by snowfall, something increasingly unlikely due to climate change. The work forms part of Wild Eye – a project that combines world-class sculpture with nature observation opportunities. It was commissioned by English Heritage together with Yorkshire Wildlife Trust and Invisible Dust, and in collaboration with Scarborough Borough Council and CaVCA.
Untold Stories Continues

In 2023 our current English Heritage Poetry Fellow, Jacob Sam-La Rose, will support our poetry steering group, featuring national poetry specialists and ambassadors, to collaborate on new ways to bring poetry to English Heritage sites. Follow the link above to read more about the programme.

Ingrid Pollard at Belsay

Artist Ingrid Pollard MBE continues her research at Belsay Hall, Castle and Gardens, Northumberland, as the Belsay Artist Fellow 2022, in partnership with Newcastle University. The results of her research will be revealed in new artworks to be shown on site later in spring 2024.

New Commission at Rushton Triangular Lodge

We are partnering with Northampton University to commission an art student or recent art graduate to create a new artwork for Rushton Triangular Lodge, Northamptonshire. Through this commission we hope to provide a unique opportunity for an early career artist to respond to this intriguing historic building. The new artwork will be shown at the site in spring/summer 2024.

Keith Harrison at Witley Court

Artist Keith Harrison has been selected to produce a new artwork which will be on display at Witley Court, Worcestershire, in Spring 2024. The work, Fountain | 1937,will respond to the working-class history that funded the family wealth of the 19th-century owner of Witley Court – the Earl of Dudley. Come back soon for more details on this exciting new commission.

Stephen Farthing at Kenwood

From June to November 2024, works by Stephen Farthing will be exhibited alongside the Suffolk Collection at Kenwood, in London, featuring paintings inspired by swagger portraiture including Kenwood's series by Jacobean artist William Larkin. Alongside other events, Farthing will be in residence in Kenwood's Dairy where he will create new works in response to Kenwood's collections.
Image: Stephen Farthing, A Dance To The Music of Time (Cecil after Larkin), 2020. Photograph © Moira Jamrisko

Dion Kitson at JW Evans

In 2024 we are collaborating with the IKON Gallery in Birmingham to realise an ambitious new commission by artist Dion Kitson. Kitson's first major solo exhibition across Ikon's Second Floor Galleries will run from May to September 2024 and will include a sculptural response to the JW Evans Silver Factory. Throughout the exhibition's run, Kitson's artwork and sculptural interventions will also be installed at JW Evans.
Creative Partnerships
Our Creative Programme seeks opportunities to make new and relevant partnerships and to work collaboratively to ensure our projects reflect England's diversity.
Our partnerships can take several forms including major artist commissions, smaller experimental projects, creative opportunities for emerging artists, artist residencies and fellowships, temporary loans, commercial opportunities, and collaborations with local communities. Previous collaborative partners include Arts Council England, Arts&Heritage, Berwick Visual Arts, Hadrian's Wall Partnership, Meadow Arts, National Heritage Lottery Fund, Northern Arts, Studio Hardie, and the University of Northumbria.
We welcome submissions for our future programme from individuals, groups and organisations. Submissions are reviewed twice yearly by our Creative Programme Steering Group. You can find more information and the submission form here.