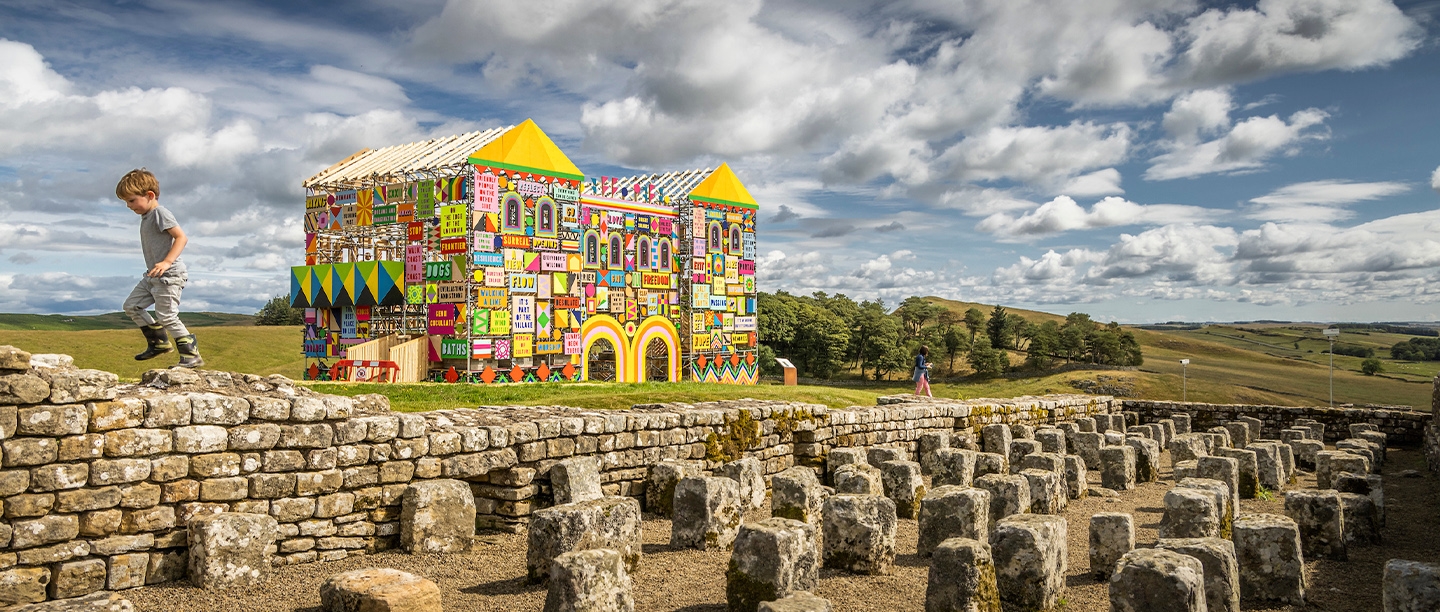 Art Installation at Housesteads
The Future Belongs to What Was As Much As What Is
You may have noticed something different at Housesteads Roman Fort recently. An art installation on the site of the original gatehouse has been created as part of Hadrian's Wall 1900th anniversary celebrations. The artwork will be open for the public to enjoy from Saturday 30 July until Sunday 30 October 2022.
Visitors can go inside the artwork and climb the stairs to the first floor to experience a view that hasn't been seen since the Roman garrison kept watch here 1600 years ago!

The Artwork
The artwork has been produced by internationally renowned British artist and designer Morag Myerscough and in collaboration with the local community and poet Ellen Moran. It is the first artwork to be commissioned as part of our new Creative Programme.
The gate may initially seem at odds with the grey stone of the fort, however, the Roman world was a riot of colour, pattern and symbols. The Roman Empire and its people showed off their presence and power on the landscape and communities through vibrant buildings, pottery, clothes and inscriptions.
Inspired by this, the local community through workshops with the English Heritage Historians, Curators and the artists, have made their own mark through colour, pattern, words and symbols on the form of painted panels. The inspiration for these came from artefacts from Chester's Museum, the history of the wall and contemporary discussions about what Hadrian's Wall is and means to them now.
Plan Your Visit
We reccommend visiting Housesteads Roman Fort by bus. The AD122 Hadrian's Wall Bus runs from Hexham Train Station to Haltwhistle. This service stops at Housesteads Roman Fort. Click here to download the timetable. There will also be an additional shuttle service running from The Sill, where there will be extra parking.
For more information about your visit to Housesteads, please click here.