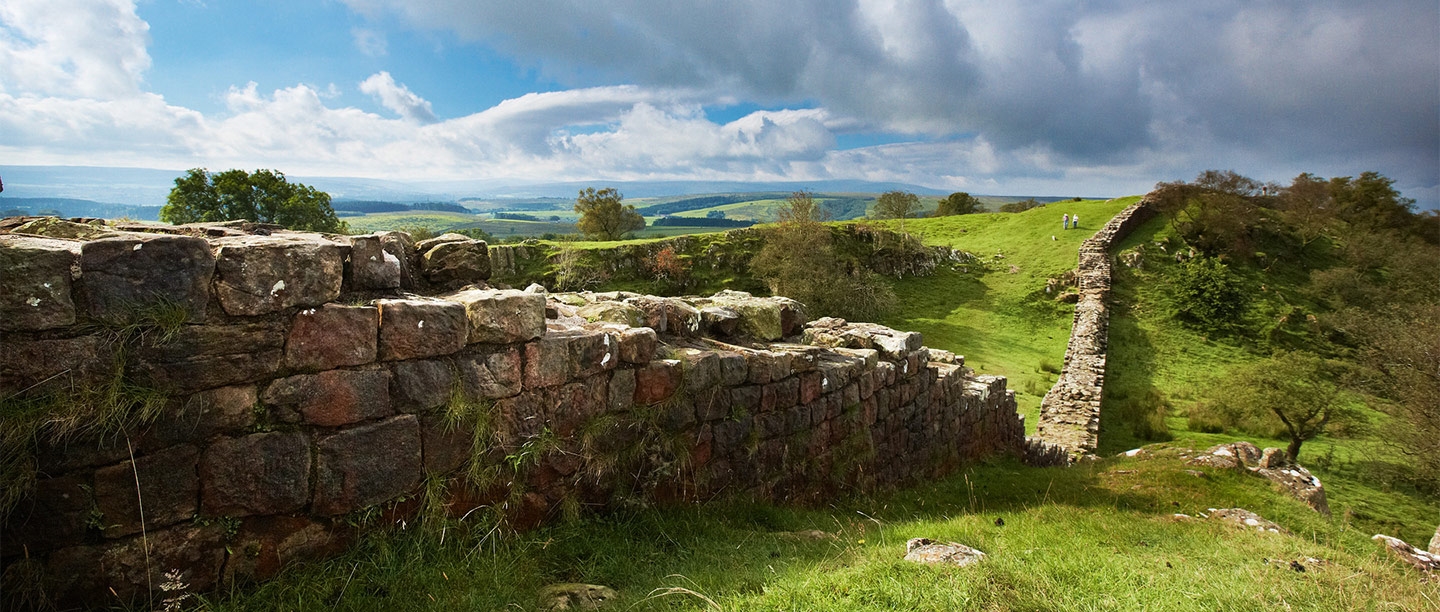 Hadrian's Wall: History and Stories
Hadrian's Wall was a rich and vibrant place. It was a border, but it was also a place where borders were crossed. Here, soldiers and civilians from across Europe and North Africa met, traded and served together at the north-western frontier of the Roman Empire. Many settled in this wild, foreign place across the sea and adopted local customs, worshipping native gods even while preserving their own traditions.
Peel back the layers of 400 years of Roman rule in Britain and explore how new communities evolved at the edge of Empire.
Key Facts about Hadrian's Wall
Hadrian's Wall was a complex system of communications and defences. As well as the Wall itself there was an earthwork, a ditch, two major roads and numerous forts, milecastles and turrets along the 73-mile frontier.
The Wall was built under the command of Emperor Hadrian who travelled extensively across his Empire, making improvements to its defences and consolidating its borders.
When the Romans arrived, Britain was home to numerous warring tribes. Some rebelled against the invaders, but others, such as the Brigantes tribe in northern Britain, became close allies.
Many soldiers and civilians travelled great distances to reach the Wall, including people from modern-day Syria, Romania and North Africa.
Image: An artist's reconstruction of Poltross Burn milecastle on Hadrian's Wall © Historic England (illustration by Peter Lorimer)
Read the full history of Hadrian's Wall
Who Were The Romans?
Roman soldiers stationed at Hadrian's Wall lived alongside a diverse and complex community, including craftspeople, local tribes, slaves and officials. Select the images below to find out more about the people who lived on Hadrian's Wall. All images © English Heritage (illustrations by Adam Larkum)
Stories about Hadrian's Wall
Hadrian's Wall at a Glance
From its original dimensions to the number of man hours it took to build the Wall, learn some headline facts about Hadrian's Wall with our infographic.
Hadrian's Wall Sites
Follow the links below to learn more about the histories of some key sites along Hadrian's Wall.
ENJOY A FULL YEAR OF ADVENTURE
Become an English Heritage member and take full advantage of free entry to over 400 sites plus free or discounted access to our exciting events programme throughout the year.


Join now from £4.42 per month