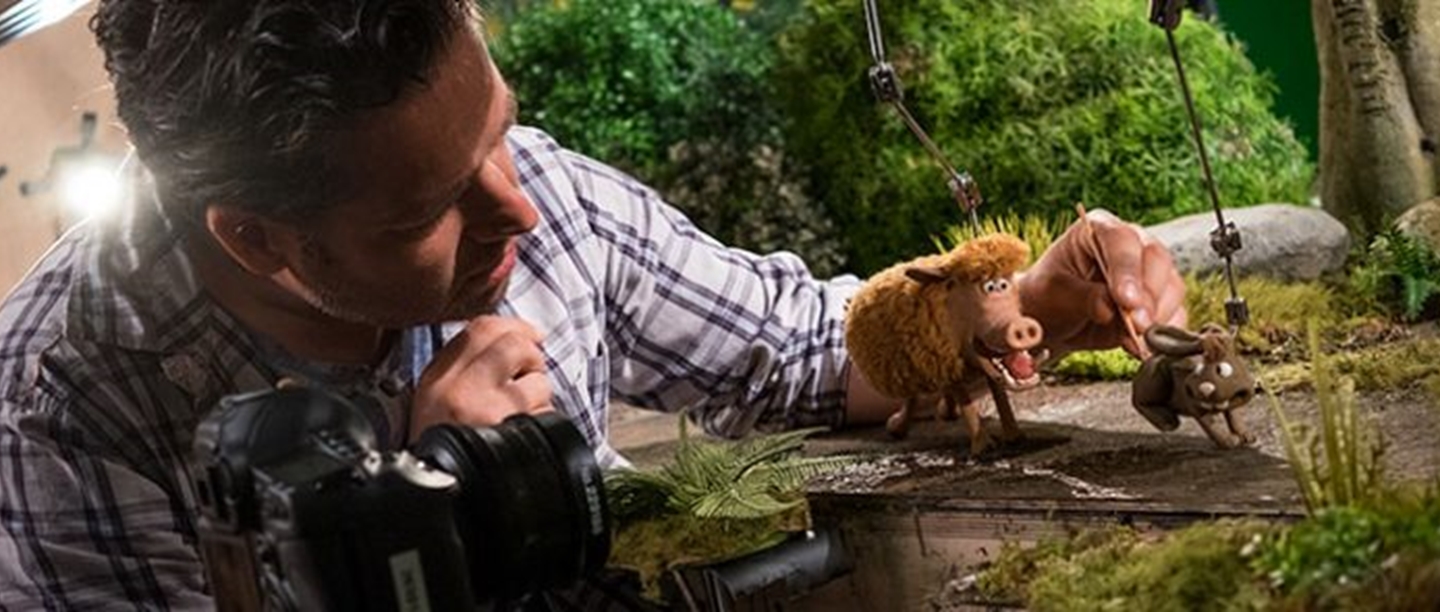 Published: 23 January 2018
Category: Behind The Scenes
Set at the dawn of time, Early Man tells the story of courageous caveman Dug (Eddie Redmayne) and his best friend Hognob as they unite their tribe to save their home from Lord Nooth (Tom Hiddleston) and his Bronze Age city.
The creators took inspiration from Stonehenge to create a home for Dug and his tribe. But instead of making a henge from sarsen and bluestone, it's made of insulation polystyrene, Polyfilla and paint. To celebrate the film's release on 26 January, we've partnered with Aardman to put on 13 Early Man Quests at our historic places around the country this February half term.
We caught up with animator Andy Symanowski to find out how Early Man brings the Stone Age to life. Andy has worked with Aardman for over twenty years on projects like the Academy Award®-winning Wallace & Gromit: The Curse of the Were-Rabbit and Shaun the Sheep.
Can you talk us through the process of developing Early Man for the screen?
Director Nick Park was working on the story for a long time with this one before we started shooting so there was quite a big lead up in story development first. Generally, once we get the story sorted and we go into production, we're looking at three to four years from continuous story development into set-building, model-making and character development to the animators coming in and bringing the characters to life. Then of course after that happens you've got the post-production and CGI effects and music. There's a lot to put together.
What role does Stonehenge play in Early Man?
There is an overriding feel of Stonehenge throughout the tribe's story, both in their home valley and surrounding area – everyone will spot the influence. There is a section where Dug and his tribe are training for a football event and there are hints of Stonehenge in that. So the Stonehenge link is that they put together some goals based on the look of Stonehenge. There's one section where you have the post and the cross-bar, and Dug puts that together so he can help put training sessions on for the rest of the tribe.
The henge we created was made of insulation polystyrene, covered in Polyfilla and then sanded and painted.
Stonehenge isn't directly in the film but it helps set the scene. The Stonehenge area is their home.
A lot of research went into Stonehenge during production. Have you visited Stonehenge?
Art Director Matt Perry visited Stonehenge as part of his research for the movie. He tried to take the look and feel of Stonehenge into the tribe's world. We went just before Christmas for a promotional photo shoot and it was fantastic. We were there three days before the winter solstice and were lucky enough to get to go inside the inner circle for the shoot which was just brilliant. We got there really early for 7am in the morning and we got to see the sunrise with our friends [puppets] Dug and Hognob.
I'd always wanted to go to Stonehenge, it's one of those places that I'd driven past and it had been on my list of things to go and do. Visiting Stonehenge was definitely one of the best things I've done through work.
What did you enjoy about visiting Stonehenge?
I enjoyed the chance to go and walk around Stonehenge and the new visitor centre – it's all brilliant. It's one of those places you see on TV and you hear about all the time, but to actually go there takes it to another level. There's a real sense of history, calmness and mystery about the place. There's nothing more embarrassing than talking to a foreigner and for them to say 'oh wow we were at Stonehenge what do you think?' Until recently I hadn't been and it's only down the road.
Stonehenge is one of those places that shows off the history we're lucky enough to have all around us. It gives you a real sense of being in the history of your country.
When you were there, could you picture a real-life Dug walking around Stonehenge?
Easily, especially when you find out a bit more about the history. The guys at Stonehenge who look after the stones are so knowledgeable and we learnt so much. There's lots going on there that you can really see Dug in scale looking around, just feeling like this is his home.
What would Dug think if he visited Stonehenge today?
Dug is a very positive, very optimistic character and he'd love it. He'd certainly enjoy watching the sunrise with Hognob, and being a caveman he may know exactly why it was built. He'd find it all very interesting.
As an animator, at what point did you become involved in Early Man?
On Early Man I came in quite early to help with the character development, which is where we look at the physicality of the puppets and the type of mannerisms that Nick wants the characters to have. We can test the voices as well once the early voice recordings start to come through so we can develop the mouths ready for when the bulk of the animators come in. There are some basic rules to work around, like how an individual character is going to act, which once we start shooting are often broken anyway.
From this point the actual character is discussed. It's drawn in the storyboard which is a very important part of the process to plan out a film and see what shots and scenes are working well. And then when the director's happy with the puppets and it comes on to the floor, that's when the characters can really come to life. When the animators add those poses, those looks and those mannerisms that the director wants the characters to have, they become personalities.
I ended up working on Early Man for about 18 months.
How long does it take to shoot a film like Early Man?
I think the animators were shooting about six seconds a week. It depends on what's happening in a shot, anything with a camera move will be a lot slower than that because the camera moves and the position of the characters on the set all need to be tested. Some of the camera move shots will be tested three, four, five times just to make sure everything's in the right place at the right time. Shots with lots of characters in it take a lot longer so you could be shooting two to three seconds a week on something like that. But other shots where there is just one character, maybe talking or reacting, would be a lot quicker to shoot. But on average about six seconds a week.
How is Early Man different from other Aardman productions?
Early Man was different because we have the bulk of the characters staying together for a long time. Dug and his tribe stay together for most of the film so there are a lot of characters to work with at the same time. The set is one of the biggest sets we've ever worked with, too. Then there are the different sizes of the characters. For example, Dug is quite a nice size character to animate because he's quite nimble and quick on his feet whereas we've got Treebor who's twice as big and twice as wide so he's a lot slower and a lot harder to work with.
We also had to have a full-scale mammoth made. In the past we try and scale down the models but for this production, the mammoth is the scale you see on the screen. When you see Dug standing next to the mammoth, we've got Dug who's eight inches tall, and the mammoth who's about two foot high at least. There were also a lot of CGI elements to the film with some massive crowd scenes.
What other elements are new to this film?
There are some massive crowd scenes that we hadn't done before at Aardman. These were part animated as models and then part CGI. We've got part of the film where the set has to be the size of a penalty area on a sort of 18 yards by 36 yards as a set and we've got characters set across that with crowd scenes in the background. It was a huge project.
What do you enjoy most about your role as an animator?
Seeing people's reaction to the work you've done. It's great to see people enjoying a film you've worked on and laughing at a scene you've animated. There's something really magical and quite child-like in the way that as an animator you're bringing what is essentially silicon, fur and plasticine to life and giving it character. And when the characters do come to life and they do look real and they do look like they're thinking and breathing, that's a real magical moment. I guess it takes you back to your childhood when you're playing with your toys, only on a slightly bigger scale.
What does it take to be a good animator?
People always say we need a lot of patience whereas I don't think you do because you're concentrating on so much at the same time. If we're animating Dug from the waist up we're looking at five fingers, a hand, a wrist, an elbow a shoulder twice. He's got a waist joint, a mid-joint and a neck joint. He's got a mouth he's got a mouth two eyes, two eyebrows and about five bits of hair that all need animating. So rather than the patience that people think we have, I think it's focus. You have to be focused and believe that the character has come to life and when that happens and you see it on the screen, that's when it becomes magical.
Who is your favourite character in Early Man?
It's got to be a character called Asbo. He's very lively, he's full of energy and he's voiced by Johnny Vegas.
What would you like people to take away from Early Man?
Hopefully they'll enjoy it, that's the big thing. I'd like them to take away the sense of achievement as in what's achieved in a short space of time for the characters in the story. The fact of practising if you want to be good at something, whether it's animation or football or whatever career path you pursue. Keep practising and learning.
I also want everyone to discover a sense of enjoyment and excitement and a sense that this history is on our doorstep and we often forget about that. The references we've got in the film to Stonehenge remind us of that. Don't do what I did and wait ages to go and see it. Go and see it – it's right there.
ABOUT EARLY MAN
Set at the dawn of time, Early Man tells the story of plucky caveman, Dug, who unites his tribe to save their home from the mighty enemy, Lord Nooth, and his Bronze Age city.
Early Man unleashes an unforgettable cast of hilarious new characters and marks Nick Park's first feature film since the Academy Award™-winning Wallace & Gromit: The Curse of the Were-Rabbit.
Early Man is released in UK cinemas on 26 January 2018. For more information visit Facebook, Twitter and Instagram and follow @earlymanmovie and #EarlyMan.
EMBARK ON YOUR OWN EARLY MAN QUEST
Join Dug, Hognob and the gang to follow clues and discover the prehistoric past at sites across England this February half term. Take up the challenge with your little adventurers at 13 of our historic places to win a mini model-making kit.
Find out more about Early Man on our website.
Early Man quests are taking place at: