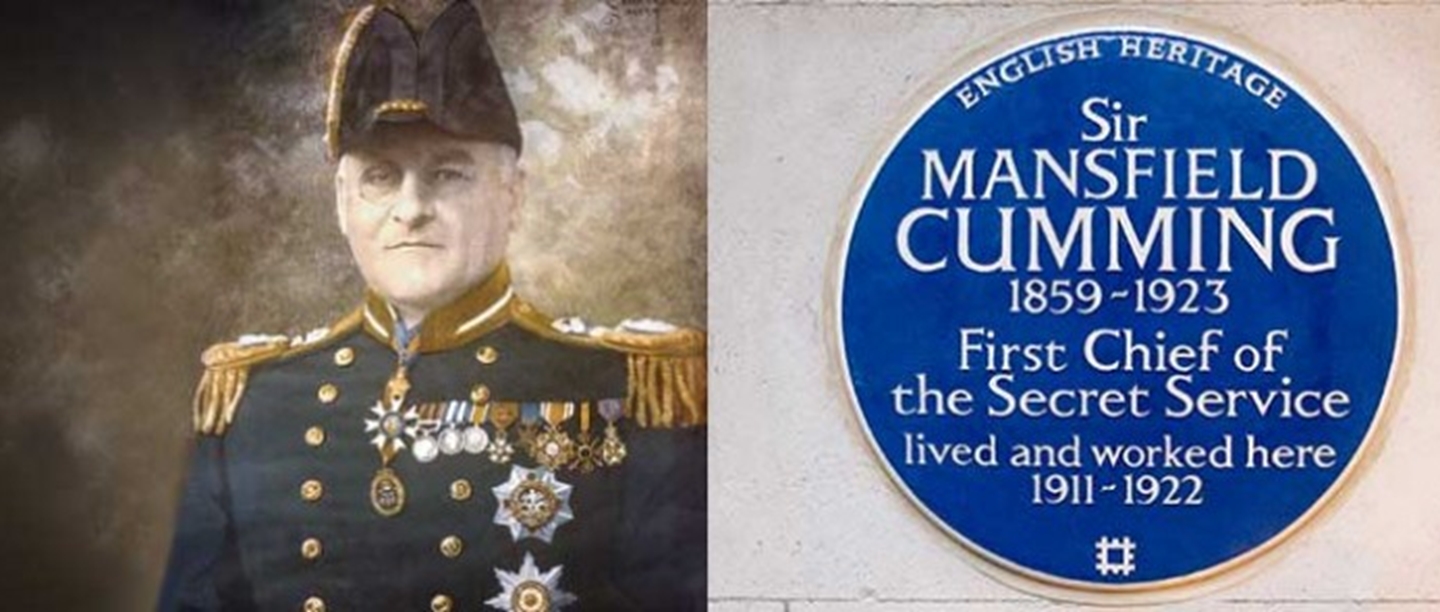 Published: 01 April 2015
Category: History In-depth
The latest English Heritage blue plaque has just gone up in London – to a foundational figure in the UK's secret services.
This is Mansfield Cumming – first Chief of the foreign section of the Secret Service Bureau, which was the predecessor of MI6.
Cumming was in charge of foreign intelligence gathering in the First World War and the originator of many traditions and practices – including that of referring to the head of the service as 'C', which derived from Cumming's habit of initialling documents in green ink. And 'C', of course, inspired Ian Fleming to come up with 'M' – James Bond's fictitious spymaster.
Appropriately enough for a man of his calling, Cumming is a somewhat enigmatic figure – even down to his name, which he changed twice. Born Mansfield George Smith, he became Mansfield Smith-Cumming on his marriage to May Cumming in 1889, before later dropping the Smith.
He joined the navy at the age of twelve – not then uncommon – and rose to the rank of Flag Lieutenant before being abruptly placed on the retired list in December 1885; biographers have treated the explanation that Cumming suffered from 'recurrent seasickness' with some scepticism.
The next thirteen years of Cumming's life were shrouded in mystery, until a relatively recent discovery that he worked as an estate manager and private secretary to the Earl of Meath. In 1898 he was placed in charge of organising the net-laying ships that kept Southampton Water secure from incursions.
Cumming got the 'tap on the shoulder' in August 1909, in the form of a mysterious letter inviting him to a meeting in London, and promising 'a new billet' and 'something good'. His patron may have been Arthur Wilson, once his commanding officer, who went on to be Comptroller of the Navy and an important figure in decision-making circles.
Having accepted the role, Cumming immersed himself thoroughly in the spymaster's craft, testing secret writing methods, disguises, technical inventions and mechanical gadgets in his own laboratory. During the First World War he created the wartime network 'La Dame Blanche' – which reported on enemy troop movements, and included 400 agents by 1918 – and aided the arrest of a number of German spies in England.
Colleagues found Cumming cheerful and equable: 'his phlegm was unshatterable', said one contemporary. This was never better demonstrated than in October 1914, when he lost a leg in a car accident that also killed his son Alastair. Afterwards, Cumming would occasionally startle visitors and colleagues by sticking compass dividers into his artificial limb.
It was while making plans for retirement that Cumming died in June 1923; as a subsequent profile in The Times noted,'there has been no one quite like him since'.
Cumming's blue plaque adorns entrance to Number 2 Whitehall Court, an imposing Thames-side block built in a French Renaissance style around 1890.
At various times between 1911 and 1922, flats 53 and 54 – on the seventh floor – served not just as Cumming's home, but as the headquarters of the foreign secret service; by this point under the home division was organised separately. Perhaps surprisingly, given his secret mission, Cumming's name appears in the rate-books.
He joins two secret service agents in the field to be honoured with London blue plaques: Violette Szabo, and F.F.E Yeo-Thomas, aka 'The White Rabbit', who were both prominent spies in France during the Second World War.
New blue plaques are being unveiled regularly for famous men and women from all walks of life. If you'd like to find out more about the scheme or propose a plaque for someone, visit the Blue Plaque.