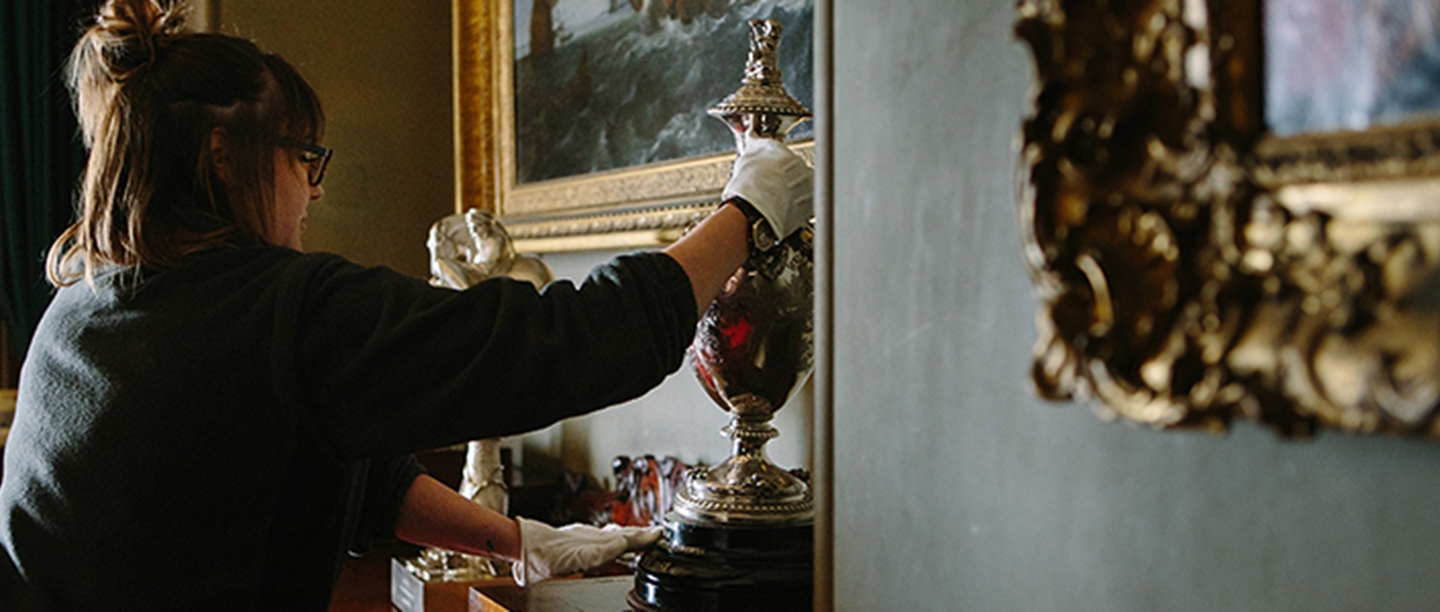 Published: 12 December 2016
Category: Historic How Tos
In its Victorian heyday, Brodsworth Hall in Yorkshire could rely upon an army of servants to maintain the elaborate house and its luxurious interiors. But in the twentieth century, funds dwindled and the Grant-Dalton family did what they could to keep their home clean and presentable.
But caring for a large country house is no small task. And at Brodsworth Hall, we tell the complex story of what happens when times changed for country estates. (You could say it's the real version of Downtown Abbey)
This winter, while the house is closed to visitors, we're beginning a major programme of conservation repair work. The Victorian gardens with their beautiful statues and sculptural topiary, and the tearoom are open at weekends – you'll be able to visit the house again in the spring.
In the meantime, here are 5 conservation dos and don'ts of caring for a country house.
1. Don't neglect the basic housework
Until the First World War, Brodsworth Hall employed 15 indoor servants to prepare meals, look after the family and clean the vast house. After the wars, fewer women wanted to work in service and so the Grant-Daltons had to make do with fewer staff. Many rooms were closed up and the rooms that remained open were cleaned less frequently. Although they still had a few servants, the Grant-Dalton's were much more likely than their ancestors to muck in cleaning floors, fixing interiors and even dusting the elaborate chandeliers.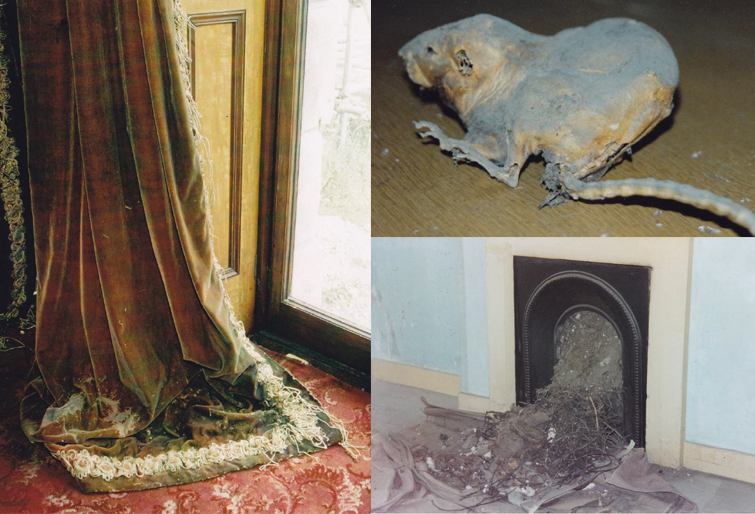 Archive photos taken in 1990 when English Heritage took over Brodsworth Hall, showing some of the conservation challenges we faced! Clockwise from left: One of the Morning Room curtains damaged by insects, dog urine and light; a desiccated rat; and a clogged up fireplace.
Even so, when English Heritage acquired Brodsworth Hall in 1990 we worked hard to remove the layers of soot that had accumulated on ceilings and walls, and remove dirt and dust from the carpets. An unfortunate result of years of neglect was widespread insect infestation, which we combatted by freezing textiles and carpets.
To prevent re-infestation, Brodsworth Hall is now dusted and vacuumed daily, with more intensive cleaning taking place on a cyclical schedule. This reduces insects' food sources and helps prevent them from feasting on the collection. We also monitor for insects, allowing us to be confident that the beautiful textiles and furnishings will not decline further.
2. Do work with experts
The large, secure window shutters, which shade Brodsworth Hall's delicate interiors from light damage, were technologically advanced in 1860. Their cleverly concealed mechanism allowed them to be opened from inside the building.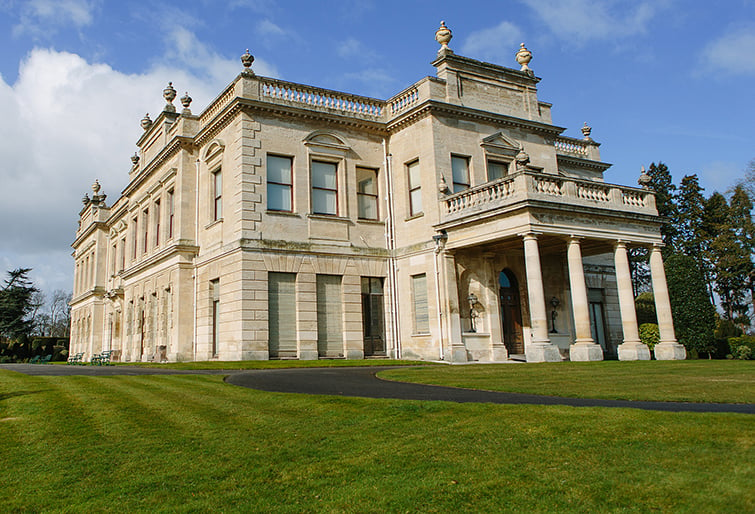 Brodsworth Hall and the Victorian shutters which are the focus of a big conservation project.
But by the mid-twentieth century, the shutter winding mechanisms were showing signs of wear and tear and would frequently break. When that happened, an old sailor would be called in to splice the ropes together, using careful knot work to return the shutters to working order. Such was the gratitude of the household that he would receive two bottles of beer in addition to his payment.
Today, we are working with mechanical engineers with an understanding of historic technology to repair Brodsworth Hall's shutters. This should ensure that we can continue using them for years to come.
3. Don't use strong or abrasive chemicals
Lots of the objects on display are very delicate and would easily be damaged by the sorts of cleaning products we all use at home. In the past, the housekeepers of large houses would proudly use their own secret recipes to scrub and whiten the marble statues. Such potions are now known to have removed more than just dirt, often removing the surface of the stone too!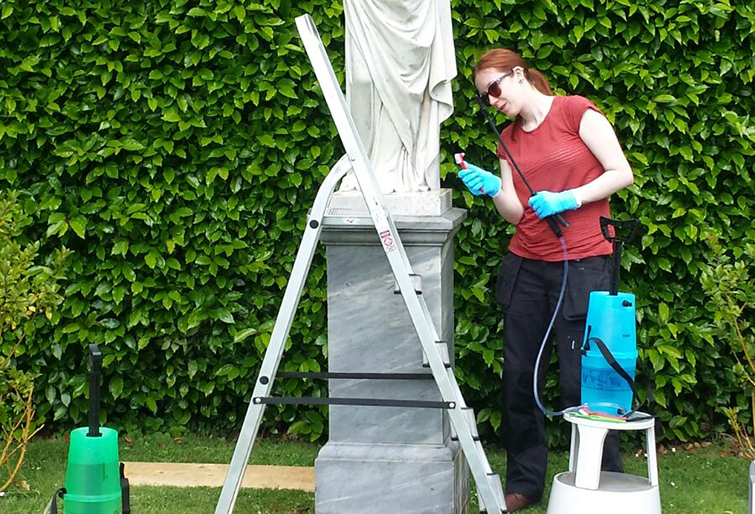 Bethany cleaning one of the garden sculptures at Brodsworth Hall. Nowadays our conservators use much gentler methods of cleaning than their predecessors.
Brodsworth Hall's beautiful Italian marble statues are miraculously well–preserved. If you visit us today you might see our collections care team hard at work cleaning the garden sculptures. Their tools? A soft toothbrush and plenty of water. This ensures that we only remove dirt from the marble statues.
4. Do ensure repairs are subtle
Brodsworth Hall's sumptuous leather dining chairs were in regular use from the 1860s until the 1980s. Repairs appear to have been done in 1921 by London-based furniture renovators Maple & Company but further repairs were necessary in the 1970s. Unfortunately, money was much tighter and instead of using a London-based specialist they used a local funeral director.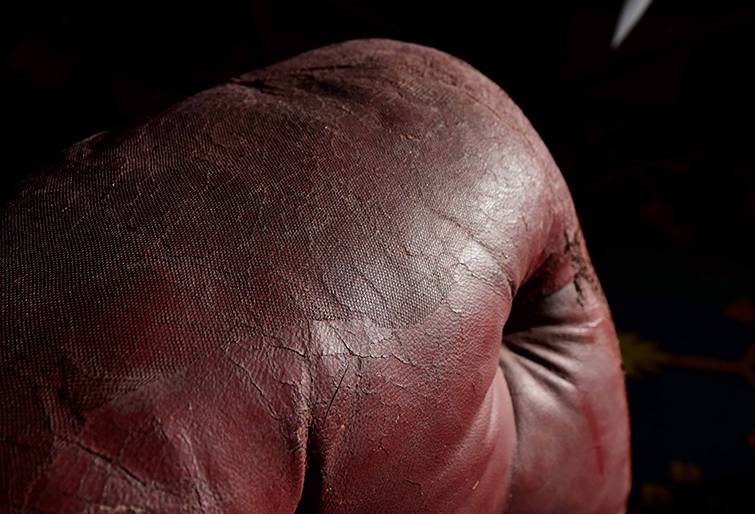 The red leather dining chairs are an example of how careful we need to be with repairing the collection.
He patched the chairs up with bandage material and re-painted them red. You can judge for yourself the success of this technique!
If you look very closely, you might notice a fine red nylon mesh has been added to the surface of the chairs by conservators employed by English Heritage. This provides support to the chair's damaged leather without detracting from its original appearance. Unlike the 1970s painted gauze, this modern conservation treatment is reversible and will cause no harm to the chair.
5. Do protect objects from harm
If you have visited Brodsworth Hall you may have seen 'Vanity', a marble sculpture of a young girl holding out her hand. We know that she should be holding a mirror, but reputedly she lost this when a game of indoor cricket got a bit out of hand.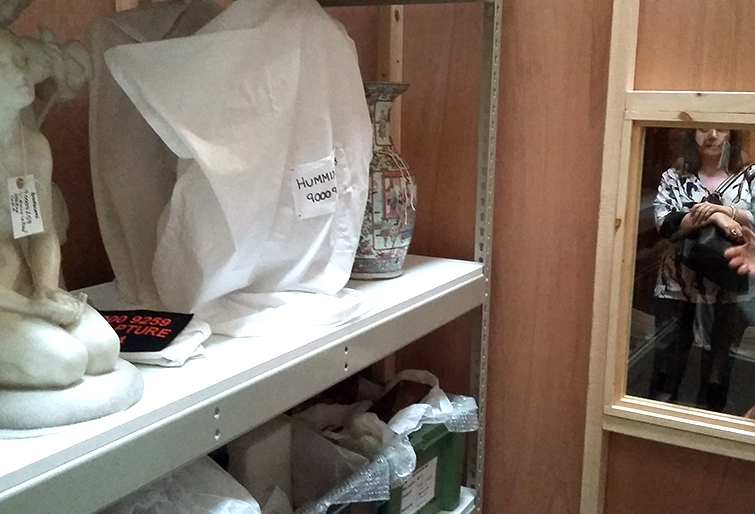 While conservation work is ongoing at Brodsworth Hall, we're protecting the building and the collection by boarding areas up temporarily.
To ensure no damage is done during our repair works, we have constructed protective wooden hoardings around the marble sculptures in the Entrance Hall, Inner Hall and South Hall. They may look a bit odd in contrast with Brodsworth's opulent surroundings, but this and the work English Heritage is doing will ensure the beautiful, delicate interiors are preserved and don't degenerate further.
Find out more