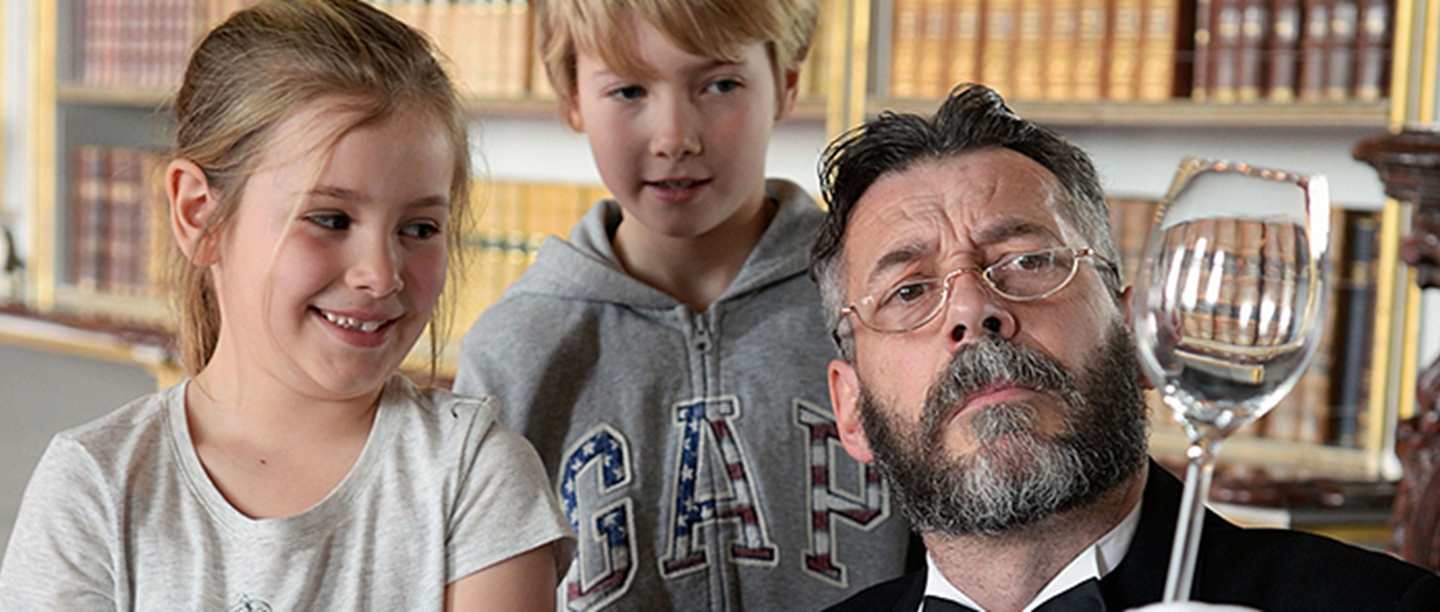 Published: 17 April 2017
Category: Your Stories
Butlers were key members of Victorian households, often dedicating their lives to the service of their masters. Do you think you're up to the task of leading a Victorian staff? Here are some things you should know before you undertake the role.
Be smart and polite
A successful butler will have a dignified and modest disposition with an eye for perfection. You should always be smartly turned out, although often it is advisable to wear slightly mismatched trousers and coats to avoid being mistaken for a gentleman. If the master keeps no valet you will have to lay out his clothes for him in the morning. The perk of this job is that you are entitled to your masters old clothes. You will always be addressed by your surname by all members of the family, no matter what their age. The staff will use 'Mr' before your surname.
The butler's life is a solitary one
Employers generally prefer their butlers to be single. It is felt that butlers with wives can be torn between their loyalties towards their families and their master. A butler without any family commitments of his own is therefore able to devote himself entirely to the needs of the family he serves. If a butler lies about being married he can be dismissed without notice.
It is also essential not to become too friendly with the other servants in your household in order to maintain an air of authority.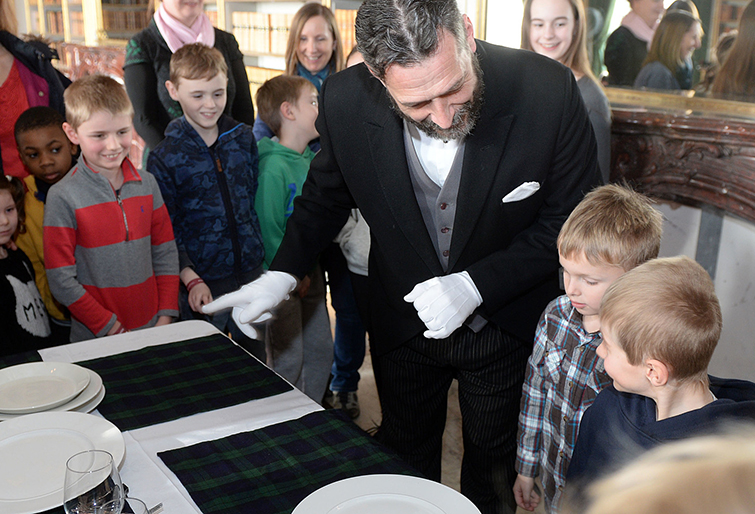 Lead others by example
"There are many and good useful servants who are only fit to be led, but not to lead others." – The Footman's Directory and Butler's Remembrance by Thomas Cosnett (Simpkin & Marshall, London, 1825)
In the majority of households, the butler is the most senior servant. This means you will be delegating duties to the servants beneath you, such as the footmen. You will also be responsible for the conduct and behaviour of these servants. You must ensure that everything is done in an orderly manner and at the correct time. Instructions from the master or mistress of the house should be passed on to the staff in a polite and respectful manner and it should be clear that these requests are coming from above and not from you. When dealing with servants a domineering manner is thought to show ignorance, ill-breeding and a weak mind. A firm but fair approach is required.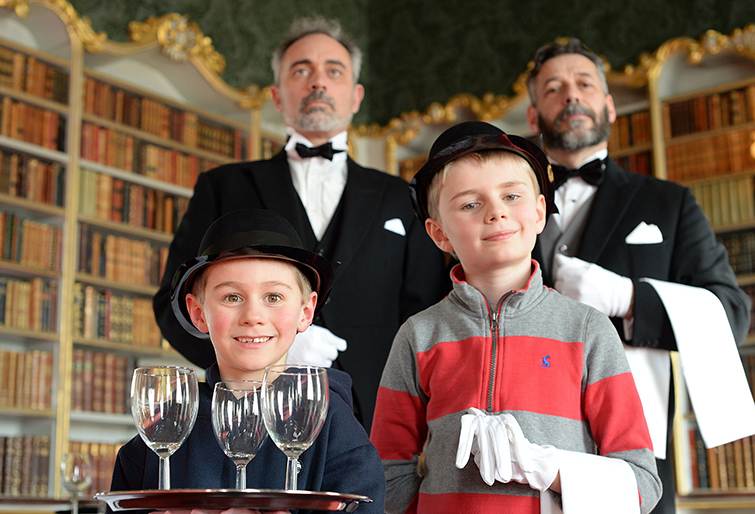 Learn the skills and etiquette required of a butler at our Butler School events
Daily routine
The butler oversees the arrangement of the table and the service for each meal, although you may not be required to serve the food yourself if there are sufficient footmen. After breakfast you can return to your pantry to finish your morning chores. These may include ironing the newspapers for the master and polishing the silver. You will be responsible for ensuring these valuable items are kept safe as well as clean.
If your mistress decides to go out after lunch you may also go for a walk. However, should she be at home for the afternoon you should be on hand to answer the door to any visitors. These will fall into two categories: gentlefolk and 'persons'. Gentlefolk should be led straight to the drawing room and 'persons' (such as tradesmen) asked to wait in the hall or elsewhere. The butler should have a plan for dealing with visitors that, for whatever reason, the master or mistress does wish to see. On no account say that the master or mistress is not at home when they are. Rather say they are 'engaged' and ask the visitor to call again another time.
The butler always announces when dinner is ready and serves the wine during the meal. He also serves tea cups and saucers after dinner although the housekeeper oversees the making of the tea. The final task of a butler's day is to ensure the house is secure and all the lamps extinguished.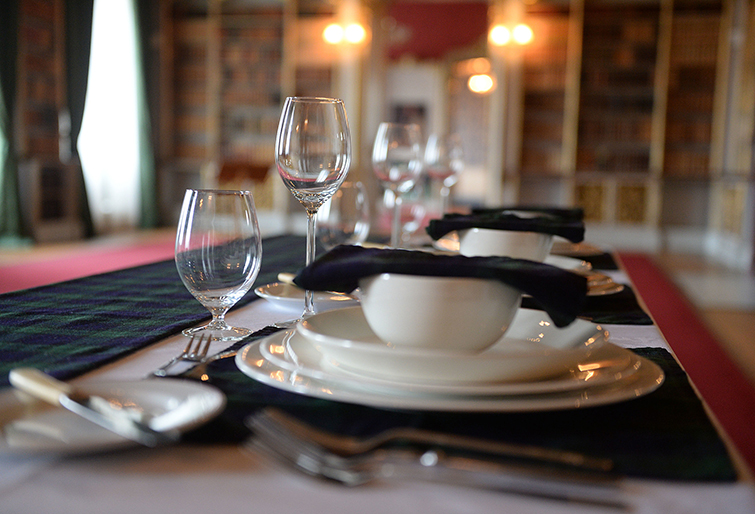 Keep the cellar in order
"The office of butler is as ancient as it is responsible" – The Duties of Servants: A practical guide to the routine of domestic service by a member of the aristocracy
Butlers are responsible for keeping track of the contents of the cellar. The term 'butler' is derived from buttery, a room used in medieval times to store barrels, or butts, of wine and ale. In some large, country houses the butler could be responsible for brewing beer for the household, although this seldom makes it to the master's table, as it is often of low quality.
As a butler, you will need to record what wine has been given out and drunk each day in the cellar book. Trusting masters will allow you to keep the key to the cellar although others will insist on keeping to it for themselves to avoid temptation: drunkenness is definitely frowned upon.
The butler is responsible for decanting the wine before dinner. Some wines may be found to be 'sick', 'on the fret' or 'suffering from too much intumescence'. Foul claret can be reclaimed by putting a dozen apples into the cask; malt spirits can be improved by adding charcoal powder. If wines require refining, a butler may use eggs, isinglass, gum arabic and gelatine.
You also need to be wary of adulteration by unscrupulous suppliers of the household's drink. Oyster shells, sulphur and cream of tartar can be used to detect lead and copper in a bottle; a pea sized piece of chalk can detect aqua fortis (an old term for nitric acid) and oil of vitriol; the addition of lime water to port will reveal any alum in it.
Do you have what it takes?
Are you ready to be a successful butler? Attend one of our events to learn some top tips on etiquette, dressing the dinner table, and choosing a menu fit for the master and mistress of the household.
LIFE ABOVE AND BELOW STAIRS (Audley End House and Gardens, weekends throughout the year)
Experience the full Victorian staff at work when you meet Mrs Crocombe, housekeeper Mrs Warwick and other servants as they organise the house for the day.
BUTLER SCHOOL (Home of Charles Darwin – Down House, 8-12 August)
Meet the Darwin family's own butler Joseph Parslow and learn about the etiquette of a Victorian house, from dressing a table to folding a napkin.
Explore all our events
Top 5 places to visit for a Victorian day out