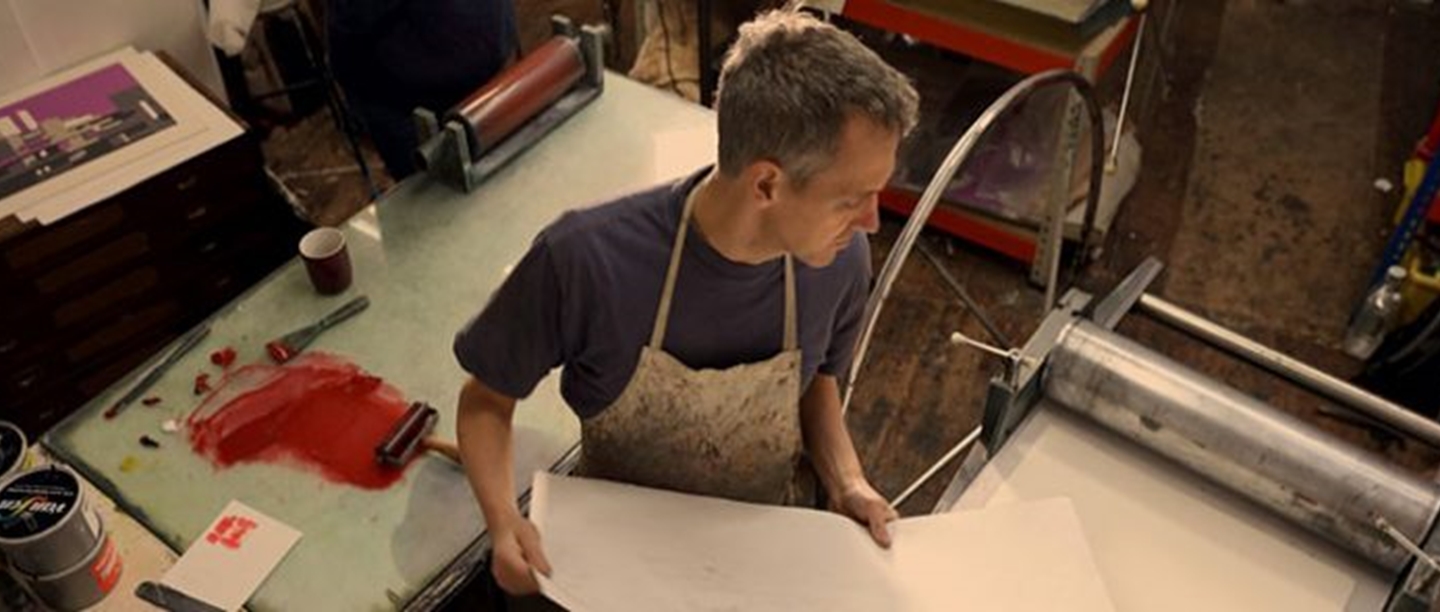 Published: 17 November 2017
Category: Behind The Scenes
When Paul Catherall first saw the Iron Bridge 40 years ago, he not only discovered a World Heritage Site – he discovered his passion. He was visiting on a school excursion and he and his fellow students were asked to create a drawing of the site. Little did Paul know this would be the start of his artistic career.
Today the renowned printmaker and illustrator is celebrated for his clean, sharp linocuts of architectural landmarks including Big Ben, Brooklyn Bridge and Battersea Power Station. He's also designed for Transport for London, British Airways, Marks & Spencer, Bloomsbury and Harper Collins.
As part of our conservation project to complete major repair work on the Iron Bridge, Paul designed an exclusive limited edition print of the iconic bridge. The print was available to donors who contributed £275 or more to Project Iron Bridge via our Crowdfunder campaign, which raised more than £47,000. The Iron Bridge is the world's first bridge to be made of cast iron and is considered a symbol of the Industrial Revolution.
We spoke to Paul about his love of design and what makes the Iron Bridge both artistically striking and historically significant.
How did visiting the Iron Bridge for the first time inspire you?
I first saw the Iron Bridge on a school trip when I was about eight or nine years old. As it's over 40 years ago I can't remember too much, but I do remember enjoying the trip and the museums.
As part of our school project we had to produce a drawing of the site and I remember it being one of the very first sketches that I was very pleased with. I then realised that maybe I had a bit of a natural talent for art and design.
Since then I've been very lucky to pursue a career in art, doing something that I love. Now that I've been asked to produce a print for English Heritage, I feel that I've almost come full circle.
From an artistic perspective, what impresses you about the Iron Bridge?
The Iron Bridge is very striking with sturdy looking iron work but it's also graceful, with just the right amount of detail. Plus, it's in such a beautiful setting. It looks so peaceful today that it's quite hard to imagine it in the midst of busy industrial work back in the 18th century.
In my creation, I wanted to focus on the graceful iron work in the bridge but also to reflect the tranquil setting.
How important do you think the Iron Bridge is to England's story?
From what I learnt on a recent visit, it's very important. I do remember bits a pieces from my school trip all those years ago, but I didn't realise it was so important to the birth of the Industrial Revolution. Today it's a beautiful and very important family-friendly landmark that contributes to education as well as leisure.
That's why I teamed up with English Heritage. I feel this is a worthwhile campaign and is a stimulating commission personally.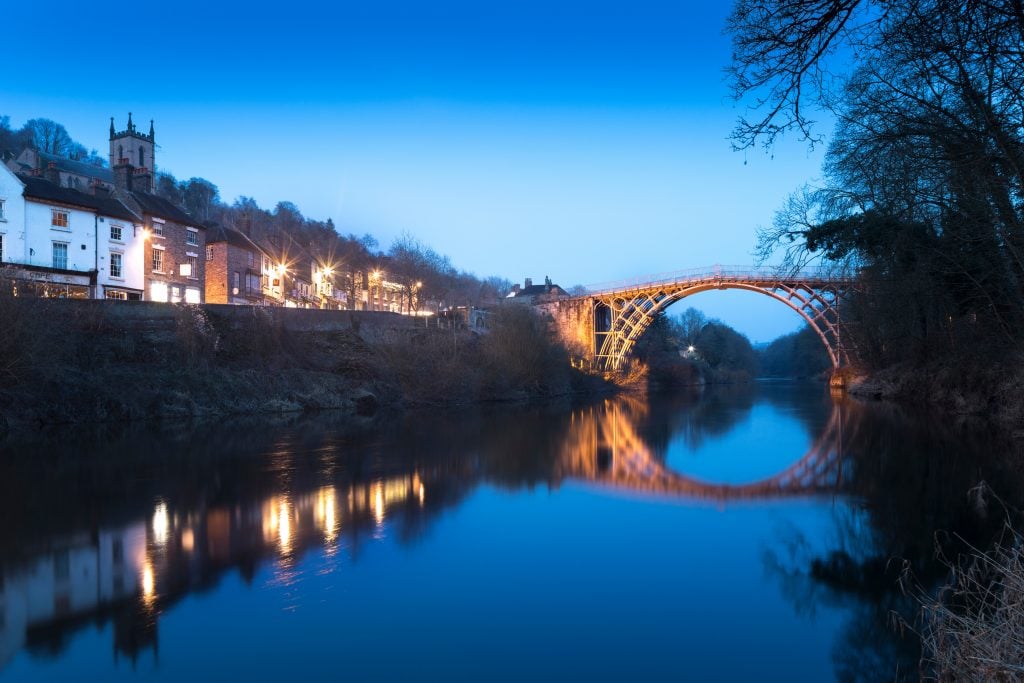 Can you please outline your artistic process and explain what's involved?
I begin by sketching rough layouts on tracing paper and slowly refine the design, usually simplifying it with each page. When I have a design more or less worked out, I'll produce a colour painted visual to work out the colours.
With this print I'm actually doing a small printed test version to make sure it's right before printing the final edition. The print is made as a linocut which is a relief print. The design is divided into colours and these are traced colour-by-colour onto the linoleum – usually a separate plate for each shade.
Whatever I don't want printed, I carve away with a woodcutting tool. The plate is then inked up (usually starting with the lightest colour) and printed colour-by-colour using a roller press, leaving the print to dry overnight between each layer.
Tell us about the inspiration behind the Iron Bridge print?
My colour palette is inspired by mid-20th century posters and design and I think looks optimistic and quite 'English' but not too traditional.
I wanted the bridge to have a certain amount of drama in the composition so I chose a viewpoint looking up from the riverbank. I clambered down through undergrowth and even placed a few stepping stones on the edge to get the angle for reference photographs.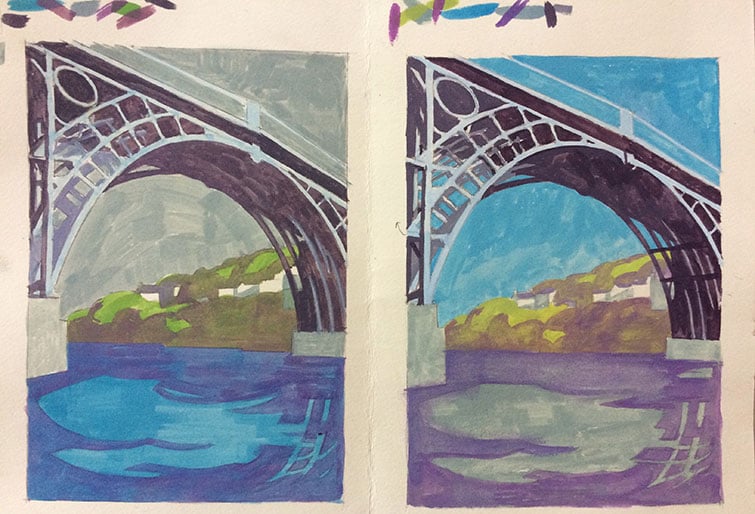 Why do you think the Iron Bridge suits your style of art so well?
Though there is a fair amount of detail in the construction, overall it looks like quite a simple design and the iron work translates very well to print, especially in strong light.
You draw inspiration from classic mid-20th century poster design and propaganda Soviet-era art, what is it that you admire about this style?
I love the draughtsmanship and concentration on composition in most of these designs and also the striking colour palettes.
I think the Iron Bridge is just as iconic as the other structures I've designed. But, as with most things, certain structures have their fans and followers and the relationship to a landmark can be quite subjective and personal.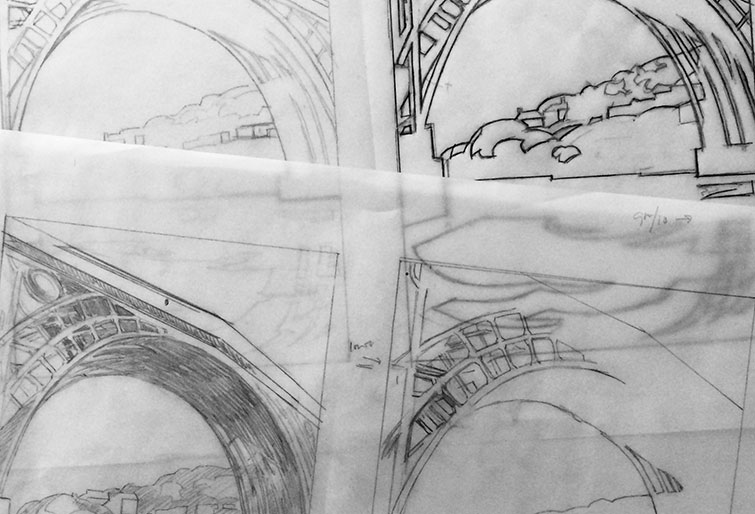 What is something that will surprise us about this print?
Possibly the length of time it takes to create a print edition. Every section is hand carved and hand printed so it's a very labour intensive process. Also, most of the work is done in the initial stages – designing the composition and spending a long time just drawing and simplifying.
It takes a lot longer to create a simple design than it does a detailed one. If one thing is out of place then the design won't work – I spend more time working out what to leave out than what to add.
Help save an industrial icon
Find out how you can get involved in our biggest ever conservation appeal – Project Iron Bridge, and follow the campaign on Twitter and Facebook using the hashtag #ProjectIronBridge.