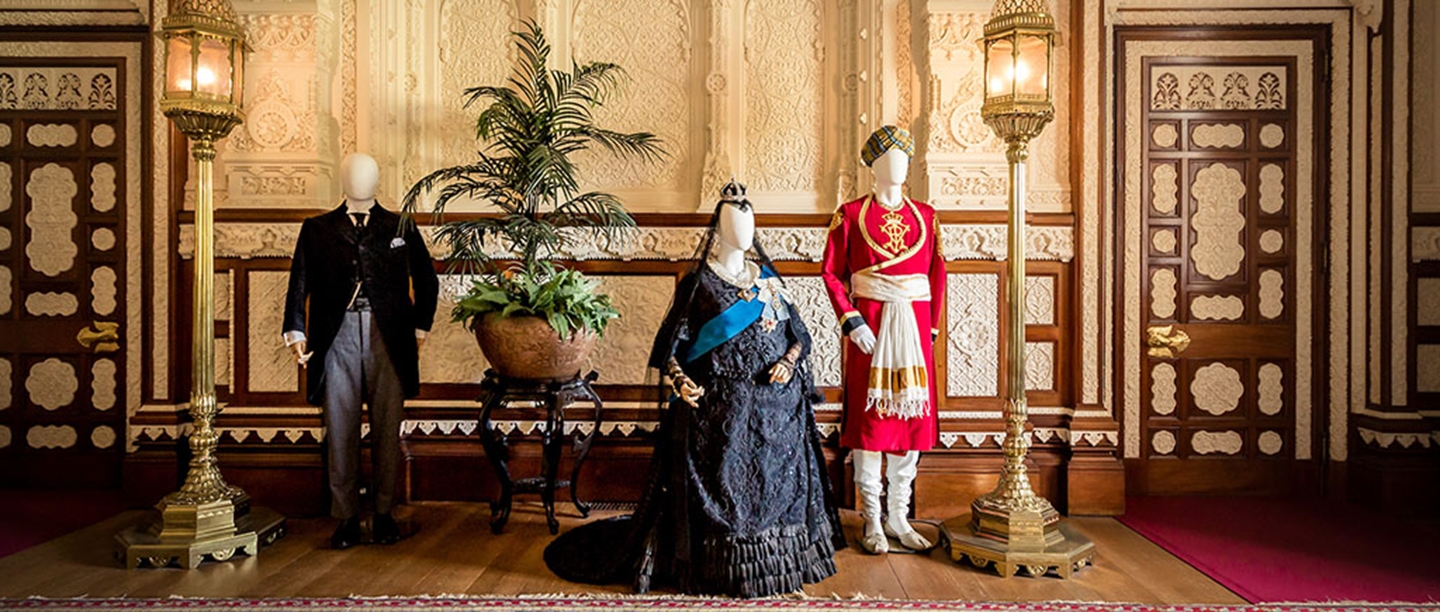 Published: 14 August 2017
Category: Behind The Scenes
She's dressed film stars as Queen Elizabeth II and Margaret Thatcher, and now costume designer Consolata Boyle has turned her creative mind to one of our favourite women in history – Queen Victoria. No stranger to power dressing England's leading ladies, Consolata's exquisite costumes for Universal Pictures' upcoming film 'Victoria and Abdul' show the queen in a new light.
Filmed at Osborne on the Isle of Wight and starring Judi Dench as the queen, Victoria and Abdul tells the story of the unlikely friendship between a monarch and her Indian servant.
To celebrate the new Victoria and Abdul costume exhibition at Osborne, we talked to Consolata about Victoria as a fashion icon and her process of dressing a queen for the screen.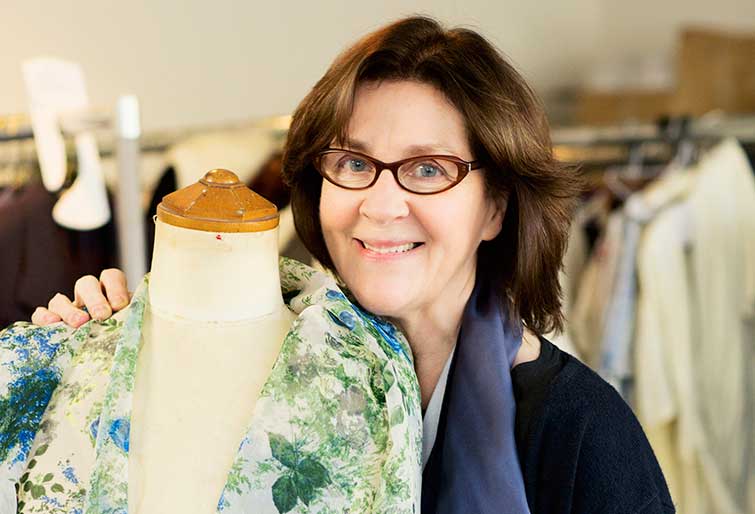 Consolata Boyle designed the costumes for the upcoming film Victoria and Abdul
Were you familiar with Queen Victoria's life at Osborne before working on Victoria and Abdul?
I was aware of Queen Victoria's love of Osborne, where she could relax and be genuinely at home with her family. However I didn't have a particularly detailed knowledge of her life there before I began work on Victoria and Abdul. Nevertheless, I was absolutely fascinated by the idea of the deep friendship between Victoria and Abdul Karim, her Indian servant, in her final years.
How do you take a historical costume brief from page to screen?
I always research the particular social and cultural landscape of every film very thoroughly and, in this case of course, the unique and specific ceremonial detail which it demands. The next step was to refine the costume detail needed to help tell our particular story, all the while, working very closely with other heads of department, such as the director of photography and production designer. At this stage, fabrics and textures were chosen and the challenges of a monochrome colour palate were taken on board, because of Victoria's 'customary suits of solemn black', owing to her prolonged mourning for Prince Albert.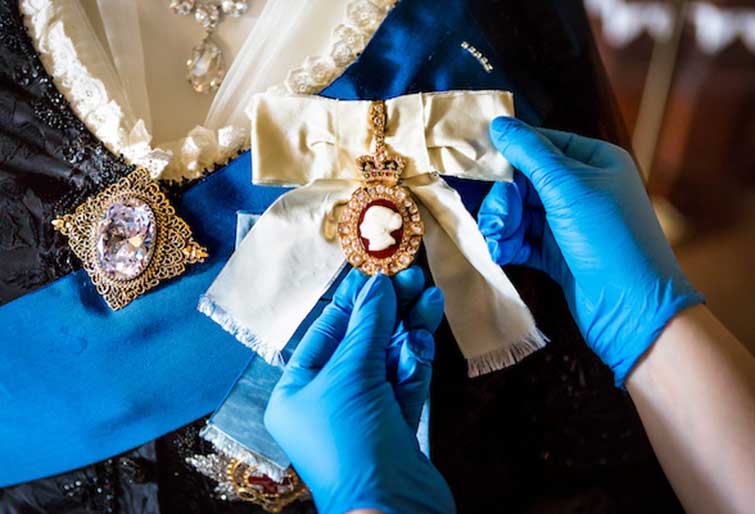 One of the costumes worn by Judi Dench as Queen Victoria in Victoria and Abdul
After mourning Albert's death in 1861 and famously wearing black for most of her life thereafter, Victoria begins to somewhat relax later in her reign. How did you show this transition in your designs?
Queen Victoria always integrated white into her wardrobe, as it is also one of the traditional colours of mourning. Separately, as her mood lifted and the story progressed, I added black/brown, black/grey and more subtle surface detail.
How would you describe your vision for the costumes of Victoria and Abdul?
My overall vision for costumes in film is that they form part of the whole cinematic magic that tells remarkable stories such as this one and helps to reflect the developing emotional state of each of our characters. This was also vital for Stephen Frears, the director, and therefore was the basis of many of my conversations with him. As always, I engaged very closely with all our actors and their thoughts and practical opinions were very important to me
Osborne has some exquisitely decorative rooms. As a costume designer, how did Osborne's rooms and gardens influence your designs?
The rooms and gardens of Osborne were used for some of the most important scenes in Victoria and Abdul, particularly the Durbar Room and gardens. This of course influenced my choices of detail and colour for the costumes, but they also needed to reflect the inner state and impulses of the characters and naturally this was dictated by the script, as in every film.
The Indian-inspired Durbar Room at Osborne today
How do you ensure that your designs are historically accurate and authentic but also fulfill the director's creative vision for the film?
We used many diverse resources for research. There is a very extensive archive of relevant still and moving images and numerous memoirs written by members of the Royal Household of the time. I also had the privilege of seeing, at close hand, many of Victoria's actual gowns and was able to absorb the details of structure and peculiar little idiosyncrasies, such as tiny pockets always sewn into the seams of her skirts. It goes without saying that all things ceremonial were researched in great detail.
However, as always, research needs to be treated with caution as well as respect. We immersed ourselves for many weeks and months in all aspects of Victoria's private and public life: trawling through what she and her court would have worn at any particular moment, from the most intimate moments in her private apartments to a grand state dinner. Nevertheless, it is absolutely vital to know when to walk away from the research that has been collected, leaving much behind and just taking what is vital for the overall vision of the script and of those working together to tell this fascinating story.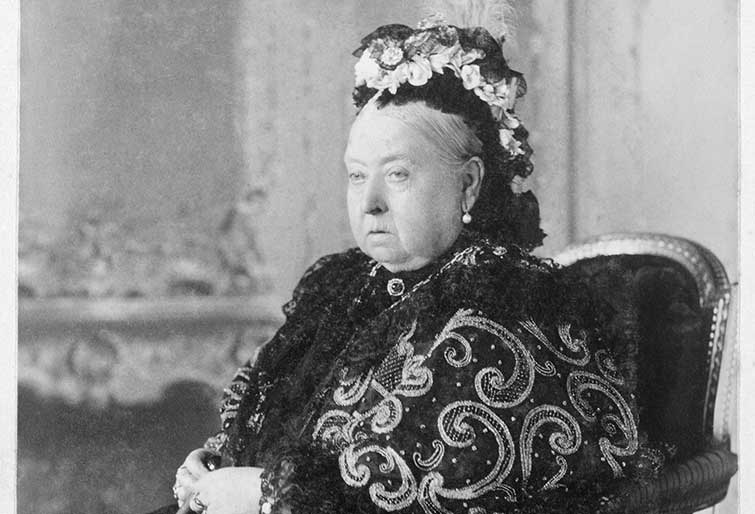 Queen Victoria in a dress worn to St Paul's thanksgiving service 1897
To what extent do you think Victoria has shaped our fashion trends today?
Queen Victoria's style was very typical of the High Victorian look, of which she was, unsurprisingly, the perfect example: restrictive, heavily embellished and dark. Her style did not change very noticeably during the years of her reign, even though the silhouette of women's clothes was changing dramatically around her. We notice a slight modification of her skirt shape and underpinnings, the volume of fabric concentrated more towards the back, ending in a small train, supported by a bustle, integrated into a refined metal frame, on top of which are many silk and linen petticoats. There will always be a fascination for the more romantic aspects of high Victorian style.
What were you surprised to learn about Queen Victoria when researching the costumes for Victoria and Abdul?
Even though I was very aware of how tiny she was (in height), it was still a surprise when I examined her actual clothes. (Victoria was 5ft or 1.52m).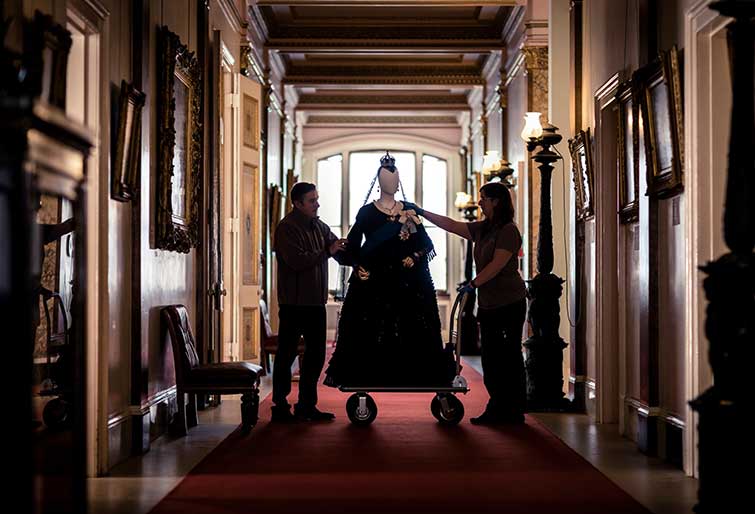 Two curators wheel in one of the film's Victoria costumes at Osborne
What do the fashions of Queen Victoria and Queen Elizabeth II tell us about them and they age they lived/live in?
Queen Elizabeth II does and Queen Victoria did live very circumscribed lives, restricted by the roles into which they were born, so that their look is dominated by the demands of duty and ceremony. Nevertheless, there are wonderful examples where they are at their most relaxed: Elizabeth at Balmoral, in her exquisite country tweeds and tartans, happy among her horses and dogs and Victoria's obvious enjoyment in adding ever more decorative jewellery and embellishment to her gowns. Both monarchs celebrated and enhanced particular styles, rather than set trends. Elizabeth obviously reflecting a more relaxed Royal Family in tune with the age. Queen Victoria had no such freedom.
What is your favourite period to design costumes for and why?
Some periods might appear on the surface to be more interesting or beautiful than others but all periods are equally fascinating, it just depends on the story the script is telling.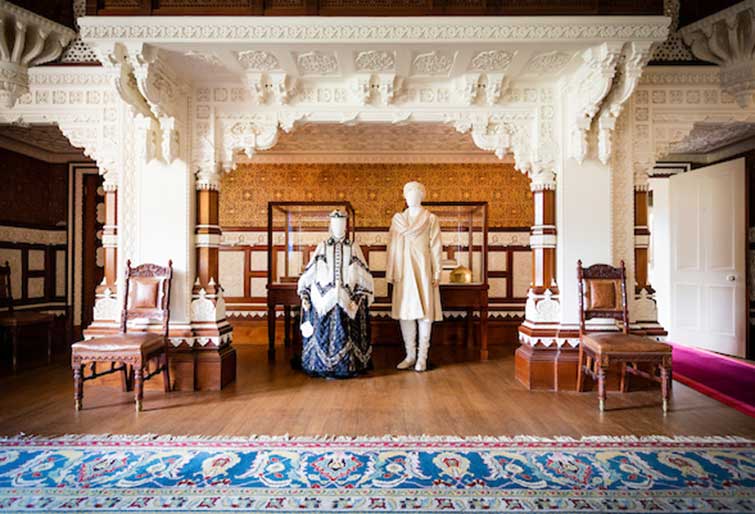 Costumes worn by the stars of Victoria and Abdul will be on display in the Durbar Room at Osborne for a limited time
Victoria and Abdul will be released in cinemas in the UK on September 15.
A selection of costumes from Victoria and Abdul are currently on display at Osborne. Visit before the end of September to see them for yourself.
Visiting Osborne
Queen Victoria's palatial holiday home, Osborne, is located on the Isle of Wight, about two hours from London. It was built by Victoria and Albert in 1845 and was frequently visited by the queen and her family during her reign.
Learn more about Osborne with our Spotlight on Osborne.
During the Summer, Osborne is open daily from 10am to 6pm (house closes at 5pm). Check our website for full prices and opening times.