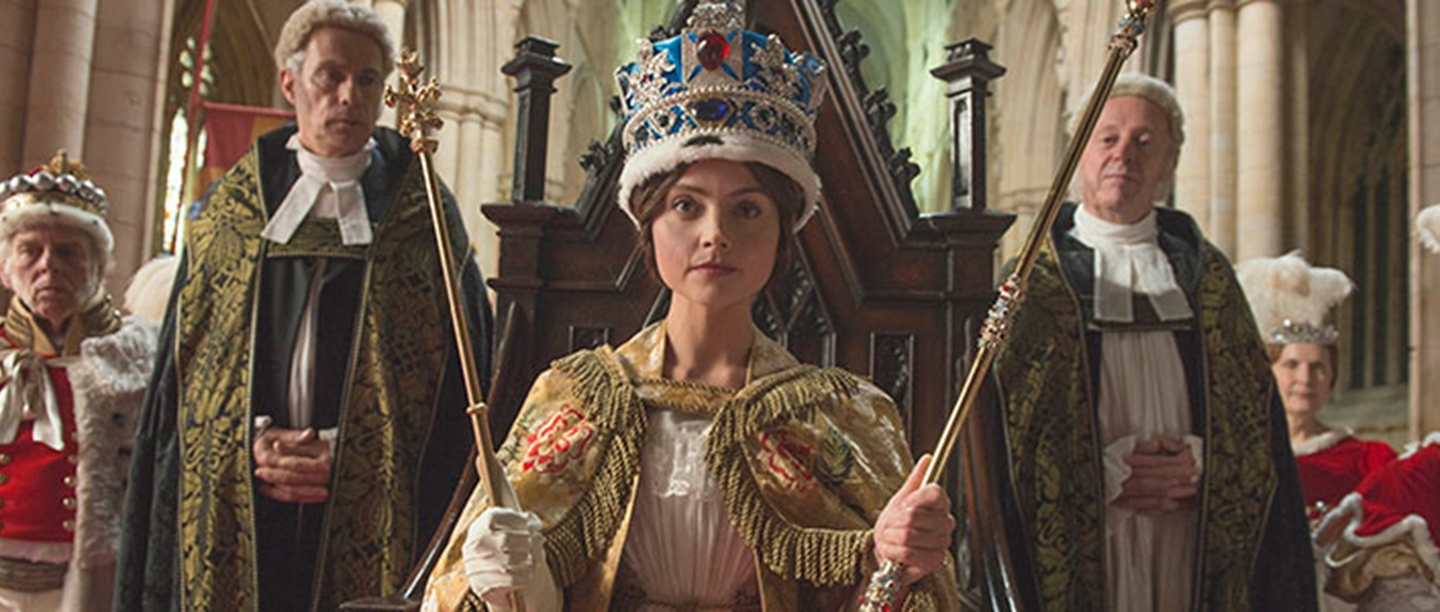 Published: 24 August 2016
Category: History In-depth
Who do you picture when you imagine Queen Victoria? A young 18-year-old girl suddenly cast into power? The imposing Empress? The widow heartbroken by the death of Albert?
From the Industrial Revolution to the expansion of an empire which ruled over one-third of the globe, England was transformed during Queen Victoria's reign. So it is not surprising that she, at the heart of these changes, has caught our imaginations.
Victoria has been played by more actors than any other British monarch. Of course, not all of these characters have been flattering – the 1941 Nazi film Ohm Krüger notoriously portrays her as a whisky-soaked drunk, for example. But how does the real queen compare to her on-screen portrayals? Here we take a look at some of the most famous depictions of Victoria.
1. Victoria (ITV, 2016)
This new blockbuster period drama follows Victoria's accession to the throne in 1837, and her courtship and marriage to Prince Albert of Saxe-Coburg and Gotha.
We often associate the Victorians with prudishness and sexual repression but Victoria and Albert were as infatuated with each other as any modern couple. At Osborne, the royal couple's bedroom door was fitted with a special lock, which could be operated from the bed to give them privacy. This perhaps contributed to the fact that they had nine children.
2. Doctor Who (BBC, 2006)
In this nail-biting episode of Doctor Who, the Tenth Doctor and Rose encounter Queen Victoria travelling on a remote road in Scotland. Under siege in Torchwood House, they foil an assassination attempt made by a group of monks seeking to infect Victoria with lycanthropy and make her a werewolf.
While she was never attacked by werewolves in real life, Queen Victoria did survive at least seven assassination attempts. In fact, Albert's bravery in shielding her from a would-be attack supposedly brought the couple closer together.
3. Mrs. Brown (1997)
Judi Dench was nominated for the Academy Award for Best Actress for her performance in Mrs Brown, which follows a heartbroken Victoria after Albert dies. The story is based on the real relationship between Victoria and John Brown, the cause of much speculation and resentment among the Queen's other advisors.
After Albert's death in 1861, Victoria withdrew from public life, choosing to remain in isolation at her residences. John Brown's loyal friendship and support helped Victoria cope with her grief and eventually return to public life and her duties. However, this close relationship between monarch and servant was considered improper by many both at court and in the press, some of whom went so far as to call her Mrs Brown.
Some of the scenes in Mrs Brown were filmed at Osborne – including Dame Judy Dench swimming in the sea at Osborne's beach, and a scene with Billy Connolly where the Queen rode a horse down Osborne's Valley Walk.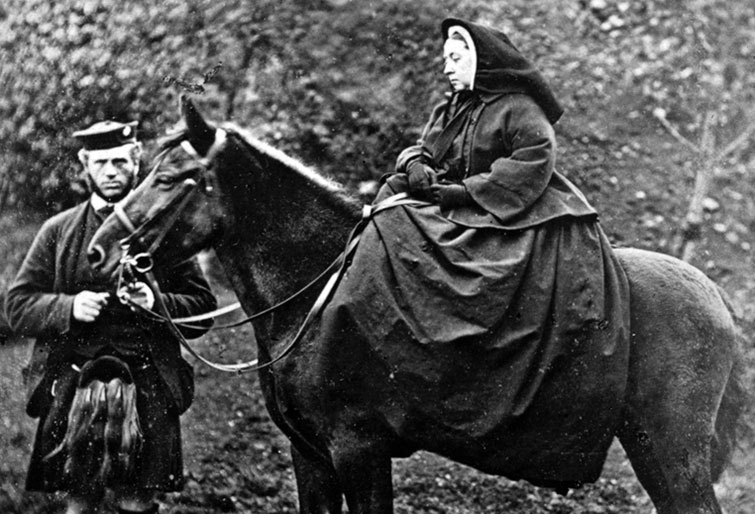 Queen Victoria on "Fyvie" with John Brown at Balmoral, by George Washington Wilson, 1863. Courtesy of the collection of the
National Galleries of Scotland.
4. Blackadder's Christmas Carol (1988)
As an iconic public figure, Victoria has featured in some of Britain's most famous comedies as well as more serious dramas.
Miriam Margolyes' Victoria in Blackadder's Christmas Carol is shown to be a charitable benefactor, bestowing gifts on unsuspecting members of the public at Christmastime with the ever-loyal Albert by her side. This is particularly fitting given how many of our modern Christmas traditions have their roots in the Victorian era. In fact, engravings of the royal family decorating a Christmas tree at Windsor helped to popularise the now iconic tradition.
5. The Pirates! In an Adventure with Scientists (2012)
This light-hearted stop-motion animated comedy by Aardman Animations features Imelda Staunton voicing the character of pirate-hating Queen Victoria. When a group of rag-tag pirates capture Charles Darwin's ship The Beagle, Darwin realises the crew's pet Polly is the last living dodo. He attempts to steal her to give to the Queen and gain her favour.
In reality, Darwin's ideas were often highly unpopular and contentious. For example, he realised that orchids were less healthy when they self-fertilised. Curious about the possible negative results of inbreeding, he (unsuccessfully) lobbied to add questions on cousin-marriage to the 1871 census. Victoria had herself married her cousin and this was considered a highly taboo topic.
You can visit Down House – the home of Charles Darwin, to find out more about his life and his experiments. (We're not sure how Queen Victoria really felt about pirates.)
See Victoria's home for yourself
Osborne was Victoria's seaside residence on the Isle of Wight, where she and Albert raised their children. Explore the Indian-style plaster work of the opulent Durbar room, where Victoria entertained European royalty, or get a glimpse of family life in the nursery and miniature Swiss Cottage where the royal children played.
Osborne is open from 10:00-18:00, 7 days a week, until 30 September, and from 10:00-17:00 throughout October.
Entry is free for English Heritage members.
Ticket prices for non-members are: Adult: £15, Concession: £13.50, Child: £9, Family: £39.