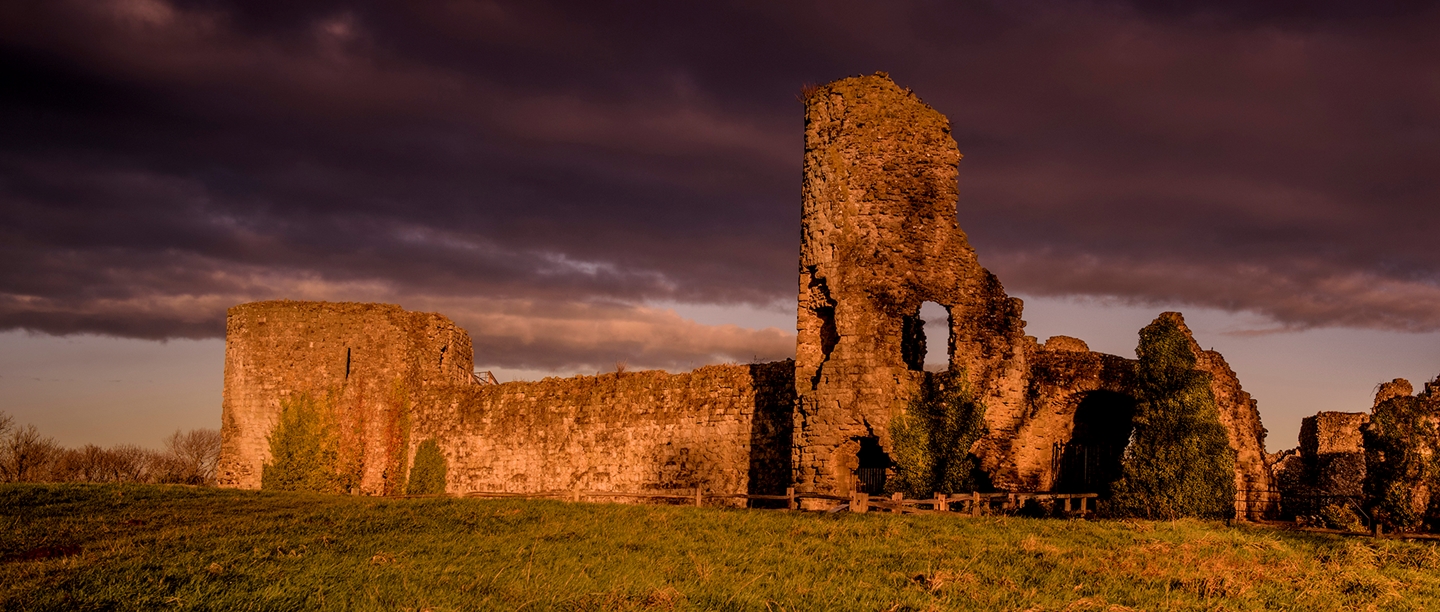 Episode 5: From Queen to Captive – Witchcraft, Women and Power
It's the winter of 1420 and Joan of Navarre, Queen of England, has been imprisoned by her stepson King Henry V. A rich widow and an influential political figure, Joan has been accused of witchcraft and plotting to kill the king. She now awaits her fate imprisoned in the keep of Pevensey Castle.
Join Josie Long as she explores the ruins of the castle to learn more about Joan's imprisonment and how popular witchcraft beliefs could be used to persecute women in power, in episode 5 of Speaking with Shadows – the podcast that listens to the people that history forgot.
Listen
In this episode Josie meets historian Richard Nevell and Pevensey Castle's site manager Janet Taylor, to learn more about Joan of Navarre's imprisonment and the reasons behind her accusation of witchcraft. We also talk to historian Virginia Davis about the lives of ordinary women in the Middle Ages from peasants to landowners, and to Professor Diane Purkiss about the origins of popular witchcraft beliefs.
Listen to episode 5 and subscribe to Speaking with Shadows on your favourite podcast platform:
Joan of Navarre
Joan of Navarre was born in 1368 into Navarrese nobility and married Henry IV, King of England in 1402. Already a wealthy widow from her first marriage, Joan was now Queen of England and a highly influential political figure with great personal wealth.
In 1419, six years after Henry IV's death, Joan's stepson, the now King Henry V, imprisoned her on account of witchcraft and plotting to kill the king. Having previously had a good relationship with her stepchildren, why was Joan now accused in this way, and what might have influenced Henry to imprison his own stepmother?
Read more about Joan of Navarre
Bonus Episode: Origins of Witchcraft
In this bonus episode you'll hear the extended interview with Professor Diane Purkiss where she explains more about how the fiction of witchcraft crossed over into belief.
This episode contains content that may not be suitable for younger listeners.

A Journey into Witchcraft
The story of Joan of Navarre is telling of how early witchcraft beliefs could be used to persecute a women in power, but how did the figure of the witch come about? Step into the world of early modern England as Professor Diane Purkiss describes the development of popular and intellectual beliefs about witchcraft and reveals how the figure of the witch was born.
Read more about the origins of witchcraft beliefs
Further Reading
Jones, Michael, Between France and England: Politics, Power and Society in Late Medieval Brittany (London, 2003)
Myers, AR, 'The captivity of a royal witch: the household accounts of Queen Joan of Navarre, 1419–21', in Crown, Household, and Parliament in Fifteenth Century England, ed CH Clough (London, 1985), 93–134
Telford, Lynda, Women in Medieval England (Stroud, 2018)
Download a transcript of episode 5
Episode Credits
Presenter: Josie Long
Producer: Katharine Kerr for Fresh Air
Contributors:
Richard Nevell – Honorary Research Fellow (University of Exeter)
Janet Taylor – Site Manager for Pevensey Castle, English Heritage
Virginia Davis – Professor of Medieval History (Queen Mary University of London)
Diane Purkiss – Professor of English Literature (Keble College, University of Oxford)