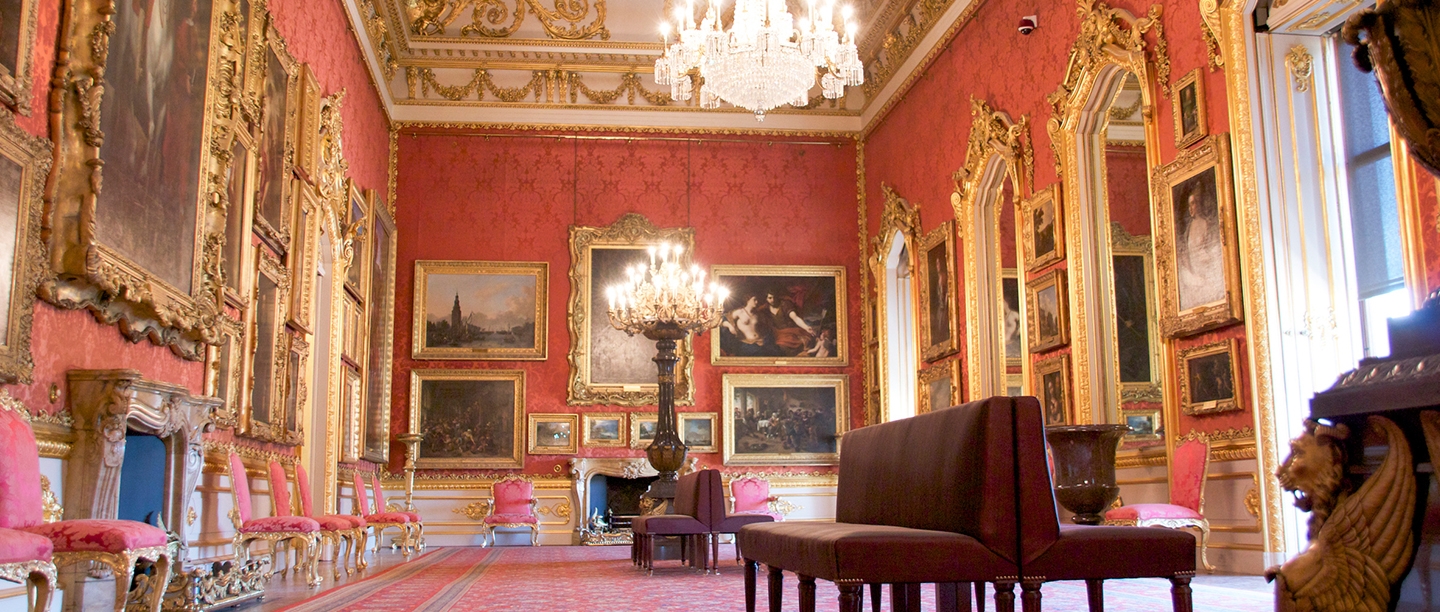 Group visits to Apsley House
Amaze your group with the glittering interiors of the grandest address in the capital, once known as 'Number 1 London'. It was the home of the first Duke of Wellington, the military hero famous for his great victory over Napoleon in 1815.
Group Discount
We offer a 15% discount (10% for Stonehenge) for travel trade and organised groups of 11 or more paying visitors when payment is made in a single transaction.
Per group you also receive:
free entry for one tour leader
free entry for one coach driver
The tour leader, coach driver and any English Heritage members do not count towards the group totals.
Booking information
Trade admission prices and opening times:
Please refer to our Trade Admission Prices & Site Opening Times brochure for pricing and opening times information at our top sites for groups.
Making a booking:
Contact information for making your group booking can be found in the Visit & Contact Information section below.
Please include the property name and date of visit in the subject line of your email along with the following information:
Group name
Name of property
Tour reference/booking reference (if applicable)
Date and time of arrival
Number of visitors
Payment method:
Payment can be made on arrival by: cash, credit/debit card, cheque (made payable to The English Heritage Trust), Agency Voucher Scheme (AVS).
Visit & Contact information
Joint ticket: A joint ticket with Wellington Arch (Hyde Park corner) is available.
Coach parking: The coach drop-off point is a five minute walk away in Park Lane.
Public transport: Tube: Hyde Park Corner. Train: Victoria (20 mins walk or bus).
Exhibition: The collection of paintings at Apsley House contains about 200 of the finest works of art in London. It is a treasure house of pictures that originally belonged to the king of Spain, and which were removed from the Spanish royal palaces by Napoleon Bonaparte's brother, Joseph.
Exclusive openings: pre-bookable exclusive morning timeslot available for groups.
Access: Disabled access is very limited for those with impaired mobility, as there are no ramps and only one lift in the building. Visitors are advised to bring a companion.
Average length of visit: 1.5 hours.
Address: 149 Piccadilly, Hyde Park Corner, London, W1J 7NT.
Email: apsleyhouse@english-heritage.org.uk
Telephone: Apsley House: 020 7499 5676
Local TIC: Please contact City of London information centre if you would like information about other things to do in the local area.
Guided tours
Make your group visit extra special by adding a guided tour.
Guided tours are always subject to availability and we cannot always guarantee availability at the time of booking. Please allow for the indicated minimum notice below when requesting a guided tour.
Apsley House Highlights
Discover the home of the 1st Duke of Wellington with its stunning art collection, medals, and memorabilia. Visitors will learn about the many aspects of the Dukes life and work. With the family still in residence, Apsley House retains its place as one of the last great aristocratic town houses in London.
Duration: 1.5 hours.
Minimum-maximum pax: 11 - 25 pax.
Advance booking required: Yes, a minimum of 14 days notice is required
Price: price available on enquiry.
Group Travel Support
Further support and useful resources available to group travel organisers can be found on our dedicated Group Visits webpages.
For educational groups, please visit our School Visits webpages.