History of Auckland Castle Deer House
Auckland Castle Deer House is situated on a promontory within the former deer park of Auckland Castle. The Bishops of Durham have kept a residence at Auckland since the Norman period.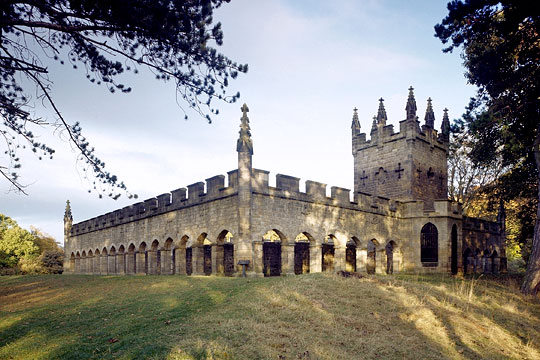 Managed deer parks were an established element of rural life during the Middle Ages, as hunting was such an important part of the life of the aristocracy and nobility, clerical as well as lay.
Shelters for deer were unusual. This much later example, dating from the 18th century, demonstrates that the deer park remained in use for several centuries. Built about 1760 by Richard Trevor, Bishop of Durham from 1752 to 1771, it provided a feeding place and shelter for the deer, and also had rooms in which the bishop and his guests could picnic, enjoy the views of the park and take a rest from hunting.
As well as serving a practical purpose, it also acted as an 'eyecatcher', adding interest to the view of the landscaped park from the castle.
Description
The deer house can be reached on foot from the castle through semi-wooded public parkland.
The building is almost square, comprising a courtyard, where the deer were fed, surrounded by an arcade that was once roofed with slates. In the centre of the north side is an arched gateway, flanked by square pilasters, and on the south side is a two-storey tower, its first-floor room overlooking the interior.
The building was probably designed by Thomas Wright who also produced designs for a gateway to the park in a similar style, though this was never built.
The deer house is a rare and well-preserved example of 18th century Gothic Revival architecture – a fanciful interpretation of medieval buildings – in the form of a mock castle with battlements, arrow loops, pinnacles and pointed arches.
Parts of Auckland Castle were also refurbished in this style in the mid- to late 18th century.
Further Reading
Harris, E, Arbours and Grottos....with a Catalogue of Wright's Work (London, 1979)
Note
The text on this page is derived from the Heritage Unlocked series of guidebooks, published in 2002–6. We intend to update and enhance the content as soon as possible to provide more information on the property and its history.