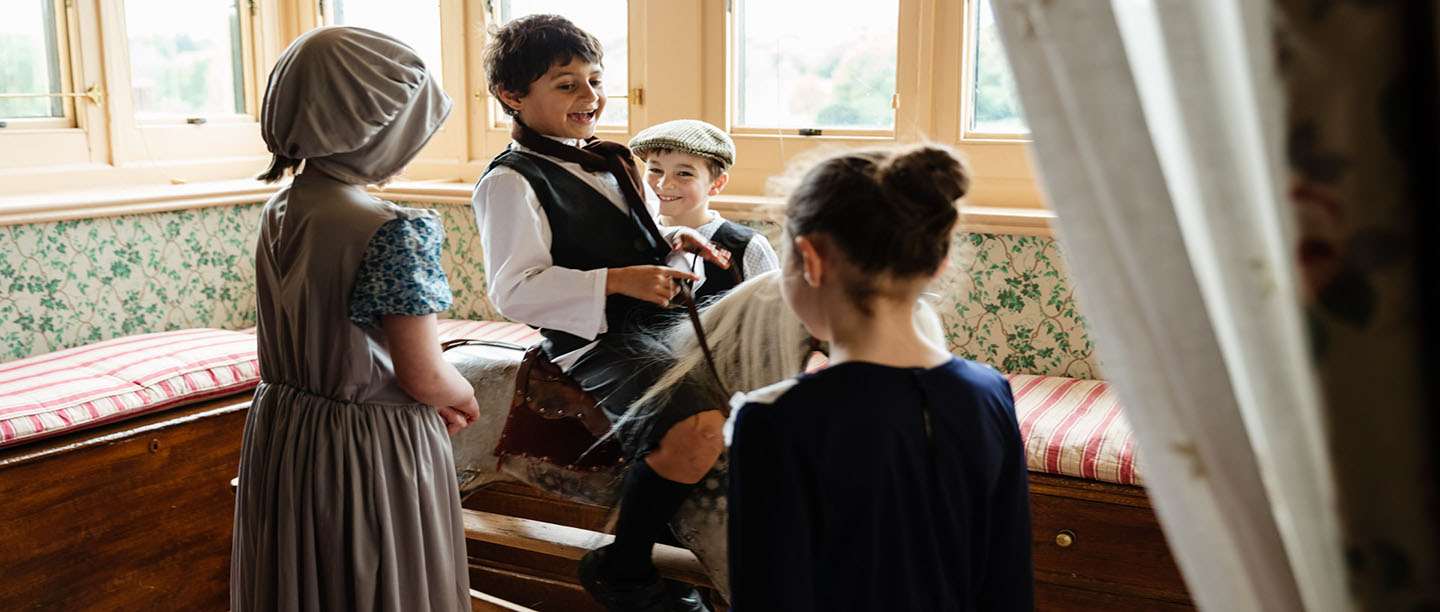 Schools
There's so much to see and do during a school visit to Audley End. Let your pupils discover what life was like for the people who lived and worked in this noble 17th century mansion, complete with Victorian Service Wing, Nursery and Stables.
Curriculum Links
This imposing 17th century mansion provides fabulous education opportunities for pupils. Key curriculum links include:
KS1 History: Significant historical events, people and places in their own locality
KS1-3 History: A local history study
KS1-2 Science: Audley End House has a large expanse of formal gardens and parkland to explore. There is also a walled kitchen garden and with greenhouses, which grows a variety of plants, fruit and vegetables
KS1-4 History: There is a strong collection Royal portraiture on display, with many monarchs being represented, such as Henry VIII and George III
KS1-4 Art & Design: There is an impressive collection of Old Master paintings and portrait miniatures in the House
KS2 History: Study of an aspect or theme in British history that extends pupils' chronological knowledge beyond 1066
KS3 History: The development of Church, state and society in Britain 1509 - 1745
Free Self-Led Visits
Enjoy a free self-led visit and experience parts of the beautiful 17th century mansion, service wing, kitchen garden and grounds. Say hello to our resident horses in the stable block and visit the Coal Gallery, once a hive of activity, as we recreate the hustle and bustle of servants' daily routines. We also offer free planning visits for group leaders once you have made a booking.
Find out more
Expert-Led Discovery Visits
Bring learning to life at Audley End and let us lead a Discovery Visit for you. Our interactive session has been specifically designed to meet the needs of different groups across the key stages and is a great way to inspire your students. Just £100 per class per session.
FIND OUT MORE
Plan Your Trip
We have a wide range of materials to support your visit and make school trip planning easy. Download our free resources to help you make the most out of your visit and create unique learning experiences before, during and after your trip.
We also offer free planning visits for group leaders once you have made a booking. Our Education Booking Team is on hand to advise and help you create the best possible school trip to suit your needs and area of study.
Find out more

03703330606

School visits from September 2020

Education bookings for learners of all ages and abilities will be open from 31 August, and you'll be able to book for visits from September 2020 to March 2021. If you already have a booking with us in that time, we'll be in touch over the next few weeks.

In the meantime if you have a query related to an existing booking or would like more information please email bookeducation@english-heritage.org.uk

We look forward to seeing you again soon.