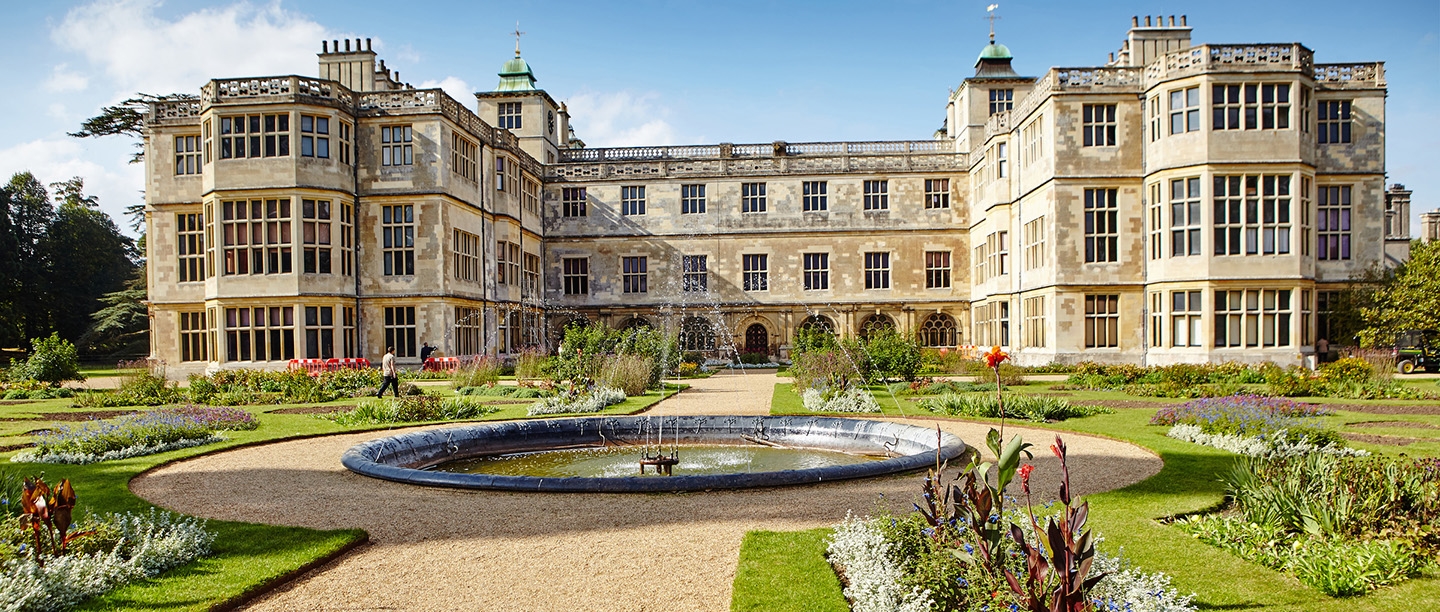 Things to See and Do
Looking for a fun family day out? As one of the greatest sights of East Anglia, with a spectacular stately home and outstanding, spacious grounds, we've got something for all of the family.
Explore life below stairs in the service wing, meet the horses in the stable yard and run around in our children's play area. You could even join us at one of our fantastic events from our thrilling jousts to half term activities.
Explore one of England's greatest mansion houses
Step inside the Mansion House and admire the interiors of one of the largest and most opulent houses in Jacobean England. Discover our history as you wander through the impressive great hall, magnificent state apartments, intimate dressing rooms and 18th century gothic-style chapel. You can even take a seat and relax in our library or play your favourite piece on our piano.
Look out for the state bed, one of the most important surviving late 18th century beds in the country, commissioned in anticipation of a royal visit in 1794. And don't forget to take a look at the Braybrooke's unique natural history collection.
Enjoy our Glorious Gardens
Take a stroll around our idyllic gardens to see the work of the influential 'Capability' Brown who swept away the remnants of a declining formal garden to create extensive views, a serpentine lake, and more natural planting. Don't miss the elegant garden buildings, such as the bridge of the River Cam, which are the work of Robert Adam.
Don't miss the beautifully restored parterre and our walled kitchen garden which is run entirely on organic principles. Discover the garden seasonal highlights and see something new with every visit.
Wander through acres of parkland
Perfect for a dog walk or a day out in the fresh air with the family, enjoy a stroll through acres of spacious parklands. Admire the stunning views of the Essex countryside while your little ones wear themselves out playing hide and seek and exploring the grounds. See if you can spot our mature tree collection, including a stunning Cedar of Lebanon next to the house planted in 1762.
Discover the Life of a Victorian Servant
Experience a world of hierarchy, discipline, long hours and hard labour in the 1880s Service Wing and Coal Gallery of this bustling country estate. Step back in time and wander through a world of 'below stairs' that was not intended to be seen as you discover what it would have been like to be a Victorian servant.
On special weekends throughout May to September, you can even meet our costumed interpreters as they Bring Audley End back to its Victorian heyday. Come face to face to with Mrs Crocombe as she prepares a meal for the family, bump into the stable hands while they're grooming the horses and meet our gardener Mr Vert as he tends to our gardens.
Discover more
Gallop over to the Victorian Stable Yard
It's time to horse around and say 'hello' to our friendly resident horses in our Victorian stable block. Have a go at dressing up like Victorian stable workers and explore our interactive exhibition to find out the story of the estate at work and play. You can even see the horses in action as they show off their skills in our riding displays throughout the day.
Play in our Nursery and discover the coal gallery
Take a visit to our restored 1830s Nursery Wing where nothing is out of bounds. Parents can relax and learn about the Braybrooke family while children can explore the indoor family play area - have fun with the toys and dress up as a Victorian child. You can even climb on the beds!
You can also explore our Coal Gallery to discover how the busy household staff would have kept the Braybrooke's bedrooms serviced with fresh linen, coal and hot water.
Let off steam
Enjoy a family day out in the fresh countryside air and let the children burn off steam in our fun play area inspired by the property with its very own mansion to climb and wooden horses to ride. Our spacious grounds are also a great way for your little ones to let off steam in the fresh, countryside air.
See our family guide
Feeling peckish?
Top up your energy and head to the Servants' Hall Tea Room with its locally sourced delicious hot and cold meals, drinks and snacks. Or grab a light refreshment at the Cart Yard Café, handily located next to Children's Play Area so you can enjoy a coffee while the kids play.
SECONDHAND BOOKSHOP
Looking for a new book or have a few that you'd like to donate? Visit our secondhand bookshop in our Victorian Stables.
Why not pop in and have a look? We've got lots of perfect reading spots in our stunning grounds.