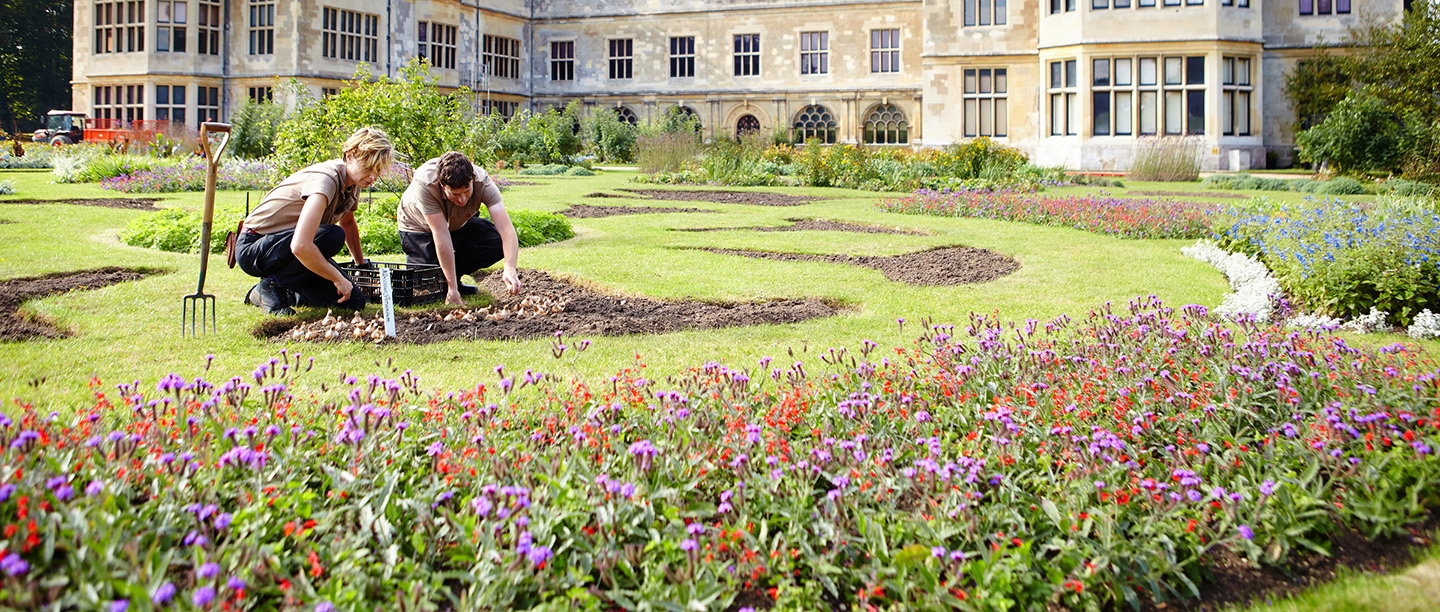 Gardens at Audley End
Explore the glorious gardens that were among the largest and most opulent in Jacobean England (1603-1625). Discover the views that were originally created by Capability Brown, one of the most English famous landscape architects, Take in the beautifully restored parterre and enjoy watching our Kitchen Gardens flourish with bountiful produce.
We've rounded up some of our favourite green spaces, so you can make the most of every season.
Parterre
Wander through to the back of the house to enjoy our intricately designed Parterre. A treat for the senses and designed by the fashionable William Sawry Gilpin and 3rd Lord Braybrook in 1832, the colourful display is a favourite amongst our visitors.
Combining a mix of shrubs, herbaceous perennials and annuals, our Parterre is a unique delight. See if you can spot the 182 beds cut into the lawn, all neatly edged by our Gardens team.
Organic Walled Kitchen Gardens
There is never a dull moment in our walled Kitchen Gardens. Throughout the seasons visitors can see how our bountiful produce is grown and maintained.
Run entirely on Soil Association organic principles, all of the organic food grown at Audley End is put to use, either in the menu created by our catering team, through sales to visitors or sold to a local organic box scheme.
Take a moment to admire our glorious grape vines in our glasshouses and the delicious array of fruits and vegetables growing throughout the seasons.

Top Tips from Our Gardeners
We have a dedicated team of expert Gardeners who look after our beautiful gardens. Hear a top tip from our Head Gardener below.
"Did you know that the damask shrub roses planted on our Parterre can grow to a staggering six feet tall?
In order to enjoy more flowers at a taller height, the Gardens Team carefully bend the stems over a framework so that they are horizontal. This forces the shrub to send out flowering shoots along the length of the stem.
If you don't have a framework that you can train your rose over, try pegging down the ends of the stems so that they arch towards the ground."
Louise, Head Gardener.
Things to See and Do

Explore all there is to see and do at Audley End, including our stunning stables, glorious grounds and magnificent mansion house.

What's On

Enjoy relaxing days spent enjoying our Blooming Gardens events, go on fun adventure quests and get spooky at Halloween.

History and Stories

Discover the history behind Audley End, from once being owned by Charles II to becoming one of England's grandest Victorian mansions.