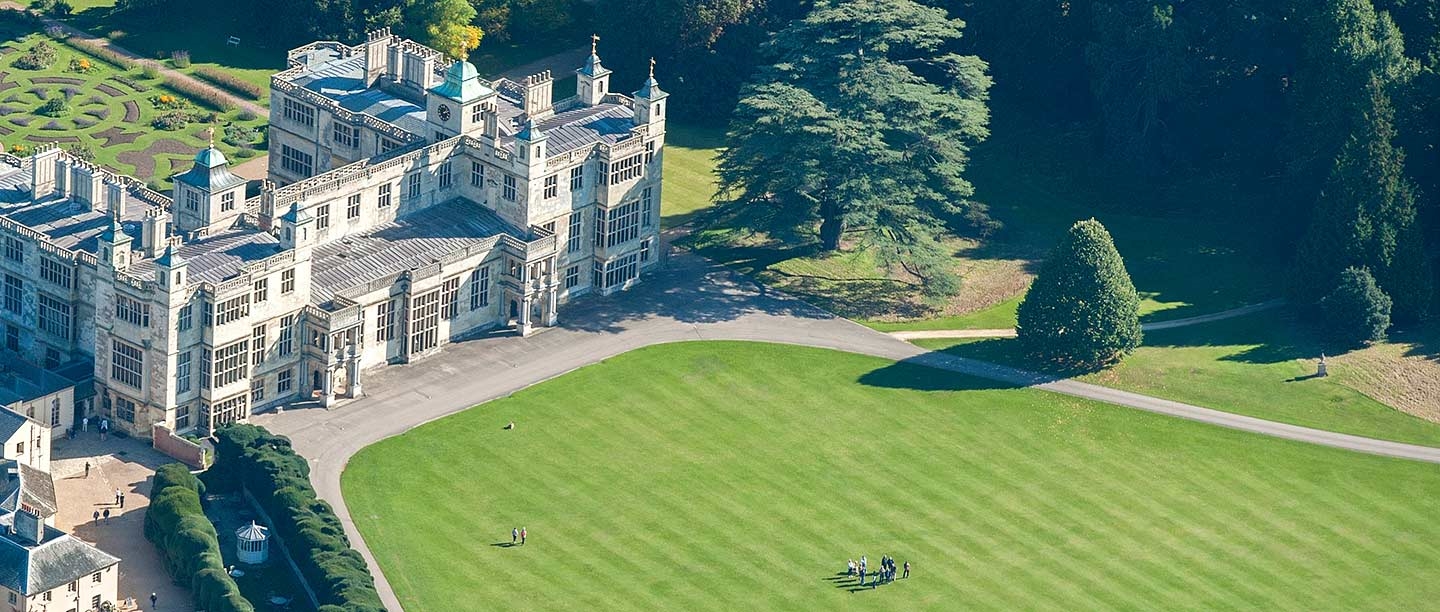 Audley End House and Gardens: History and Stories
Audley End was once one of the greatest houses in England, a spectacular early 17th-century mansion set in an outstanding landscaped park. Now just a third of its original size, its history is one of vastly fluctuating fortunes, with episodes of ambitious development followed by periods of decline and retrenchment. This story is evident in both house and park – in the changing use of the rooms, the contrasting taste in interiors and garden styles, and the diverse collection of paintings and objects that reflect the owners and their times.
Explore the history of Audley End House and Gardens here.
Key facts about Audley End
Audley End was one of the greatest houses of early 17th-century England. Between about 1605 and 1614, Thomas Howard, 1st Earl of Suffolk and Lord Treasurer to James I, took an earlier house created by his grandfather and rebuilt it on the scale of a royal palace.
So grand was it that about 50 years later Charles II bought it as a ready-made palace, which was handy for the Newmarket races. But the Howards bought Audley End back in 1701, and gradually reduced it to a more manageable size.
The celebrity architect Robert Adam modernised the house in the 1760s for Sir John Griffin Griffin. At the same time, Sir John commissioned 'Capability' Brown to sweep away the remains of the formal landscape, to create one of England's finest landscape gardens.
In the 1820s Richard Neville, later 3rd Lord Braybrooke, remodelled the house to restore its original, Jacobean character. It is largely his taste that prevails in the house today.
During the Second World War, Polish soldiers of the Special Operations Executive secretly trained here, preparing to be parachuted into German-occupied Poland.
Below Stairs at Audley End
In Victorian times, the lavish lifestyle of aristocrats like Lord and Lady Braybrooke at Audley End was sustained by armies of servants. In the 1880s they employed well over one hundred people in the house and across the estate.
Take an in-depth look at the lives of the men, women and children who worked at Audley End in the 1880s, from Avis Crocombe the cook to Bert Fall the yard boy.
read the article
Description of Audley End

Read a description of this impressive house and its gardens, which have been shaped by various owners over the centuries.

Download a plan

Download this PDF to explore detailed plans and elevation drawings of Audley End that reveal how the house has developed.

Four Centuries of Change

Explore architectural highlights of Audley End and close-up views of some of the portraits that hang in the house with this Google Arts and Culture exhibit.
VISIT AUDLEY END

One of England's finest country houses, Audley End is also a mansion with a difference. Enjoy a great day out.

Seasonal Garden Highlights

Take a journey through a year of seasonal garden highlights at Audley End to discover something new with every visit.

BUY THE GUIDEBOOK

The guidebook offers a complete tour and history of Audley End house and Gardens, and brings the house to life with stunning photos and historic images.
ENJOY A FULL YEAR OF ADVENTURE
Become an English Heritage member and take full advantage of free entry to over 400 sites plus free or discounted access to our exciting events programme throughout the year.


Join now from £4.42 per month