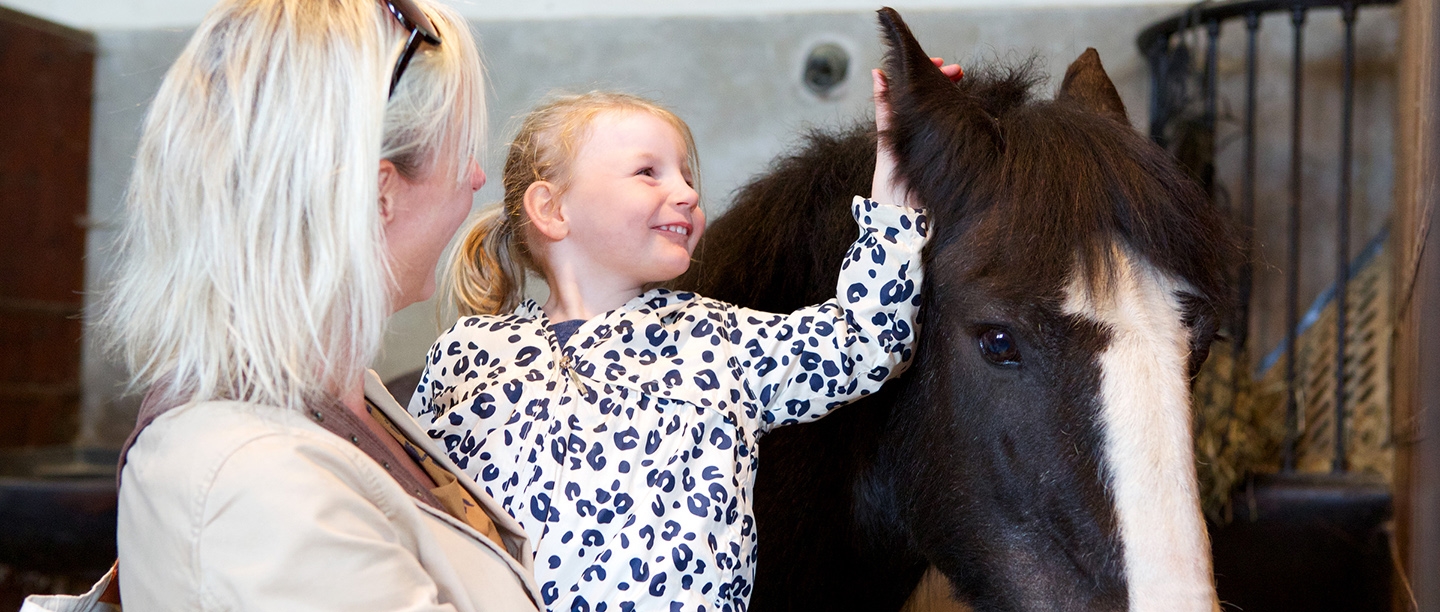 Meet our Horses
Visit our resident horses and get up close to the reality of daily life in a Victorian stable, in all its mucky, smelly glory.
Follow the horses throughout the day, explore our fascination exhibition and have a go at dressing up as a Victorian stable worker.
Horses through History
Horses have been an important part of Audley End's history. The families who lived here would have relied on them for transport, as they would have travelled by carriage, and for leisure pursuits such as hunting.
When Lord and Lady Braybrooke lived here, there would have been as many as 20 horses to look after in the stables. However, if the family had guests over they could fit up to 40 horses here! Today we have up to five resident horses who live here all year round.
Discover more
Stables Spotlight
We have five impressive resident horses at Audley End - Tilly, Dexter, Nash, Milo and Monty. Each has their own unique personality and talents.
Here is a spotlight on Tilly, who is definitely the boss of the group!
Breed - Irish Sport Horse Mare
Height - 17.2 bay
Age - 12 years old
Achievements - Tilly is an impressive horse, achieving Irish Show Jumping points of X jumping to 1.2 metres during her competitive life!
Fun fact - Tilly loves to jump from her field to the next to visit her friends.
Horses timetable
A visit to Audley End isn't complete without a trip to our Stable Yard. Take a look at our timetable and follow the horses throughout the day to see what they get up to - they can't wait to meet you!
10am – Gallop over to our Victoian Stables Yard to catch the Horses as they return from their morning exercise.
11.30 am – To see our horses in action, make your way over to our Stables Yard as they show off their skills in an arena display.
12.30pm - Enjoy a tour of our fascinating Stables or step back in time and learn about the techniques the Stables workers in the 1880s would have in a Victorian talk with our Stables team, dressed in Victorian costume.
2.30pm – Come along to our Stables Yard for an afternoon arena display and admire our beautiful horses as they elegantly show you their talents.
*timetable is subject to change.
Book your visit
Meet our Stables Manager
We have a dedicated team of experts who look after our horses and help to maintain our stables. Hear from our Stables Manager below about her favourite parts of the job.
"Being the Stables Manager at Audley End is the job of a lifetime and a real priviledge. My favourite part of the job is seeing our visitors' reactions to the horses, it makes me feel very proud to be part of such a wonderful place."
(Shelly, Stables Manager)
Stable Yard Exhibition
Take a look at our fascinating exhibition and discover more about the estate workers from the 1880s including the gardeners, gamekeeper and groom who worked here.
You can even learn about how the estate has changed over time from prehistory to the present.
Volunteer with us
From grooming and exercising our horses to helping out with our events, our great team of Stables Volunteers help us to make sure that our horses and Stable Yard are always in tip top condition.
"Ever since my first visit to Audley End, I've been drawn to the stables and it feels fantastic to get to volunteer here. I enjoy being part of something where I know that my contributions will have a lasting impact."
(Anett, Stables Volunteer)
Find out more
Things to See and Do

Explore all there is to see and do at Audley End, including our stunning stables, glorious grounds and magnificent mansion house.

What's On

Enjoy relaxing days spent enjoying our Blooming Gardens events, go on fun adventure quests and get spooky at Halloween.

History and Stories

Discover the history behind Audley End, from once being owned by Charles II to becoming one of England's grandest Victorian mansions.