Food and Drink at Belsay Hall
No matter the season, a visit to Belsay Hall is always rewarding, whether it's the fabulous gardens that attract you or the Classical Greek-influenced house, both created by the joint efforts of a grandfather and grandson: Sir Charles Monck and Sir Arthur Middleton.
All that beauty can sharpen the appetite, so make your way to the Belsay Hall Tearoom in the hall's original kitchen for yet more treats.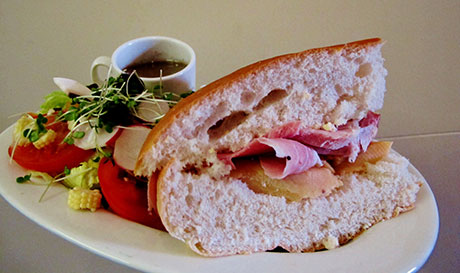 What we offer
We make as much of our food as possible with fresh, seasonal local ingredients and most are freshly prepared to order.
You'll find a wide selection of delicious light meals including hot and cold sandwiches, soup, salads and baked potatoes. Our cheese and herb scones are particularly popular, as are our hot meat stotties. A local speciality, a stotty is a flat, round loaf with an indentation in the top.
After all the walking you've done, you deserve a slice of something sweet. Our best-selling cakes, made from traditional recipes, include carrot, lemon fudge, fruit, lemon drizzle, and apricot and cinnamon. Or you could try one of our fabulous brownies.
Alternatively indulge yourself with our afternoon tea - including scone, cream, jam and cake - or just enjoy a relaxing cup of tea or coffee.
You're welcome to bring your own picnic - there are picnic tables on the grassed area off the main car park. We also provide picnic boxes and children's lunch boxes, containing a sandwich, fruit, a carton of juice, biscuits and crisps.
There are always vegetarian options and we also provide gluten-free cakes and dairy- and gluten-free soup.
Highchairs, bottle-warming and children's portions are all available.
Opening Times
April to September: daily, 10.30am to 5.30pm
October: daily, 10.30am to 3.45pm
November: weekends only, 10.30am to 3.45pm
December: weekends only (daily between 27-31 Dec) 10.30am to 3.45pm
January - weekends only, 10.30am to 3.45pm
February: weekends and daily during half term: 10.30am to 3.45pm
March: weekends only, 10.30am to 3.45pm